Other Wikileaks Pearltrees and Posts
Wikileaks Other Pearltrees
Late on Wednesday evening 15 August 2012, the Metropolitan police surrounded the Ecuadorean Embassy in London. This followed the publication by the Ecuadorean government of the aide memoir from William Hague, the British Foreign Secretary, on how the diplomatic status of their London embassy could be revoked. Observers assumed that the arrival of the police must be the presage to a raid.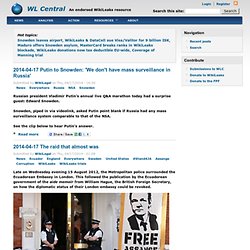 Greed, Secrecy, Deception & Genocide
Wikileaks Other Pearltrees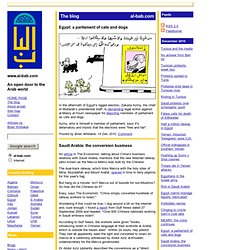 Egypt: a parliament of cats and dogs In the aftermath of Egypt's rigged election, Zakaria Azmy, the chief of Mubarak's presidential staff, is demanding legal action against al-Masry al-Youm newspaper for depicting members of parliament as cats and dogs. Azmy, who is himself a member of parliament, says it's defamatory and insists that the elections were "free and fair".
December 2010
WikiLeaks' War on Secrecy: Truth's Consequences
Wikileaks on ReadWriteWeb
Monday, Nov. 29, 2010 - Quotes of the Day - TIME.com