Wikileaks
Lokal Leaks Overview. WikiLeaks. US espionage investigation against WikiLeaks: PATRIOT Act order unsealed. (on 2011-08-24) Further proof has emerged of the United States secret Grand Jury investigation into Julian Assange and WikiLeaks.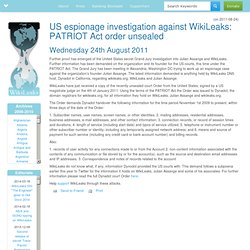 Further information has been demanded on the organization and its founder for the US courts, this time under the PATRIOT Act. The Grand Jury has been meeting in Alexandria, Washington DC trying to work up an espionage case against the organization's founder Julian Assange. The latest information demanded is anything held by WikiLeaks DNS host, Dynadot in California, regarding wikileaks.org, WikiLeaks and Julian Assange.
WikiLeaks have just received a copy of the recently unsealed court Order from the United States, signed by a US magistrate judge on the 4th of January 2011. OpenLeaks. Ex-WikiLeaker Explains His Spinoff Group, OpenLeaks - Andy Greenberg - The Firewall. Crowdleak. Hackerleaks.tk. Main Page - CableWiki. Julian Assange.
Assange
Chelsea (nee Bradley) Manning. Bradley Manning's inhumane treatment | Bruce Ackerman and others. Bradley Manning: one of the signatories of the open letter protesting Manning's mistreatment in the naval brig in Quantico is Professor Laurence Tribe, who taught constitutional law to President Barack Obama.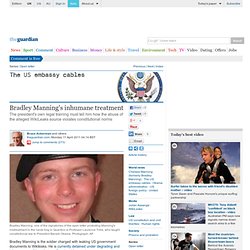 Photograph: AP Bradley Manning is the soldier charged with leaking US government documents to Wikileaks. PBS and Wired rally against Bradley Manning - Forces of Darkness wade in. Establishment rag Wired and the Public Broadcasting Service are doing their level best to present Wikileaks suspect Bradley Manning in an extremely poor light before his trial.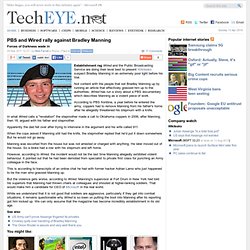 Not content with the people that set Bradley Manning up by running an article that effectively grassed him up to the authorities, Wired has run a story about a PBS documentary which describes Manning as a violent piece of work. According to PBS frontline, a year before he entered the army, coppers had to remove Manning from his father's home after he allegedly threatened his stepmum with a knife. In what Wired calls a "revelation" the stepmother made a call to Oklahoma coppers in 2006, after Manning, then 18, argued with his father and stepmother. Apparently the dad fell over after trying to intervene in the argument and his wife called 911. 4BRAD.FSS34.COM. Wiki Leaks.
Amy Goodman To Host Discussion With WikiLeaks Editor-In-Chief Julian Assange and Slovenian Philosopher Slavoj Žižek; Event Will Be Broadcast Live From London July 2 at 11am EDT. Interviews & videos. Leaks.
---