WikiLeaks
‪I Support WikiLeaks- How about You? (updated)‬‏
WikiLeaks' Brilliant MasterCard Commercial Parody‬‏
WikiLeaks Asks For Anonymous Bitcoin Donations - Andy Greenberg - The Firewall
WikiLeaks Asks For Anonymous Bitcoin Donations - Andy Greenberg - The Firewall
Peter Scheer: Can Mainstream Media Match WikiLeaks? Not Likely.
Ever since WikiLeaks became a household word, traditional news media have had every reason to try to replicate its technology for receiving leaked documents, via the Internet, on an anonymous and secure basis. Traditional media may be at war with Julian Assange and disagree fundamentally with his methods in vetting and disseminating classified documents, but they can still see the appeal of a technical mechanism to frustrate eavesdropping on journalists and sources.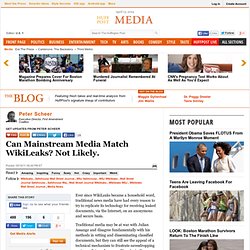 Peter Scheer: Can Mainstream Media Match WikiLeaks? Not Likely.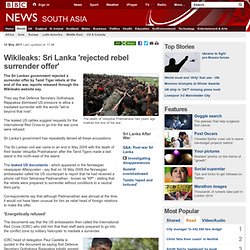 10 May 2011Last updated at 16:46 GMT
Wikileaks: Sri Lanka 'rejected rebel surrender offer'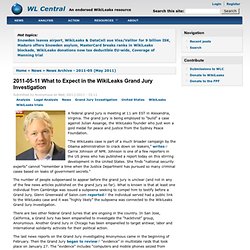 A federal grand jury is meeting at 11 am EST in Alexandria, Virginia. The grand jury is being employed to "build" a case against Julian Assange, the WikiLeaks founder who just won a gold medal for peace and justice from the Sydney Peace Foundation. "The WikiLeaks case is part of a much broader campaign by the Obama administration to crack down on leakers," writes Carrie Johnson of NPR.
05-11 What to Expect in the WikiLeaks Grand Jury Investigation
Abandoned in Guantanamo: WikiLeaks Reveals the Yemenis Cleared for Release for Up to Seven Years | Truthout
In all of the mainstream media analysis of WikiLeaks' recent release of Detainee Assessment Briefs (DABs) from Guantanamo, relating to almost all of the 779 prisoners who have been held at the prison over the last nine years and four months, one group of prisoners has so far been overlooked: the Yemenis. The most unfortunate group of men in Guantanamo, the Yemenis - 89 in total - make up over half of the 172 prisoners still held. In 2006 and 2007, when the majority of the Saudi prisoners were released, as part of a political settlement between the Bush administration and the Saudi government, which introduced an expensive rehabilitation program to secure the return of its nationals, no such deal took place between the US and President Saleh of Yemen. Just 23 Yemenis have been released from Guantanamo throughout its history and those who remain have found themselves used as political pawns.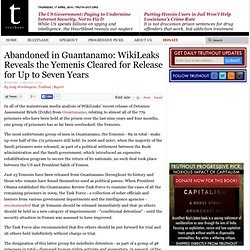 Transcript of interview with Julian Assange
Transcript of interview with Julian Assange, founder and lead figure of WikiLeaks At the Oslo Freedom Forum – 2010 http://www.oslofreedomforum.com
Did WikiLeaks Almost Blow the bin Laden Operation?
Two weeks ago, WikiLeaks released its so-called "Gitmo Files"—hundreds of pages of classified documents detailing intelligence that captured terrorists provided the United States. As I point out in this morning's Washington Post, the documents WikiLeaks made public included a file on Abu Faraj al-Libi, one of several CIA detainees who helped lead the agency to Osama bin Laden's courier. While it garnered little attention at the time, the Abu Faraj document WikiLeaks exposed contained explosive information that could very well have tipped off al Qaeda that the CIA was closing in on bin Laden. The document says that Abu Faraj "reported on al-Qai'da's methods for choosing and employing couriers, as well as preferred communications means" and described him as the "communications gateway" between bin Laden and his operatives in Pakistan.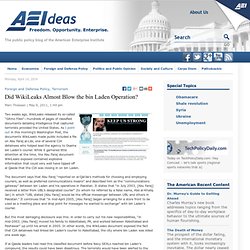 hide captionA federal grand jury is scheduled to hear testimony Wednesday in the government's criminal investigation into WikiLeaks founder Julian Assange.
Case Against WikiLeaks Part Of Broader Campaign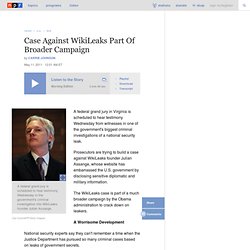 The WikiLeaks Grand Jury and the still escalating War on Whistleblowing - Glenn Greenwald
The contrast between these two headlines from this morning tells a significant story: From The Guardian (click image to enlarge): As Julian Assange wins the Sydney Peace Prize for "exceptional courage in pursuit of human rights," NPR reports that "a federal grand jury in Virginia is scheduled to hear testimony on Wednesday from witnesses" in the criminal investigation of his whistle-blowing group, as "prosecutors are trying to build a case against [the] WikiLeaks founder [] whose website has embarrassed the U.S. government by disclosing sensitive diplomatic and military information." The NPR story — based in part on my reporting of a Grand Jury Subpoena served two weeks ago in Cambridge — explains what has long been clear: that "the WikiLeaks case is part of a much broader campaign by the Obama administration to crack down on leakers."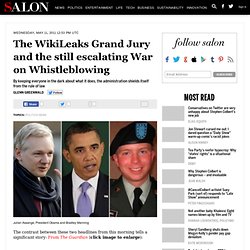 WikiLeaks: Al Qaeda Tried To Recruit Rogue Scientist To Build Dirty Bombs
WikiLeaks: the latest developments | World news
Some recent developments: • A pre-recorded message from Julian Assange has been played to pro-WikiLeaks rally in Australia. He said he wants to return home to Sydney Melbourne and compared WikiLeaks to the peace movement, environmentalism and feminism.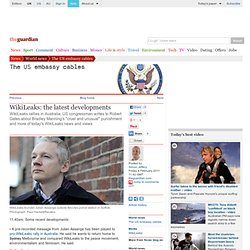 The FBI conducted 40 raids yesterday and seized computers from members of the loosely organized group of hackers called Anonymous, and several members have posted their stories in online forums. Ars Technica uncovered the tales on a private online forum. Several people posted pictures of kicked-in doors.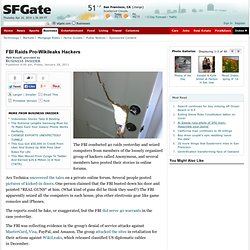 FBI Raids Pro-Wikileaks Hackers
Damage Control By Pentagon On PFC Bradley Manning Reeks Of Outright Deception" David House
WikiLeaks And Tunisia
I've got secret files on Murdoch as 'insurance', claims Assange - Press, Media
Mr Assange told John Pilger in the New Statesman he had withheld a cache of confidential US government cables and files relating to Mr Murdoch's business as "insurance".
US subpoenas Wikileaks tweets, and why this could affect you
The US government has subpoenaed Twitter in a bid to support an ongoing criminal investigation into whether Wikileaks and people involved or connected to Wikileaks, including an Icelandic member of parliament, broke the law.
Icelandic MP fights US demand for her Twitter account details | Media
Birgitta Jonsdottir, the Icelandic MP and former WikiLeaks volunteer, who is now fighting a US justice department attempt to get hold of her private messages on Twitter Photograph: Halldor Kolbeins/AFP/Getty Images A member of parliament in Iceland who is also a former WikiLeaks volunteer says the US justice department has ordered Twitter to hand over her private messages. Birgitta Jonsdottir, an MP for the Movement in Iceland, said last night on Twitter that the "USA government wants to know about all my tweets and more since november 1st 2009. Do they realize I am a member of parliament in Iceland?" She said she was starting a legal fight to stop the US getting hold of her messages, after being told by Twitter that a subpoena had been issued. She wrote: "department of justice are requesting twitter to provide the info – I got 10 days to stop it via legal process before twitter hands it over."
Pentagon Whistleblower Daniel Ellsberg: Julian Assange is Not a Terrorist
This is a rush transcript.
Julian Assange on WikiLeaks, War and Resisting Government Crackdown
Reporter behind WMD claims calls Assange 'bad journalist' | Raw Story
Energy.gov to move to Drupal
Why Assange and Wikileaks Have Won this Round
10.21.10 -- Wikileaks Iraq War Logs: 391, 832 documents
11.28.10 -- Wikileaks US Embassy Cables: 251, 287 documents
WikiLeaks' Assange to tweet banksters down'
Wikileaks cable reveals U.S. conspired to retaliate against European nations if they resisted GMOs
Wikileaks cable reveals U.S. conspired to retaliate against European nations if they resisted GMOs
Frost over the World - Julian Assange
The Wikileaks Documentary -- Full Version
Juilian Assange, Wikileaks Founder
A sad day for the US if the Espionage Act is used against WikiLeaks | Stephen M Kohn | Comment is free
Amazon take down of Wikileaks - Is the free internet dead?