Wikileaks
WikiLeaks given Swiss bank account data. WikiLeaks has taken possession of discs containing the banking details of 2,000 prominent people with Swiss bank accounts.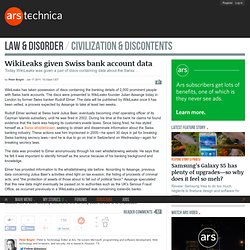 The discs were presented to WikiLeaks founder Julian Assange today in London by former Swiss banker Rudolf Elmer. The data will be published by WikiLeaks once it has been vetted, a process expected by Assange to take at least two weeks. Rudolf Elmer worked at Swiss bank Julius Baer, eventually becoming chief operating officer of its Cayman Islands subsidiary, until he was fired in 2002.
During his time at the bank he claims he found evidence that the bank was helping its customers evade taxes. WikiLeaks cables: Yemen radioactive stocks 'were easy al-Qaida target' | World news. Yemeni soldiers stand guard outside a hearing of al-Qaida suspects at a court in Sana'a.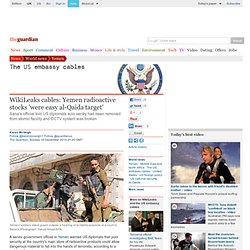 Photograph: Yahya Arhab/EPA A senior government official in Yemen warned US diplomats that poor security at the country's main store of radioactive products could allow dangerous material to fall into the hands of terrorists, according to a leaked US embassy cable. The official told the Americans that the lone guard standing watch at Yemen's national atomic energy commission (NAEC) facility had been removed from his post and that its only closed circuit TV security camera had broken down six months previously and was never fixed. Cybersecurity bill gives DHS power to punish tech firms | Politics and Law. Democratic politicians are proposing a novel approach to cybersecurity: fine technology companies $100,000 a day unless they comply with directives imposed by the U.S.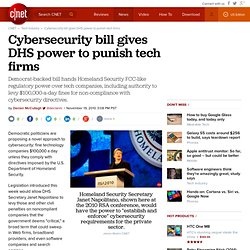 Department of Homeland Security. Legislation introduced this week would allow DHS Secretary Janet Napolitano to levy those and other civil penalties on noncompliant companies that the government deems "critical," a broad term that could sweep in Web firms, broadband providers, and even software companies and search engines. "This bill will make our nation more secure and better positions DHS--the 'focal point for the security of cyberspace'--to fulfill its critical homeland security mission," said Rep.
Bennie Thompson (D-Miss.), the chairman of the House Homeland Security Committee. To Thwart Further Leaks, U.S. Military Bans USB Drives & Other Removable Disks. In an effort to prevent the kind of intelligence leaks that are making headlines lately, the U.S. military is banning the use of removable disks among its personnel.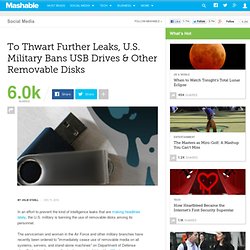 The servicemen and women in the Air Force and other military branches have recently been ordered to "immediately cease use of removable media on all systems, servers, and stand-alone machines" on Department of Defense classified networks, according to documents obtained by Wired. This order comes a few months after a revalation by one private that he downloaded hundreds of thousands of files to a CD, labeled the disk "Lady Gaga" and turned it over to WikiLeaks. The downloaded files included the infamous footage of an Afghanistan helicopter attack and the more than 250,000 cables that have gotten WikiLeaks into so much hot water lately. Anonymous Wikileaks activists move to analogue tactics. 16 December 2010Last updated at 14:35 The diplomatic cables released by Wikileaks have been the focus of world attention.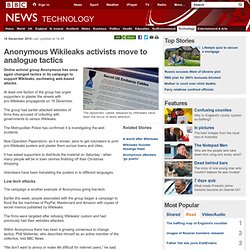 Online activist group Anonymous has once again changed tactics in its campaign to support Wikileaks, eschewing web-based attacks. At least one faction of the group has urged supporters to plaster the streets with pro-Wikileaks propaganda on 18 December. The group had earlier attacked websites of firms they accused of colluding with governments to censor Wikileaks. Via BBC News - Home.
Wikileaks
House Judiciary Committee to Hold WikiLeaks Hearing Tomorrow. The full House Committee on the Judiciary will hold a hearing on the Espionage Act and legal and constitutional issues raised by Wikileaks tomorrow at 10:00 a.m.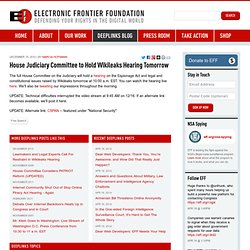 EST. You can watch the hearing live here. We'll also be tweeting our impressions throughout the morning. UPDATE: Technical difficulties interrupted the video stream at 9:45 AM on 12/16. If an alternate link becomes available, we'll post it here. WikiLeaks Taps Power Of the Press — The Media Equation. Perhaps.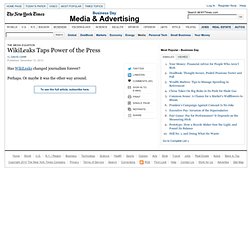 Or maybe it was the other way around. Think back to 2008, when WikiLeaks simply released documents that suggested the government of Kenya had looted its country. The follow-up in the mainstream media was decidedly muted. Then last spring, WikiLeaks adopted a more journalistic approach — editing and annotating a 2007 video from Baghdad in which an Apache helicopter fired on men who appeared to be unarmed, including two employees of Reuters.
WikiLeaks cables: Sinn Féin leaders 'were aware of' Northern Bank heist plans | Politics. Gerry Adams and Martin McGuinness held lengthy negotiations with the former Irish prime minister Bertie Ahern to save the Northern Ireland peace process in the full knowledge that the IRA was planning to carry out the biggest bank robbery in its history, according to leaked US cables passed to WikiLeaks.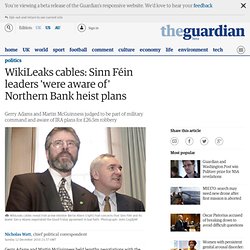 Ahern, who was instrumental in drawing up the 1998 Good Friday agreement, judged that the two Sinn Féin leaders were aware of plans for the £26.5m Northern Bank robbery in 2004 because they were members of the "IRA military command" with a deep knowledge of its operations. The US cables also reveal that: • The Irish government believed Britain had a "valuable source of information" at a senior level in the republican movement. • Adams argued that the IRA would have to be "taken out of the equation" during negotiations which led the organisation to declare a formal end to its armed campaign in July 2005. WikiRebels: The Wikileaks Documentary [Video]
12 December '10, 05:15pm Follow WikiLeaks has provided us all with a great deal of news of late.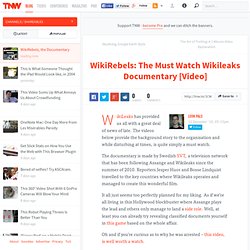 Cable Viewer. Flash: PdF Symposium on Wikileaks and Internet Freedom, Announced for Saturday December 11. In the digital age, should all information be free?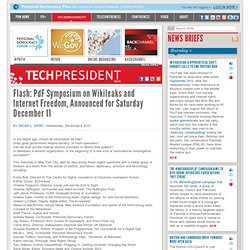 Does good government require secrecy, or more openness? Can we trust private internet service providers to defend free speech? Is Wikileaks a terrorist organization, or the beginning of a new kind of transnational investigative journalism? This Saturday in New York City, we'll be discussing these urgent questions with a stellar group of thinkers and doers from the worlds of politics, journalism, diplomacy, activism and technology, including: WikiLeaks promising even bigger leak of secret files | Politics and Law. WikiLeaks fans should think before they botnet | InSecurity Complex. Do you support WikiLeaks? Are you mad at critics trying to snuff it out? Maybe you're thinking about joining the online protests aimed at shutting down the Web sites of its opponents. Don't. A loosely organized group of vigilantes under the name Anonymous have turned the botnet guns of their Operation Payback campaign, which previously targeted antipiracy organizations, on PayPal, Visa, MasterCard , Senator Joe Lieberman, Sarah Palin, and others who have criticized WikiLeaks or stopped doing business with the document-sharing project.
WikiLeaks cables: Pope wanted Muslim Turkey kept out of EU | World news. The pope is responsible for the Vatican's growing hostility towards Turkey joining the EU, previously secret cables sent from the US embassy to the Holy See in Rome claim. In 2004 Cardinal Ratzinger, the future pope, spoke out against letting a Muslim state join, although at the time the Vatican was formally neutral on the question. The Vatican's acting foreign minister, Monsignor Pietro Parolin, responded by telling US diplomats that Ratzinger's comments were his own rather than the official Vatican position.
The cable released by WikiLeaks shows that Ratzinger was the leading voice behind the Holy See's unsuccessful drive to secure a reference to Europe's "Christian roots" in the EU constitution. The US diplomat noted that Ratzinger "clearly understands that allowing a Muslim country into the EU would further weaken his case for Europe's Christian foundations". But by 2006 Parolin was working for Ratzinger, now Pope Benedict XVI, and his tone had distinctly chilled.
W.sns. Via ReadWriteWeb. Where In the World Is WikiLeaks Mirrored? [Google Earth] The WikiLeaks saga of the last two weeks has been illustrative, if nothing else, of the importance of the decentralization of the Internet in relation to the freedom of information. An attempt to stifle a voice in one location simply leads to that voice springing from another, like a leak from a rusted pipe or a Whac-A-Mole arcade game. WikiLeaks Coverage From ReadWriteWeb: WikiLeaks cables: Serbia suspects Russian help for fugitive Ratko Mladić | World news. Russia may be withholding vital information about the whereabouts of the fugitive Bosnian Serb general and genocide suspect, Ratko Mladić, who faces war crimes charges in The Hague, senior Serbian government officials have privately told American diplomats in Belgrade. In discussions detailed in a diplomatic cable marked "secret" and sent to Washington by US chargée d'affaires Jennifer Brush in September 2009, Miki [Miodrag] Rakić, chief of staff to the Serbian president, Boris Tadić, tells Brush it remains likely Mladić is hiding somewhere in Serbia.
But Rakić also suggests the fugitive is being assisted by "foreign sources" and hints darkly that Moscow may have better information about Mladić's exact situation than does the Serbian government. "Russia has not been forthcoming on Serbia's requests for assistance in locating Hague indictee Mladić, presidential adviser Miki Rakić told us on August 25 [2009]," says the American cable, which has been released by WikiLeaks.
WikiLeaks - Mass Mirroring our website. Twitter fails to jump to Dept of State's defence | Tech Blog: Insights on the tech industry | FT.com. Wikileaks: Power shifts from secrecy to transparency « BuzzMachine. WikiLeaks. WikiLeaks - Mirrors of our website. Wikileaks cables reveal that the US wrote Spain's proposed copyright law. Wikileaks cable: Prince Charles 'not respected like Queen' | UK news. Wikileaks: la première Infowar a commencé. Journalists defend WikiLeaks effort - US Embassy Files.
Europeans Criticize Fierce U.S. Response to Leaks. Berkeley Blog: Wikileaks Is Boring; U.S. Gov. Should Hire Them Hackers. Columbia University Reverses Anti-Wikileaks Guidance | Threat Level. WikiLeaks Fallout: Unease Over Web Press Freedoms. Are we starting a full-out war on the Internet? Like It or Not, WikiLeaks is a Media Entity: Tech News «
'Wikileaks' cable drop is a giant power move for the left. To Host World Press Freedom Day in 2011.
---