Wikileaks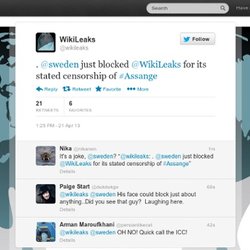 Twitter WikiLeaks ‏ @ wikileaks 2m . @ sweden just blocked @ WikiLeaks for its stated censorship of # Assange 1:25 PM - 21 Apr 13
wikileaks : . @sweden just blocked @WikiLeaks ... - Pale Moon
Never knowingly out of the political limelight, Dame Vivienne Westwood today courted controversy by creating pro-Julian Assange T-shirts for her guests to wear front row at her London Fashion Week show. Held at London's Foreign and Commonwealth Office, Westwood chose the occasion and venue to make a stand about the UK's decision not to block his extradition to Sweden over alleged sex crimes. Model Jade Parfitt sat front row proudly wearing the 'I'm Julian Assange' T-shirt which Westwood had designed.
Vivienne Westwood chooses Foreign Office to campaign for Julian Assange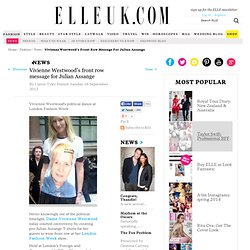 Cabledrum (Cabledrummer) sur Twitter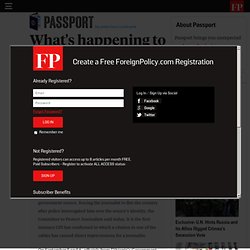 Earlier this week, I wrote about the case of two Zimbabwean generals who may face treason charges for comments about their superiors made in a confidential conversation with the U.S. ambassador, and whose names were subsequently revealed in last month's unredacted WikiLeaks dump. That case still seems to be pending, but there's been another troubling development in Ethiopia, reports the Committee to Protect Journalists: U.S. diplomatic cables disclosed last month by WikiLeaks cited an Ethiopian journalist by name and referred to his unnamed government source, forcing the journalist to flee the country after police interrogated him over the source's identity, the Committee to Protect Journalists said today.
What's happening to those named WikiLeaks sources?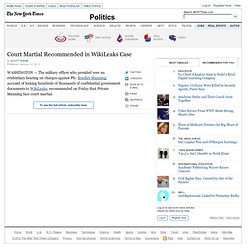 WASHINGTON — The military officer who presided over an evidentiary hearing on charges against Pfc. , accused of leaking hundreds of thousands of confidential government documents to , recommended on Friday that Private Manning face court martial. The officer, Lt. Col. Paul Almanza, who heard a series of witnesses last month at Fort Meade, Md., concluded that there were "reasonable grounds" to believe that Private Manning committed the crimes he is accused of, including aiding the enemy, theft of public records and computer fraud. Colonel Almanza's recommendation now goes to senior military officers, who can dismiss the charges or permit them to proceed to a full military trial. If convicted on all charges, Private Manning could be sentenced to life in prison.
Court Martial Recommended for Private Manning in WikiLeaks Case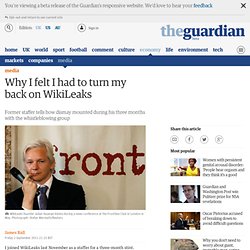 I joined WikiLeaks last November as a staffer for a three-month stint. Culture shock came just a few days in, when Julian Assange gathered core staff and supporters at Ellingham Hall, a manor house owned by the Frontline Club founder and WikiLeaks supporter Vaughan Smith. Around the dining table the team sketched out a plan for the coming months, to release the leaked US diplomatic cables selectively for maximum impact. Phase one would involve publishing selected – and carefully redacted – high-profile cables through the Guardian, New York Times, Der Spiegel, Le Monde and El Pais. Phase two would spread this out to more media organisations.
Why I felt I had to turn my back on WikiLeaks | Media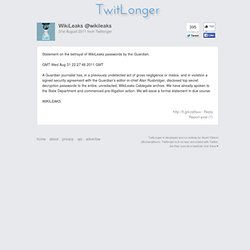 When you talk too much for Twitter
31st August 2011 from Twitlonger Statement on the betrayal of WikiLeaks passwords by the Guardian. GMT Wed Aug 31 22:27:48 2011 GMT A Guardian journalist has, in a previously undetected act of gross negligence or malice, and in violation a signed security agreement with the Guardian's editor-in-chief Alan Rusbridger, disclosed top secret decryption passwords to the entire, unredacted, WikiLeaks Cablegate archive.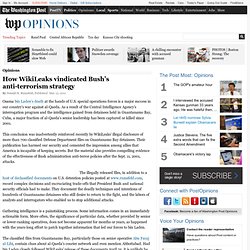 The illegally released files, in addition to a host of declassified documents on U.S. detention policies posted at www.rumsfeld.com, record complex decisions and excruciating trade-offs that President Bush and national security officials had to make. They document the deadly techniques and intentions of hundreds of Guantanamo detainees who still desire to return to the fight, and the labors of analysts and interrogators who enabled us to stop additional attacks. Gathering intelligence is a painstaking process. Some information comes in an immediately actionable form. More often, the significance of particular data, whether provided by senior or lower-ranking operatives, does not become apparent for months or years, as happened with the years-long effort to patch together information that led our forces to bin Laden.
How WikiLeaks vindicated Bush's anti-terrorism strategy
WikiLeaks Loses Control of Some of Its Own Secrets
US espionage investigation against WikiLeaks: PATRIOT Act order unsealed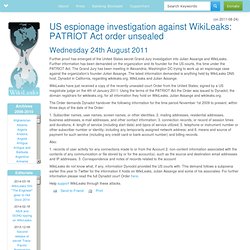 (on 2011-08-24) Further proof has emerged of the United States secret Grand Jury investigation into Julian Assange and WikiLeaks. Further information has been demanded on the organization and its founder for the US courts, this time under the PATRIOT Act. The Grand Jury has been meeting in Alexandria, Washington DC trying to work up an espionage case against the organization's founder Julian Assange. The latest information demanded is anything held by WikiLeaks DNS host, Dynadot in California, regarding wikileaks.org, WikiLeaks and Julian Assange. WikiLeaks have just received a copy of the recently unsealed court Order from the United States, signed by a US magistrate judge on the 4th of January 2011.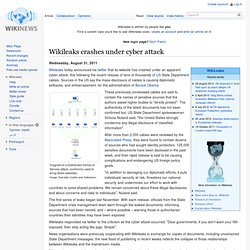 Wikileaks crashes under cyber attack
Wednesday, August 31, 2011 Wikileaks today announced via twitter that its website has crashed under an apparent cyber-attack; this following the recent release of tens of thousands of US State Department cables. Sources in the US say the mass-disclosure of cables is causing diplomatic setbacks, and embarrassment, for the administration of Barack Obama. Diagram of a Distributed Denial of Service attack, commonly used to bring down websites.Image: Everaldo Coelho and YellowIcon. These previously unreleased cables are said to contain the names of sensitive sources that the authors asked higher bodies to "strictly protect".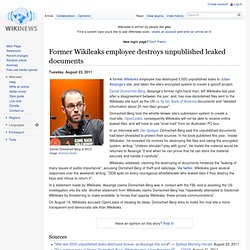 Former Wikileaks employee destroys unpublished leaked documents
Tuesday, August 23, 2011 A former Wikileaks employee has destroyed 3,500 unpublished leaks to Julian Assange's site, and taken the site's encrypted system to create a spinoff project. Daniel Domscheit-Berg, Assange's former right-hand man, left Wikileaks last year after a disagreement between the pair; and, has now demolished files sent to the Wikileaks site such as the US no-fly list, Bank of America documents and "detailed information about 20 neo-Nazi groups". Domscheit-Berg took the whistle-blower site's submission system to create a rival-site, OpenLeaks, consequently Wikileaks will not be able to receive online leaked files, and will have to use "snail mail" from an Australian PO box. In an interview with Der Spiegel, Domscheit-Berg said the unpublished documents had been shredded to protect their sources.
The Senate Intelligence Committee is proposing to punish leaks of classified information by authorizing intelligence agencies to seize the pension benefits of current or former employees who are believed to have committed an unauthorized disclosure of classified information. The pending proposal would "provide an additional administrative option for the Intelligence Community to deter leakers who violate the prepublication review requirements of their non-disclosure agreements," the Committee said in its new report (pdf) on the FY2011 Intelligence Authorization Act. "This option may require individuals to surrender their current and future federal government pension benefits if they knowingly violate the prepublication review requirements in their non-disclosure agreements in a manner that discloses classified information to an unauthorized person or entity," the report said.
New Leak Penalties Proposed in Senate Intel Bill
Listen to a new edition of the FAS Podcast: "A Conversation With An Expert," featuring Steve Aftergood. Topics discussed include the release of records by Wikileaks, the consequences of this release, the other major government secrecy issues in 2010, the Fundamental Classification Guidance Review, and much more! Download the podcast here. You can read a transcript of this podcast here.
Podcast: A Discussion on Wikileaks and Government Secrecy in 2010 « FAS Development Blog
Podcast Features Steve Aftergood- Transcript.pdf (Objet application/pdf)
Announcing ScienceLeaks
This venture was triggered by the many people complaining that they couldn't evaluate the 'arseniclife' paper because the journal Science only allowed access to its abstract, not to the full paper or its supplementary online materials. In response, Science temporarily opened access to people wiling to register at their site, but when the month ends the barrier will go right back up. This access problem applies to the great majority of scientific papers. The public pays for the research, but the results are locked behind journal-subscription paywalls, accessible only to people with personal subscriptions or affiliated with major research libraries, or to those willing to pay $20-$40 for access to individual articles.
30 December 2010. Add Phillip Agee, Frank Snepp and Richard Tomlinson references. 29 December 2010 Wikileaks Rest in Peace The original Wikileaks initiative is dead, replaced by a bloated apparatus promising 260,000 cables at slower than a snail's pace. At the rate of 20 cables a day it will take 13,000 days to finish -- some 35 years.
Wikileaks Rest in Peace
Like you, KOW reader, I have been pondering the ongoing wikileaks story trying to puzzle out what it all means, what it tells us about what is happening to world society, the state system, war and international security. You are no doubt familiar with the rudiments of the story, if not you are on the wrong blog. So, what does it all mean? For what it's worth, here's my take. First off, we have yet more evidence that the great Spirit in the Sky has a taste for comic irony.
Netwar meets Oprah: The Wikileaks Files, Volume whatever
Wikileaks: Stop the crackdown ... or not :D
My Parents Were Executed Under the Unconstitutional Espionage Act -- Here's Why We Must Fight to Protect Julian Assange | Civil Liberties
My Parents Were Executed Under the Unconstitutional Espionage Act -- Here's Why We Must Fight to Protect Julian Assange | Civil Liberties
Ron Paul Defends WikiLeaks On House Floor | Ron Paul Speech on Julian Assange | Video
Action : Justice for Assange
WikiLeaks : corriger les bugs pour ne pas débrancher la machine à scoops
wikileaks
Like It or Not, WikiLeaks is a Media Entity: Tech News «
EtherPad: wikileaks
Stephen Colbert - WikiLeaks Video
us-watson1-2010
U.S. warns Ottawa about fallout from pending WikiLeaks release
WikiLeaks: An Inventive New Threat to the Propaganda System (Part 2)
Leaks: American and Russian approaches
Iraq Wardiary, one more leak, one more pearltree
Huffington Post Spying Game
Wikileaks en Suède ? (Le Monde)
Kabul War Diary - Afghanistan war logs
WikiLeaks preparing to release 15,000 more Afghanistan documents
Wikileaks: Giving Leaks a Bad Name
Rep. Rush Holt on the Wikileaks Scandal
Wikileaks asked to edit Afghan names from US files
WikiLeaks: RSF is peeved over reactio
WikiLeaks: Reporters Sans Fact-checki
Wikileaks Fails Due Diligence Review | Secrecy News
Various articles about Wikileaks' founder : Julian Assange
The strange and consequential case of Bradley Manning, Adrian La
How Manning Stole The Cables — Conflict Health
The Race to Fix the Classification System
Shrink the Classification System
Wikileaks - Cablegate / Statelogs
Wikileaks explained
Wikileaks keeps on publishing despite arrest
Archive Director Tom Blanton decries "Wikimania"
WikiLeaks