Assange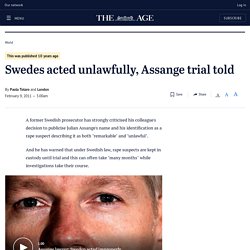 Assange lawyer: Sweden acted improperly A lawyer for Julian Assange accuses prosecutors in Sweden of irregularities in the way they built a sex crime case against the WikiLeaks founder. A former Swedish prosecutor has strongly criticised his colleague's decision to publicise Julian Assange's name and his identification as a rape suspect describing it as both "remarkable" and "unlawful". And he has warned that under Swedish law, rape suspects are kept in custody until trial and this can often take "many months" while investigations take their course.
Swedes acted unlawfully, Assange trial told
Assange Says He's A Chauvinist And A 'Little Autistic' In New Memoir
The first excerpts of Julian Assange's memoir have been published, and, unsurprisingly, they include a denial of the rape charges against him. Assange also — conveniently, as it turns out — describes himself as "a little bit autistic." Published in The Independent , one of the excerpts addresses Assange's relationship with the Swedish women who would later accuse him of rape. Here's his description of his night with the first accuser, Ms.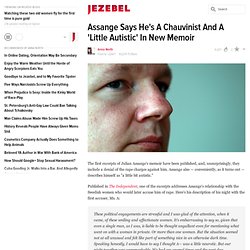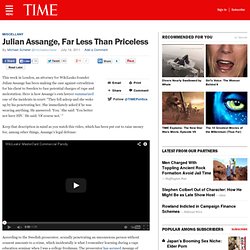 This week in London, an attorney for WikiLeaks founder Julian Assange has been making the case against extradition for his client to Sweden to face potential charges of rape and molestation. Here is how Assange's own lawyer summarized one of the incidents in court: "They fell asleep and she woke up by his penetrating her. She immediately asked if he was wearing anything. He answered: 'You.' She said: 'You better not have HIV.'
Julian Assange, Far Less Than Priceless | Swampland
Reuters Bill Keller called him "elusive, manipulative and volatile" in his recent cover story for the magazine. Now we can add "cat hater" to Julian Assange's biography.
Julian Assange, Cat Hater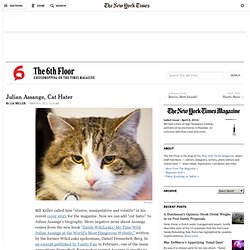 Open Letter
News on Assange and WikiLeaks
Julian Assange | Media
Elizabeth Cook's artist impression of WikiLeaks founder Julian Assange's appearance at Westminster Magistrates Court in London, where he was denied bail after appearing on an extradition warrant. Source: AP WIKILEAKS deserves protection, not threats and attacks. IN 1958 a young Rupert Murdoch, then owner and editor of Adelaide's The News , wrote: "In the race between secrecy and truth, it seems inevitable that truth will always win." His observation perhaps reflected his father Keith Murdoch's expose that Australian troops were being needlessly sacrificed by incompetent British commanders on the shores of Gallipoli. The British tried to shut him up but Keith Murdoch would not be silenced and his efforts led to the termination of the disastrous Gallipoli campaign.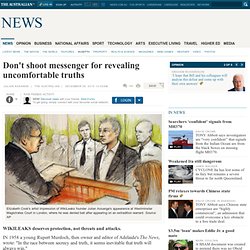 Being Hacked By Wikileak Supporters…Priceless | One Face In A Million News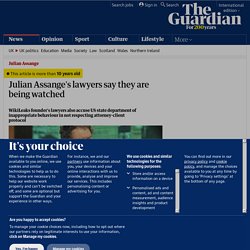 Julian Assange's lawyers say they are being watched | Media
Julian Assange's lawyer Mark Stephens appears on BBC1's Andrew Marr Show and denounces the warrant for Assange's extradition for questioning on sex allegations in Sweden as a 'political stunt'. Photograph: Jeff Overs/BBC/PA Lawyers representing the WikiLeaks founder, Julian Assange , say that they have been surveilled by members of the security services and have accused the US state department of behaving "inappropriately" by failing to respect attorney-client protocol. Jennifer Robinson and Mark Stephens of the law firm Finers Stephens Innocent told the Guardian they had been watched by people parked outside their houses for the past week. "I've noticed people consistently sitting outside my house in the same cars with newspapers," said Robinson.
By Angella Johnson UPDATED: 10:57 GMT, 29 August 2010
Supporters dismissed rape accusations against WikiLeaks founder Julian Assange... but the two women involved tell a different story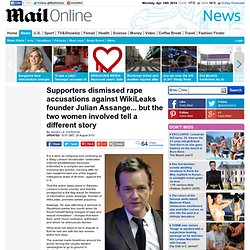 No one gains from this 'rape-rape' defence of Julian Assange | Libby Brooks | Comment is free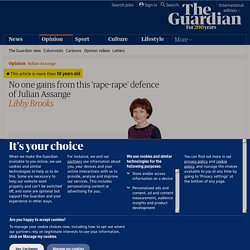 We are all Julian Assange,' said people holding pictures of the WikiLeaks editor in front of their faces at a demo in Brisbane, Australia, on 9 December. Photograph: Steve Gray/EPA The arrest of Julian Assange has escalated to a new pitch of intensity a controversy already beyond precedent. The arrest of the WikiLeaks founder over sexual offences allegedly committed in Sweden this summer was already fiercely contested.