USA
Emergency Alert System (EAS) | Public Safety and Homeland Security Bureau
The EAS is a national public warning system that requires broadcasters, cable television systems, wireless cable systems, satellite digital audio radio service (SDARS) providers, and direct broadcast satellite (DBS) providers to provide the communications capability to the President to address the American public during a national emergency. The system also may be used by state and local authorities to deliver important emergency information, such as AMBER alerts and weather information targeted to specific areas. The first Nationwide test of the Emergency Alert System will be carried out on November 9, 2011. For more information about the test or access to the participant reporting system, please click here.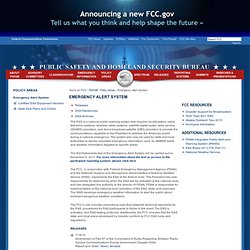 Demand Progress
Why can't we watch Al Jazeera? - War Room
Al Jazeera English's only bureau in the Western Hemisphere occupies five floors of a nondescript office building on Washington, D.C.'s K Street. The lobby is drab — just a hallway and two elevators. There is no sign on the door, no gold symbol affixed on the wall. In fact, the name Al Jazeera does not appear anywhere. If you didn't know better, you might think the building was home to dentist's offices or mid-level lobbying firms, instead of the most controversial news channel in the world. To get upstairs, a non-employee must have an escort, and on a cold day last spring, mine was Lauren McCollough.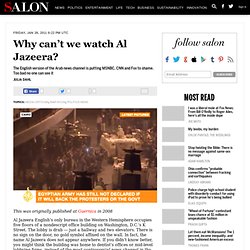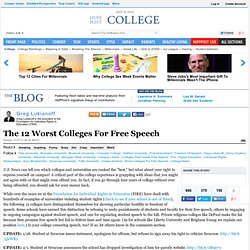 Chilly Syracuse, New York, is home to the most dramatic ongoing attempt to stifle student speech so far in 2011.
Greg Lukianoff: The 12 Worst Colleges For Free Speech
[UPDATE: A roundup of BoingBoing's ongoing coverage of events in Egypt is here.] On Thursday Jan 27th at 22:34 UTC the Egyptian Government effectively removed Egypt from the internet. Nearly all inbound and outbound connections to the web were shut down. The internet intelligence authority Renesys explains it here and confirms that "virtually all of Egypt's Internet addresses are now unreachable, worldwide." This has never happened before in the entire history of the internet, with a nation of this size. A block of this scale is completely unheard of, and Senator Joe Lieberman wants to be able to do the same thing in the US.
Egypt turns off internet, Lieberman wants same option for US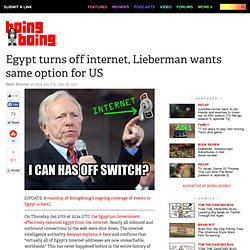 Network World - If you thought the Federal Communications Commission's vote to approve limited net neutrality rules were the end of the dispute, think again.
Verizon-FCC net neutrality fight only beginning | Computerworld NZ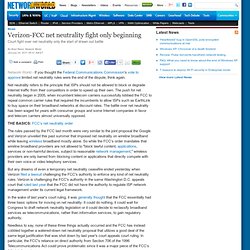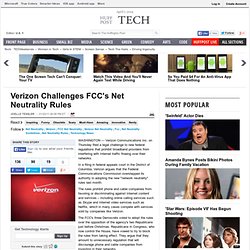 Verizon Challenges FCC's Net Neutrality Rules
WASHINGTON — Verizon Communications Inc. on Thursday filed a legal challenge to new federal regulations that prohibit broadband providers from interfering with Internet traffic flowing over their networks. In a filing in federal appeals court in the District of Columbia, Verizon argues that the Federal Communications Commission overstepped its authority in adopting the new "network neutrality" rules last month. The rules prohibit phone and cable companies from favoring or discriminating against Internet content and services – including online calling services such as Skype and Internet video services such as Netflix, which in many cases compete with services sold by companies like Verizon. The FCC's three Democrats voted to adopt the rules over the opposition of the agency's two Republicans just before Christmas. Republicans in Congress, who now control the House, have vowed to try to block the rules from taking effect.
Federal Communications Commission (FCC) Home Page
Last spring the FCC approved the merger of Comcast, the nation's largest cable and Internet provider, with NBC Universal. The Justice Department followed suit, leading to the unprecedented consolidation of media and Internet power. Letting one company control both the pipes and the content that flows over those pipes is a formula for abuse.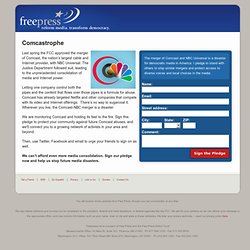 Comcastrophe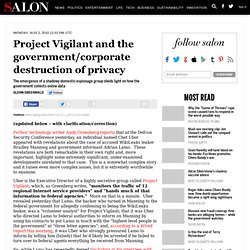 Forbes' technology writer Andy Greenberg reports that at the Defcon Security Conference yesterday, an individual named Chet Uber appeared with revelations about the case of accused WikiLeaks leaker Bradley Manning and government informant Adrian Lamo.
Project Vigilant and the government/corporate destruction of privacy - Glenn Greenwald
A Media Colossus Is Born: Feds Approve Comcast-NBCU Merger | Epicenter 
They'll be popping corks tonight in Philly. The world has never seen a media Goliath like the entity that was born Tuesday after the Federal Communications Commission approved the merger of Comcast, the nation's largest cable company, and NBC Universal, the mammoth entertainment giant. The Justice Department also announced that it had signed off on the deal. Philadelphia-based Comcast has achieved what some have referred to as "the holy grail" of the entertainment business: the union of a vast broadband-distribution network with a rich stable of content and talent. The last time any company tried to do something on this scale was the AOL Time Warner deal, which was, shall we say, ahead of its time.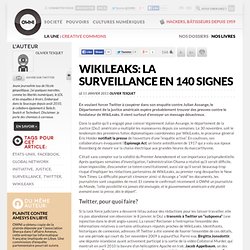 En voulant forcer Twitter à coopérer dans son enquête contre Julian Assange, le Département de la justice américain espère probablement trouver des preuves contre le fondateur de WikiLeaks. Il vient surtout d'envoyer un message désastreux. Dans la quête qu'il a engagé pour coincer légalement Julian Assange, le département de la Justice (DoJ) américain a multiplié les manoeuvres depuis six semaines. Le 30 novembre, soit le lendemain des premières fuites diplomatiques coordonnées par WikiLeaks, le procureur général Eric Holder notifiait la presse de l'ouverture d'une "enquête active".
WikiLeaks: la surveillance en 140 signes » Article » OWNI, Digital Journalism