Neutralité du Net
Get flash to fully experience Pearltrees
Un article de Wikipédia, l'encyclopédie libre. Comprendre l'effet Streisand en une image. L' effet Streisand est un phénomène Internet qui se manifeste par l'augmentation considérable de la diffusion d'informations ou de documents faisant l'objet d'une tentative de retrait ou de censure .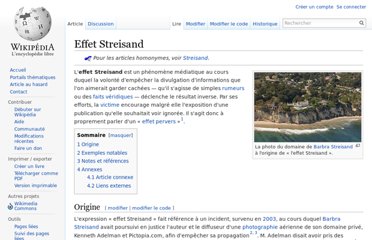 La question d'une censure totale d'Internet fait peur mais c'est plus la censure locale qu'il faut craindre. Pour Stéphane Bortzmeyer, c'est en renforçant les infrastructures qu'on améliorera la résistance du réseau. Ce jeudi 27 janvier, l' Epitech organise une intéressante conférence sur le thème « Peut-on éteindre l'Internet ? ».
Law students proposed new solutions to Internet problems, from those as common as a forgotten password to ones as high-profile as human rights activism and free speech, in "Four Ideas for a Better Internet," held Tuesday night at Stanford. Co-sponsored by Stanford Center for Internet and Society and the Berkman Center for Internet & Society at Harvard, the event featured four TED-style talks on cybersecurity, diplomatic transparency, crowdsourcing and privacy and reputation. Four student groups from a collaborative three-week seminar between Harvard Law and Stanford Law attempted to address difficult problems in cyberspace while a panel of special guests in the field weighed in. "Think what you have stored online, every picture you take, every friend you've ever had…but for others, the stakes are even higher," said Zac Cox J.D. '11, who participated in a group proposing an online security council of friends.
Last spring the FCC approved the merger of Comcast, the nation's largest cable and Internet provider, with NBC Universal. The Justice Department followed suit, leading to the unprecedented consolidation of media and Internet power. Letting one company control both the pipes and the content that flows over those pipes is a formula for abuse.