Egypte
Egypt shuts down Al Jazeera bureau - Middle East
The Egyptian authorities are revoking the Al Jazeera Network's licence to broadcast from the country, and will be shutting down its bureau office in Cairo, state television has said.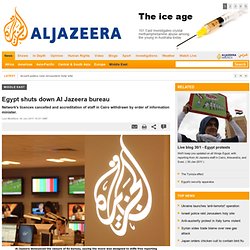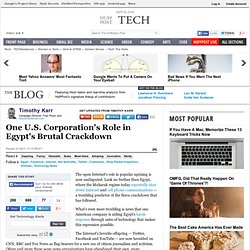 Timothy Karr: One U.S. Corporation's Role in Egypt's Brutal Crackdown
The open Internet's role in popular uprising is now undisputed.
Couper l'Internet d'un pays comme l'Egypte prend 2 minutes
UPDATE - Le fournisseur d'accès à Internet français FDN a mis en place une connexion de secours à bas débit à destination des Egyptiens qui disposent d'un modem 28K ou 56K. Les internautes égyptiens peuvent utiliser la ligne +33 1 72 89 01 50 et se connecter avec l'identifiant et le mot de passe "toto" pour accéder à une connexion de secours à bas débit. Les Egyptiens sont privés d'Internet depuis jeudi soir.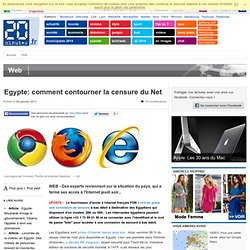 Arbor Networks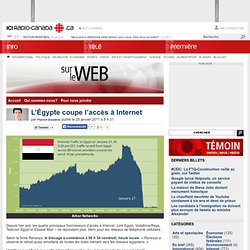 L'Égypte coupe l'accès à Internet