Egypte
Egypt shuts down Al Jazeera bureau - Middle East. The Egyptian authorities are revoking the Al Jazeera Network's licence to broadcast from the country, and will be shutting down its bureau office in Cairo, state television has said.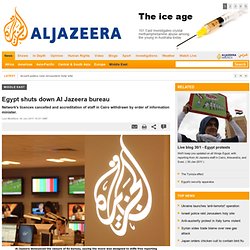 "The information minister [Anas al-Fikki] ordered ... suspension of operations of Al Jazeera, cancelling of its licences and withdrawing accreditation to all its staff as of today," a statement on the official Mena news agency said on Sunday. In a statement, Al Jazeera said it strongly denounces and condemns the closure of its bureau in Cairo by the Egyptian government. The network received notification from the Egyptian authorities on Sunday morning. "Al Jazeera has received widespread global acclaim for their coverage on the ground across the length and breadth of Egypt," the statement said.
The Most AMAZING video on the internet #Egypt #jan25. Timothy Karr: One U.S. Corporation's Role in Egypt's Brutal Crackdown. The open Internet's role in popular uprising is now undisputed.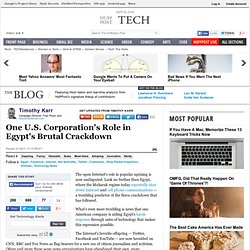 Look no further than Egypt, where the Mubarak regime today reportedly shut down Internet and cell phone communications -- a troubling predictor of the fierce crackdown that has followed. What's even more troubling is news that one American company is aiding Egypt's harsh response through sales of technology that makes this repression possible. The Internet's favorite offspring -- Twitter, Facebook and YouTube -- are now heralded on CNN, BBC and Fox News as flag-bearers for a new era of citizen journalism and activism. Couper l'Internet d'un pays comme l'Egypte prend 2 minutes. UPDATE - Le fournisseur d'accès à Internet français FDN a mis en place une connexion de secours à bas débit à destination des Egyptiens qui disposent d'un modem 28K ou 56K.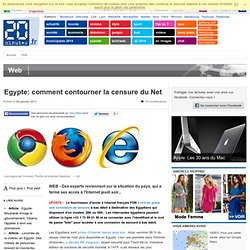 Les internautes égyptiens peuvent utiliser la ligne +33 1 72 89 01 50 et se connecter avec l'identifiant et le mot de passe "toto" pour accéder à une connexion de secours à bas débit. Les Egyptiens sont privés d'Internet depuis jeudi soir. L'Égypte coupe l'accès à Internet  Arbor Networks Depuis hier soir, les quatre principaux fournisseurs d'accès à Internet -Link Egypt, Vodafone/Raya, Telecom Egypt et Etisalat Misr – ne répondent plus.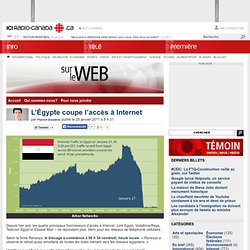 Idem pour les réseaux de téléphonie cellulaire. Selon la firme Renesys, le blocage a commencé à 00 h 34 vendredi, heure locale. « Renesys a observé le retrait quasi simultané de toutes les voies menant vers les réseaux égyptiens. » Vodafone a confirmé que cette interruption avait eu lieu à la demande du gouvernement.
---