Ramifications #stategate #cablegate
WikiLeaks founder Assange has encrypted Guantanamo documents, will release them if arrested. WikiLeaks founder Julian Assange has circulated across the internet an encrypted "poison pill" cache of uncensored documents suspected to include files on BP and Guantanamo Bay.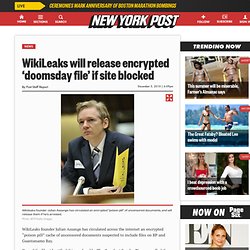 One of the files identified this weekend by The (London) Sunday Times — called the "insurance" file — has been downloaded from the WikiLeaks website by tens of thousands of supporters, from America to Australia. Assange warns that any government that tries to curtail his activities risks triggering a new deluge of state and commercial secrets. Wikileaks founder Julian Assange refused bail. 8 December 2010Last updated at 04:45 GMT Julian Assange (left) appeared in court with John Pilger and others offering sureties The founder of whistle-blowing website Wikileaks, Julian Assange, has been refused bail by a court in London but vowed to fight extradition to Sweden.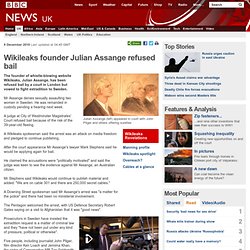 Mr Assange denies sexually assaulting two women in Sweden. Julian Assange Arrested. Wikileaks Conspiracy. Wikileaks: False Flag Cyber War is Here. Wikileaks Assange Exposed as CIA Manchurian Candidate. Will WikiLeaks Hobble U.S. Diplomacy? Authors: Daniel S.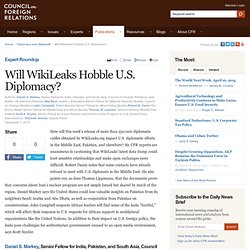 Markey, Senior Fellow for India, Pakistan, and South Asia, Council on Foreign Relations, and Author, No Exit from Pakistan Max Boot, Jeane J. Kirkpatrick Senior Fellow for National Security Studies, Council on Foreign Relations John Campbell, Ralph Bunche Senior Fellow for Africa Policy Studies Robert M. Danin, Eni Enrico Mattei Senior Fellow for Middle East and Africa Studies Thomas W. Lippman, Adjunct Scholar, Middle East Institute Scott A. Snyder, Senior Fellow for Korea Studies and Director of the Program on U.S. WikiLeaks just made the world more repressive. I am an aid worker, the kind who rants about transparency, open governments and reforming the United Nations.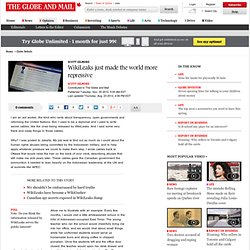 But, I used to be a diplomat and I used to write secret cables, like the ones being released by WikiLeaks. And I said some very frank and nasty things in those cables. Why? The cables and the damage done. For people who value freedom and truth, what's not to applaud about WikiLeaks?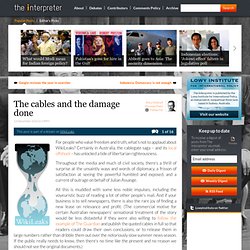 Certainly in Australia, the cablegate saga – and its local offshoot – has unlocked a tide of libertarian righteousness. Throughout the media and much of civil society, there's a thrill of surprise at the unsaintly ways and words of diplomacy, a frisson of satisfaction at seeing the powerful humbled and exposed, and a current of outrage on behalf of Julian Assange.
WikiLeaks: The secrecy presumption. Having just published Stephen Collins' reply to Rory's post, I'm going to pile on and offer my own critique.
But first let me point out that we have already received a number of emails from the bureaucracy and diplomatic community in support of Rory's position. Unfortunately, these were marked 'not for publication', so I want to encourage those readers in Canberra who feel constrained by saying that we are prepared to put aside this site's usual reluctance to publish anonymous comment. So, to business, and I want to start by agreeing with Stephen Collins' introduction, and to put the case more explicitly: I think Rory is showing status quo bias. He is absolutely right to say that 'most of the world's problems demand cooperative responses', and that a certain level of secrecy is required to make this workable.
But what level, exactly? A victory for the culture of paranoia. These are nervous times for our boys and girls in pinstripes.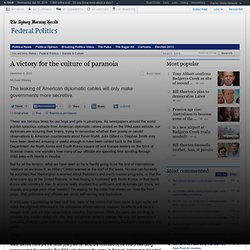 As newspapers around the world publish salacious extracts from American diplomatic cables posted on the WikiLeaks website, our diplomats are scouring their brains, trying to remember whether their gossip or candid observations to American counterparts about Kevin Rudd, Julia Gillard or Stephen Smith may have been deemed amusing or useful enough to have been cabled back to the State Department. As North Korea and South Korea square off and Europe teeters on the brink of financial chaos, one wonders how many of our officials are spending time scrolling through WikiLeaks with hearts in mouths.
But for all the tension, what we have seen so far is hardly going to be the end of international relations as we know it, as Hillary Clinton warned at the start of the week. Gary's choices - WikiLeaks: America the indispensable. Les diplomates américains gênés dans leur travail par WikiLeaks, actualité Monde : Le Point. Depuis une semaine, des diplomates américains en poste à l'étranger ont du mal à effectuer leur travail, victimes temporaires des révélations issues des notes du département d'État obtenues par WikiLeaks.
Le déluge de télégrammes américains analysés et publiés par cinq journaux a eu pour effet immédiat de rafraîchir les relations entre les ambassades américaines et leurs contacts, témoignent des diplomates, encore en poste ou retirés des affaires. "À court terme, nous sommes presque en cessation d'activité", confirme un diplomate de haut rang sous le couvert de l'anonymat. "En toute honnêteté, personne ne veut nous parler", ajoute-t-il. U.S. Diplomats Aren't Stupid After All - By Joshua Kucera. As a journalist covering international affairs, I have long wondered: Are U.S. diplomats ignorant or lying? I have talked to countless numbers of them in dozens of countries in "on background" interviews, that staple of foreign reportage. Readers recognize a background interview by its citation of "a Western diplomat," and theoretically that anonymity frees the diplomat to talk frankly. Sifting Through the Fallout from Wikileaks. The ongoing release of U.S. diplomatic communications by the Wikileaks organization is "embarrassing" and "awkward," said Secretary of Defense Robert M.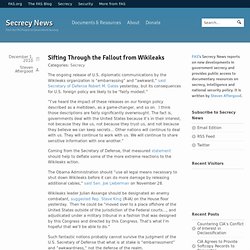 Gates yesterday, but its consequences for U.S. foreign policy are likely to be "fairly modest." "I've heard the impact of these releases on our foreign policy described as a meltdown, as a game-changer, and so on. I think those descriptions are fairly significantly overwrought. Military Bans Disks, Threatens Courts-Martial to Stop New Leaks | Danger Room. It's too late to stop WikiLeaks from publishing thousands more classified documents, nabbed from the Pentagon's secret network. But the U.S. military is telling its troops to stop using CDs, DVDs, thumb drives and every other form of removable media — or risk a court martial. Maj. Gen. Biden Slams WikiLeaks Document Hand-Off as Close to Terrorism - FoxNews.com. OSINT Strategies. The moral standards of WikiLeaks critics - Glenn Greenwald. The WikiLeaks disclosure has revealed not only numerous government secrets, but also the driving mentality of major factions in our political and media class.
Simply put, there are few countries in the world with citizenries and especially media outlets more devoted to serving, protecting and venerating government authorities than the U.S. Indeed, I don't quite recall any entity producing as much bipartisan contempt across the American political spectrum as WikiLeaks has: as usual, for authoritarian minds, those who expose secrets are far more hated than those in power who commit heinous acts using secrecy as their principal weapon. The way in which so many political commentators so routinely and casually call for the eradication of human beings without a shred of due process is nothing short of demented.
Julian Assange answers your questions | World news. FwoggieI'll start the ball rolling with a question. You're an Australian passport holder - would you want return to your own country or is this now out of the question due to potentially being arrested on arrival for releasing cables relating to Australian diplomats and polices? Julian Assange:I am an Australian citizen and I miss my country a great deal.
However, during the last weeks the Australian prime minister, Julia Gillard, and the attorney general, Robert McClelland, have made it clear that not only is my return is impossible but that they are actively working to assist the United States government in its attacks on myself and our people. This brings into question what does it mean to be an Australian citizen - does that mean anything at all? Or are we all to be treated like David Hicks at the first possible opportunity merely so that Australian politicians and diplomats can be invited to the best US embassy cocktail parties.
Ron Paul: Re: Wikileaks- In a free s... Is anyone else worried that Julian Assange is just going to disappear one day. : AskReddit. Julian Assange should be assassinated, Canadian official claims. Wikileaks' struggle to stay online. 7 December 2010Last updated at 19:51 By Jane Wakefield Technology reporter Julian Assange has now been arrested For rolling news outlets Wikileaks has been a dream come true with thousands of US embassy cables dribbling out titbits of sensitive information and providing new headlines on a daily and even hourly basis.
But for the US government, the revelations are less welcome. The site has become its bete noire and after making its displeasure clear, US firms that have dealings with it have been quick to turn their backs. The troubles began for Wikileaks when Amazon which hosted its servers in the US, withdrew services saying the site was breaking its terms and conditions. WikiLeaks fights to stay online after US company withdraws domain name | Media. The US was today accused of opening up a dramatic new front against WikiLeaks, effectively "killing" its web address just days after Amazon pulled the site from its servers following political pressure. The whistleblowers' website went offline for the third time in a week this morning, in the biggest threat to its online presence yet. Joe Lieberman, chairman of the Senate's committee on homeland security, earlier this week called for any organisation helping sustain WikiLeaks to "immediately terminate" its relationship with them.
On Friday morning, WikiLeaks and the cache of secret diplomatic documents that have proved to be a scourge for governments around the world were only accessible through a string of digits known as a DNS address. The site later re-emerged with a Swiss domain, WikiLeaks.ch. Julian Assange this morning said the development is an example of the "privatisation of state censorship" in the US and is a "serious problem. " WikiLeaks website pulled by Amazon after US political pressure | Media. WikiLeaks: WikiLeaks,org domain kille... Blocking Access to Wikileaks May Harm CRS, Analysts Say. Wikileaks excluded from trending topics. Twitter Appears to Censor Wikileaks-Related Trends. Library of Congress Blocks Access To Wikileaks. Can Government Employees Read the Pentagon Papers?
---