Shops
Exclusive, handmade clothing: tops, dresses, pants and skirts in the gothic, gypsy, renaissance, peasant and harem styles. Celtic Rings, Spinner Rings, Witch Rings, Pagan Rings, Poison Ri. Ostara Versand. Wicca- und Hexenladen Luzern - Weblinks. Hexenladen Esoterik Versandhandel. BlessedBe Wicca Pagan Tools, Spells, Supplies and Products. Merry Meet and welcome to one of the largest listings of Pagan products available online.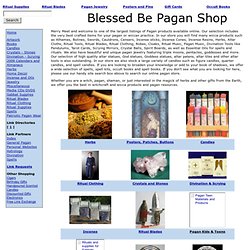 Our selection includes the very best crafted items for your pagan or wiccan practice. In our store you will find many wicca products such as Athames, Bolines, Swords, Cauldrons, Censers, Incense sticks, Incense Cones, Incense Resins, Herbs, Altar Cloths, Ritual Tools, Ritual Blades, Ritual Clothing, Robes, Cloaks, Ritual Music, Pagan Music, Divination Tools like Pendulums, Tarot Cards, Scrying Mirrors, Crystal Balls, Spirit Boards, as well as Essential Oils for spells and rituals. We also have beautiful and unique pagan jewelry featuring triple moons, pentacles, goddesses and more. Our selection of high quality altar statues, God statues, Goddess statues, altar patens, altar tiles and other altar tools is also outstanding.
In our store we also stock a large variety of candles such as figure candles, quarter candles, and spell candles. Book of Shadows Binder, Pentacle gold from Zazzle.com (Privater. Altar Items for Witches, Wiccans and Magicians. Witchcraft Ltd Shop - Glastonbury. Buch der Schatten 1Binder von Zazzle.
---