What is the Higgs boson?
Higgs boson: Science explained using sugar and ping-pong balls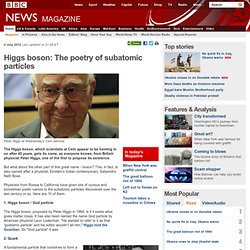 4 July 2012 Last updated at 21:08 ET Peter Higgs at Wednesday's Cern seminar The Higgs boson, which scientists at Cern appear to be homing in on after 45 years, gets its name, as everyone knows, from British physicist Peter Higgs, one of the first to propose its existence. But what about the other part of this great name - boson? This, in fact, is also named after a physicist, Einstein's Indian contemporary, Satyendra Nath Bose. Physicists from Russia to California have given lots of curious and sometimes poetic names to the subatomic particles discovered over the last century or so.
Higgs boson: The poetry of subatomic particles
It's turned into science's worst-kept secret. Tomorrow, physicists at CERN near Geneva in Switzerland are expected to announce the discovery of the Higgs boson, the culmination of a 50-year quest to find the elusive particle that gives others their mass. Here's how they got there. Peter Higgs is the first to explicitly predict the particle that would eventually acquire his name in October, but other physicists can also lay claim to the idea of a mass-generating boson.
A brief history of a boson: Timeline of Higgs - physics-math - 03 July 2012
What is the Higgs boson and why does it matter? - physics-math - 13 December 2011
Read full article Continue reading page | 1 | 2 A version of this piece was originally commissioned by the Richard Dawkins Foundation for Science and Reason and also appears on their website RichardDawkins.net . Read more: " LHC sees hint of lightweight Higgs boson " As the world awaits news of the possible discovery of the Higgs boson, there remains a lot of confusion about what it is, why we have had to work hard to find it – and why we should care. Here's why.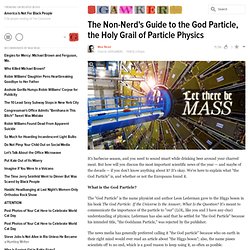 It's barbecue season, and you need to sound smart while drinking beer around your charred meat. But how will you discuss the most important scientific news of the year — and maybe of the decade — if you don't know anything about it? It's okay. We're here to explain what "the God Particle" is, and whether or not the Europeans found it. What is the God Particle?
The Non-Nerd's Guide to the God Particle, the Holy Grail of Particle Physics
VIDEO: Theoretical physicist Michio Kaku explains the larger implications of the God Particle's discovery.
You've selected the International Edition. Would you like to make this your default edition? Yes | No Close Set edition preference Feedback
VIDEO: PhD Comics Explains the Higgs Boson