What is the Higgs boson?
Higgs boson: Science explained using sugar and ping-pong balls.
Higgs boson: The poetry of subatomic particles. 5 July 2012Last updated at 01:08 GMT Peter Higgs at Wednesday's Cern seminar The Higgs boson, which scientists at Cern appear to be homing in on after 45 years, gets its name, as everyone knows, from British physicist Peter Higgs, one of the first to propose its existence.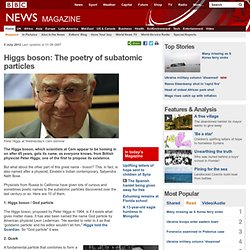 But what about the other part of this great name - boson? This, in fact, is also named after a physicist, Einstein's Indian contemporary, Satyendra Nath Bose. Physicists from Russia to California have given lots of curious and sometimes poetic names to the subatomic particles discovered over the last century or so. A brief history of a boson: Timeline of Higgs - physics-math - 03 July 2012. It's turned into science's worst-kept secret.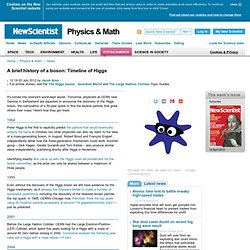 Tomorrow, physicists at CERN near Geneva in Switzerland are expected to announce the discovery of the Higgs boson, the culmination of a 50-year quest to find the elusive particle that gives others their mass. Here's how they got there. Peter Higgs is the first to explicitly predict the particle that would eventually acquire his name in October, but other physicists can also lay claim to the idea of a mass-generating boson. In August, Robert Brout and François Englert independently detail how the mass-generation mechanism could work. Another group – Dick Hagen, Gerald Guralnik and Tom Kibble – also produce similar ideas independently, publishing shortly after Higgs in November. What is the Higgs boson and why does it matter? - physics-math - 13 December 2011. Read full article Continue reading page |1|2 A version of this piece was originally commissioned by the Richard Dawkins Foundation for Science and Reason and also appears on their website RichardDawkins.net.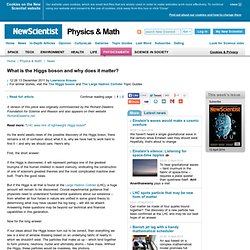 The Non-Nerd's Guide to the God Particle, the Holy Grail of Particle Physics. Higgs Boson / "God Particle" -2012 Science news is actually a 150+ year old discovery by a different name ……............Infinite Intelligence….Steve Meyer / New Thought Movement / HolisticDNA The Sixth Sense Activation Sequence – GROUNDBREAKING New Book in 2012!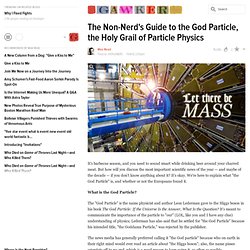 "New Thought promotes the ideas that "Infinite Intelligence" or "God" is ubiquitous, spirit is the totality of real things, true human selfhood is divine, divine thought is a force for good, sickness originates in the mind, and "right thinking" has a healing effect... " Wikipedia. VIDEO: Theoretical physicist Michio Kaku explains the larger implications of the God Particle's discovery. Boston 'hoax device' arrest Pistorius trial cross-examination ends Jewish center shooting suspect identified Girl unwraps soldier dad for birthday What is Bitcoin?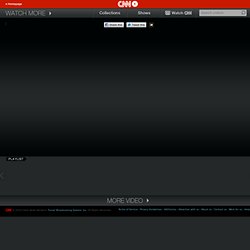 What politicians get wrong about women Expert: Suspect hated by supremacists Fareed Zakaria: Putin is playing a game The race for new black box patents is on Mom 'felt God immediately' after shooting Sheryl Sandberg: Not running for office How are underwater pings triangulated? Sources: Malaysia plane dropped altitude Hear police radio call after stabbing Students stabbed at Pennsylvania school Zakaria: Russia's trying to create chaos Piecing together a plane accident puzzle Nancy Grace: Regret doesn't excuse deed Ferry survivors told to 'stay still' Families of missing ferry students wait Students texted parents as ferry sank Hundreds missing when ferry sinks See chaos aboard sinking ship South Korea: Ship with kids sinking. VIDEO: PhD Comics Explains the Higgs Boson.
---