2012_0608 - Pipeline Costs Skills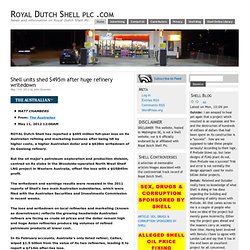 Shell units shed $495m after huge refinery writedown – Royal Dutch Shell plc .com
MATT CHAMBERS From: The Australian May 11, 2012 12:00AM ROYAL Dutch Shell has reported a $495 million full-year loss on its Australian refining and marketing business after being hit by higher costs, a higher Australian dollar and a $638m writedown of its Geelong refinery. But the oil major's petroleum exploration and production division, centred on its stake in the Woodside-operated North West Shelf LNG project in Western Australia, offset the loss with a $US845m profit.
IAG smart to kill Buzz, analyst says
Lloyds sells distressed Australian loans
ANZ targets transaction fees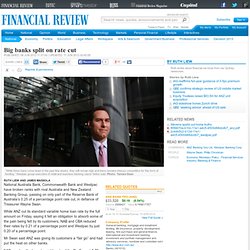 Big banks split on rate cut
"While these have come down in the past few weeks, they still remain high and there remains intense competition for this form of funding," Westpac group executive of retail and business banking Jason Yetton said. Photo: Tamara Dean
It may be spring in much of the country, but the air in the financial world carries a definite chill reminiscent of the fall of 2008. So we have to ask again: is the world's banking system strong enough to withstand the forces of a global recession?
Hey Brother, Can You Spare $500 Billion for America's Banks?
www.stanford.edu/dept/MSandE/cgi-bin/people/faculty/giesecke/pdfs/systemic.pdf
Jacob Greber Economics correspondent The resources boom has propelled Australia's economy to the fastest pace in almost five years but the two largest states are lagging, hit by high costs, the strong dollar and cautious consumers. The volume of goods and services produced surged 1.3 per cent in the first three months of 2012 and grew 4.3 per cent from a year earlier, making Australia one of the fastest-growing developed economies and possibly prompting the Reserve Bank of Australia to slow the pace of rate cuts.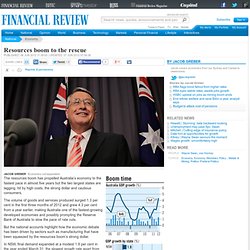 Resources boom to the rescue
Luke Forrestal and Louise Dodson Rigid and archaic work practices that have bedevilled industry in Australia for decades are among the problems threatening $921 billion in resource projects, according to the Business Council of Australia.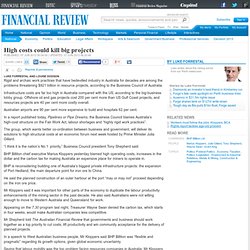 High costs could kill big projects
BHP boss spots the growth difference
'Stunning' data backward looking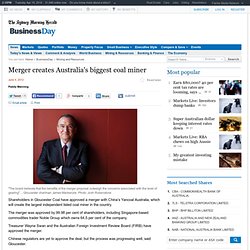 Merger creates Australia's biggest coal miner
"The board believes that the benefits of the merger proposal outweigh the concerns associated with the level of gearing" ... Gloucester chariman James Mackenzie.
Spain finally admits it's broke
Panic has become all too rational
China's easing will be felt here
Land of the angry and entitled
Australia GDP surges in first quarter
Shares lifted by GDP result
$A takes off on strong GDP figures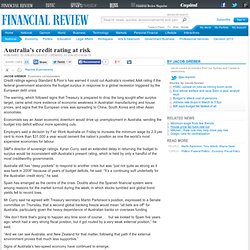 Australia's credit rating at risk?
Jacob Greber Economics correspondent Credit ratings agency Standard & Poor's has warned it could cut Australia's coveted AAA rating if the federal government abandons the budget surplus in response to a global recession triggered by the European debt crisis. The warning, which followed signs that Treasury is prepared to drop the long sought-after surplus target, came amid more evidence of economic weakness in Australian manufacturing and house prices, and signs that the European crisis was spreading to China, South Korea and other Asian economies.
Cutting edge of insurance policy
Breaking point for brokers
S&P calls for local bond market