Time Project
Best Online Project/Task Management Tool/Software - DoBamBam.com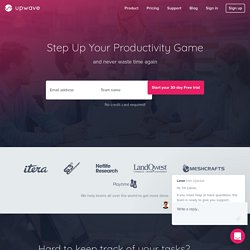 Makes me more organized and much more productive Since I've been using this tool I've been able to (finally) complete all my tasks successfully. Before Symphonical, the notes I left on my desk got lost from week to week. Even the sticky notes confused me because I forgot their dates and times, and even their subjects.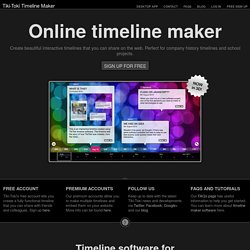 Why use Tiki-Toki? There are loads of timeline makers out there.What's so special about Tiki-Toki? Nothing to download Tiki-Toki works in your browser. Sign up for our freeaccount and you can start creating a timeline now Stunning 3d timelines No other online timeline makerallows you to view your timelines in 3d Include images and videos Tiki-Toki provides integration withYouTube and Vimeo for videos Share timelines with anyone Each timeline you create has its own unique urlthat you can send to friends or colleagues Colours and categories Tiki-Toki allows you to create different categoriesfor stories (events) and colour code them Group edit* Get your friends or colleaguesto contribute to your timelines Embed timelines on your site* Timelines created using Tiki-Toki can beembedded on your own website or blog *Active premium accounts only What can I do with Tiki-Toki?
Features & Pricing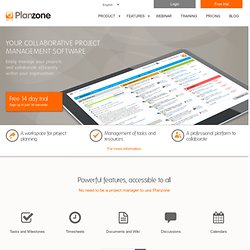 Collaborative Project Management Software | Planzone
Manage todo's and activities Assign and remember tasks. Manage priorities. Delegate work. See who's assigned to what.
What is Dipity? Dipity is a free digital timeline website. Our mission is to organize the web's content by date and time.