Freelancing
Ten things I've learned (so far) about starting a freelance design business. Font Collection: 10 Free Bold and Beautiful Script Fonts. Script fonts are designed to mimic the fluidity, capriciousness and irregularities of handwriting, and thus, they appear to have a congenial and organic aesthetic when juxtaposed against the systematic and precise characteristics of, for example, traditional sans-serifs.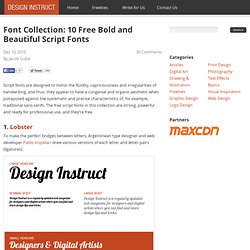 The free script fonts in this collection are strong, powerful and ready for professional use, and they're free. 1. Lobster To make the perfect bridges between letters, Argentinean type designer and web developer Pablo Impallari drew various versions of each letter and letter-pairs (ligatures). 30+ Free Minimalist Icon Sets for Clean and Minimal Design. 25 New Free High-Quality Fonts - Smashing Magazine. Advertisement Every now and then we look around, select fresh free high-quality fonts and present them to you in a brief overview.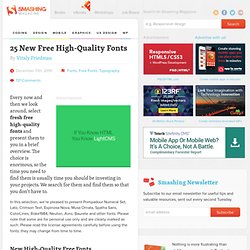 The choice is enormous, so the time you need to find them is usually time you should be investing in your projects. We search for them and find them so that you don't have to. In this selection, we're pleased to present Pompadour Numeral Set, Lato, Crimson Text, Espinosa Nova, Musa Ornata, Spatha Sans, ColorLines, Roke1984, Neuton, Avro, Baurete and other fonts.
12 Gifts Most Freelance Designers Only Dare to Dream About. Font Collection: 10 Free Blackletter Fonts. Blackletter fonts, often also referred to as gothic script fonts, are an old style of fonts that dates back to the 12th century.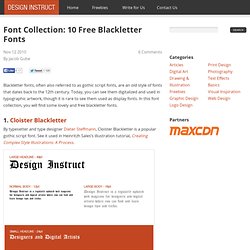 Today, you can see them digitalized and used in typographic artwork, though it is rare to see them used as display fonts. In this font collection, you will find some lovely and free blackletter fonts. 1. Cloister Blackletter. 9 New High-Quality Free Fonts. We're always trying to find new high-quality freebies.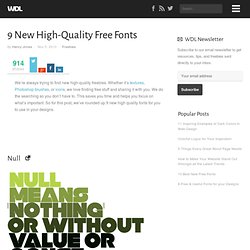 Whether it's textures, Photoshop brushes, or icons, we love finding free stuff and sharing it with you. We do the searching so you don't have to. This saves you time and helps you focus on what's important. So for this post, we've rounded up 9 new high quality fonts for you to use in your designs. 5 Answers to Common Freelance Design Questions. Four Tips for Freelancing through Adversity. Creating a Healthy Work-Life Balance as a Freelance Designer. Why Collaborating with Other Freelancers Can be a Great Idea. Being a freelancer is a great way to work for a lot of designers and creatives.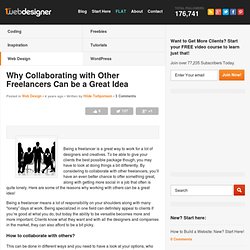 To be able to give your clients the best possible package though, you may have to look at doing things a bit differently. By considering to collaborate with other freelancers, you'll have an even better chance to offer something great, along with getting more social in a job that often is quite lonely. Here are some of the reasons why working with others can be a great idea! Being a freelancer means a lot of responsibility on your shoulders along with many "lonely" days at work. Being specialized in one field can definitely appeal to clients if you're good at what you do, but today the ability to be versatile becomes more and more important. Friday Fresh Free Fonts #68. 11 Free Online Broken Link Checker Tools [SEO] 30 Useful and Free Chinese-Styled Fonts. Fonts are highly useful resources that allows the designer to create a theme and adds meaning to a design.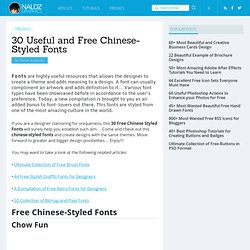 A font can usually compliment an artwork and adds definition to it… Various font types have been showcased before in accordance to the user's preference. Today, a new compilation is brought to you as an added bonus to font-lovers out there. This fonts are styled from one of the most amazing culture in the world. 10 Essential Pages in Your Freelance Site.
25 Powerful Free Fonts For Creating A Logo IdentityVector Patterns | Freebies Today on Vector Patterns we have decided to compile a list of good free fonts which are available to download for free of charge.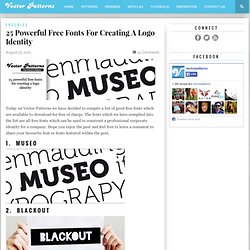 The fonts which we have compiled into the list are all free fonts which can be used to construct a professional corporate identity for a company. Hope you enjoy the post and feel free to leave a comment to share your favourite font or fonts featured within the post. 1. 10 Free EBooks for Web Designers. Several weeks ago we published a post that told you about 10 free online books for web designers.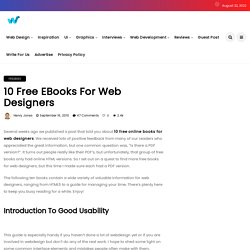 We received lots of positive feedback from many of our readers who appreciated the great information, but one common question was, "Is there a PDF version?". It turns out people really like their PDF's, but unfortunately, that group of free books only had online HTML versions. How to Build a Killer Online Resume for Free. One of the emerging ways to put together a great resume is to use an online resume generator.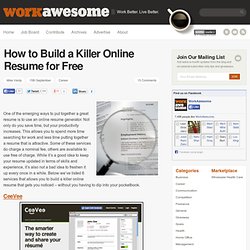 Not only do you save time, but your productivity increases. This allows you to spend more time searching for work and less time putting together a resume that is attractive. Some of these services do charge a nominal fee, others are available to use free of charge. While it's a good idea to keep your resume updated in terms of skills and experience, it's also not a bad idea to freshen it up every once in a while. 1500 polices pour designer gratuites. Top Free Script Fonts On The Web. Among the variety of typefaces ever developed by typographers, script fonts (including calligraphy and hand-written typefaces) have always occupied a special place due to their charming elegance and aesthetic perfection.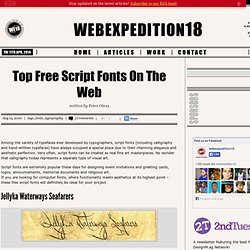 Very often, script fonts can be treated as real fine art masterpieces. No wonder that calligraphy today represents a separate type of visual art. Script fonts are extremely popular these days for designing event invitations and greeting cards, logos, announcements, memorial documents and religious art. If you are looking for computer fonts, where functionality meets aesthetics at its highest point – these free script fonts will definitely be ideal for your project. Resources: FONTS2U I suggest you to head over to fonts2u website and take a look. 10 Amazing Free Online Writing Courses. The decision to pursue your freelance career is a huge step. Congratulations! But… Now what? Where do you start? Il a Free, il a l'Internet bridé ? Il a Free, il a l'Internet bridé ? La rumeur enfle de jour en jour : Free aurait depuis peu décidé de brider l'accès aux sites de téléchargement direct (Megaupload, Rapidshare…), de streaming (YouTube, Vimeo…) et même de catch-up TV.
D'après les rumeurs, ces bridages surviendraient principalement sur les lignes des abonnés en dégroupé, dans le but de réduire les coûts en terme de bande passante, et de pousser ses abonnés à souscire à son service TV Replay (pour le catch-up TV). Bref, en attendant d'en savoir plus, impossible pour nous de ne pas réaliser notre petit sondage maison : êtes vous de votre côté touché par ce « bridage » ? Via universfreebox. 11 New High-Quality Free Fonts. Every week we try to hunt down high-quality freebies for our readers. One of our favorite freebies to find for you are fonts, because everybody knows… you can never have too many fonts in your library. In this post, we've rounded up 11 brand new fonts that are super high-quality.
I especially love the AW Conqueror font family. You're sure to find a use for these in your designs. 17 Tips for Effective Freelance Business Planning. 15 Free PrestaShop Themes « Web Templates Blog. A while back we've reviewed really impressive PrestaShop Themes that you can use when you build various online shops. No doubt each and every theme we've reviewed is quite affordable and works perfectly with PrestaShop eCommerce software.
Still, neither of them is available for free. So, we've decided to make a list of Free PrestaShop Themes, especially those, that are as good as premium ones. 40 Free Headline Typefaces. 10 New High-Quality Free Fonts for Your Designs. A Compilation of Free Apple Wallpapers. 50+ Free High Quality Gothic & Horror Fonts | Graphics. Who are you? Building your freelance design business by outsourcing | Graphic. 40 Free Minimalist And High Quality Fonts | Graphic and Web Desi. Ultimate Collection of Free Buttons in PSD Format | Naldz Graphi. 30 Cool Free Futuristic Fonts To Work With | AEXT.NET.
44 Free Stylish Graffiti Fonts for Designers. 45 Awesome Free Grunge Fonts « PSDFan. Untitled. 30 Free Fonts You MUST Have | Web Design Tutorials | Creating a. 20 Reasons You Shouldn't Be a Freelancer. 40 Beautiful Free Fonts For Creating Attractive Typography Headl. 7 Golden rules of finding freelance design work | Graphic Design. 10 Excellent Free Web Apps To Create CSS Forms and Grids | Free. 26 Free Progressive and Experimental Fonts. 30+ Free Mobile & Web Application Icons. 3 reasons to think twice before offering free design services |
---