WebDev
Webhosting, HTML tutorials, domain names... we aim to create a cluster of resources for people interested in website development. jlag Feb 5
Biz.nf offers the best free hosting no ads package i.e. there are no forced adverts on hosted for free web sites - no banner ads, no popup ads, no text link advertising on your totally free website! FREE DOMAIN NAME with a short .co.nf extension <div class="javawarn"><strong class="red">Warning:</strong> In order this web page to work properly, you should <strong>enable JavaScript</strong> in your browser.</div> Apart from one of the best free web hosting plans on the Web, Biz.nf also provides affordable unlimited hosting plans that include advanced hosting features such as PHP5 hosting, ASP.NET support, SSH access, password protect folders, custom MX, CNAME, A records, error 404 pages, SSL certificate, anti-virus and anti-SPAM protection, Crontab (cron jobs) support, catch-all & email forwarding, free site building tools, etc. And those are up to 70% faster than free web site hosting plans.
Business FREE web hosting at .Biz.nf - PHP, MySQL, No Ads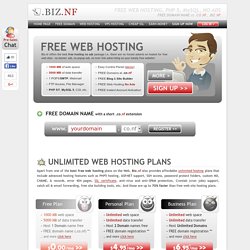 free web hosting no adverts - Supports PHP, MySQL - completely advert free - professional service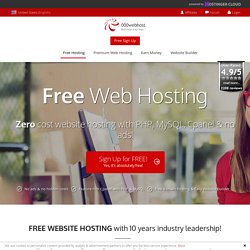 000webhost.com ($0.00 webhost), is an industry leader in providing top class free web hosting services without advertising! There are no hidden costs, no adverts, and no restrictive terms. Lightning fast speeds, maximum reliability and fanatical user support are just a few of the features you'll receive with our service. We are probably the only free web hosting company that has proof for "99% uptime guarantee". Check our uptime stats.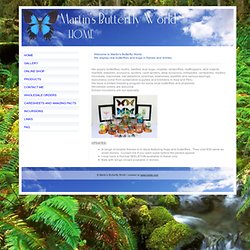 Welcome to Martin's Butterfly World. We display real butterflies and bugs in frames and domes. We supply butterflies, moths, beetles, true bugs, cicadas, lanternflies, leafhoppers, stick insects, mantids, katydids, scorpions, spiders, cave spiders, whip scorpions, millipedes, centipedes, reptiles, microbats, macrobats, bat skeletons, piranhas, seahorses, pipefish and various keyrings. Specimens come from sustainable supplies and breeders in Asia and Peru. We have a limited breeding program for some local butterflies and phasmids.
Martin's Butterfly World
WillWill56
Uh... been a while 9th June 2011 Well, you may have noticed that I never got around to properly implementing a news/blog post system, and didn't even add the new profile features that I was thinking about. I did manage to rewrite the chat engine to make it a little bit speedier, not sure if I did that after I posted about it. I left it under a beta link rather then fully implementing it.