Tools
KompoZer - Easy web authoring. Huge List of Useful Online Tools for Web Designer — Web 2e Design. Tools and Resources : KwaKwa.com. A comprehensive selection of online tools and articles for any Internet business: Open Source Scripts and Designers Tweaks: MiniAjax - simple downloadable ajax scripts (also AjaxRain).
ScriptMimic - links to many known scripts in very reasonable prices. Web2.0 Icons - easily create personalized web2.0 buttons. Stripe Generator - create the web2.0 stripe look. SURF ANONYMOUS. 13 Excellent Open Source Tools for Web Designers. Open source applications and tools are a great alternative for web designers on a budget.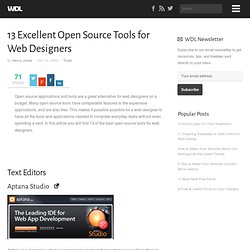 Many open source tools have comparable features to the expensive applications, and are also free. This makes it possible possible for a web designer to have all the tools and applications needed to complete everyday tasks without even spending a cent. Hundreds of Free Generators. Test everything — 100+ tools in one! Free login to any site. Loads.in - test how fast a webpage loads in a real browser from over 50 locations worldwide. Infographics & Data Visualization | Visual.ly. Many Eyes. Try out the newest version of IBM Many Eyes!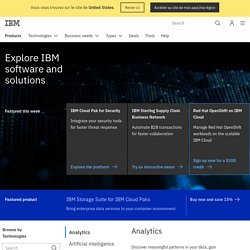 New site design and layout Find visualization by category and industry New visualization expertise and thought leadership section Expertise on the Expert Eyes blog. The Handpicked jQuery Plugins Repository. Supercharge your website! A handpicked collection of jQuery plugins. 39 Web Apps and Tools We Use to Create Websites. Probably not unlike you, we use a cadre of different tools to help us create websites and products we're proud of.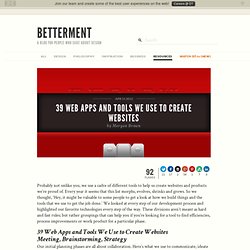 Every year it seems that this list morphs, evolves, shrinks and grows. So we thought, 'Hey, it might be valuable to some people to get a look at how we build things and the tools that we use to get the job done.' We looked at every step of our development process and highlighted our favorite technologies every step of the way. These divisions aren't meant as hard and fast rules; but rather groupings that can help you if you're looking for a tool to find efficiencies, process improvements or work product for a particular phase. 39 Web Apps and Tools We Use to Create Websites.
50 free web design tools that rock! Net magazine is the number one choice for the professional web designer and developer.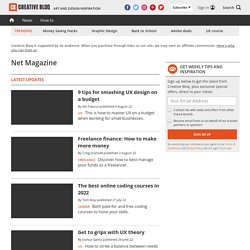 It's here that you find out about the latest new web trends, technologies and techniques – all in one handy package. Each issue boasts a wealth of expert tips and advice, including in-depth features and over 30 pages of advanced front- and backend tutorials on subjects as diverse as CSS, HTML, JavaScript, WordPress, PHP, and plenty more. Create Toolbar - Build Your own Toolbar and Apps.
Free web tools - free counter, free survey/poll script. Layer Styles. Search engine optimization SEO Company Promotion ranking Services internet marketing placement. Histats.com Counter ,the free web stats and stat counter, hit counter, free web tracker and tracking tools, professional and free!!
Free website Widgets, Gadgets, Apps, Plugins, Software & Tricks | Widgia. Easy Website Builders - Reviews of the Best Website Builder Software. Create a new Fiddle - jsFiddle - Online Editor for the Web (JavaScript, MooTools, jQuery, Prototype, YUI, Glow and Dojo, HTML, CSS) Windows Live Writer 2011.
Find and Make Dynamic Web Widgets. Create Apps - Create a Toolbar | Conduit. Check and report abuse IP. The W3C Markup Validation Service. IP Address Locator - Enter an IP address to find its location - Lookup Country Region City etc. This Geo Ip Location service (IP Address Map lookup service) is provided for FREE by Geobytes, inc to assist you in locating the geographical location of an IP Address.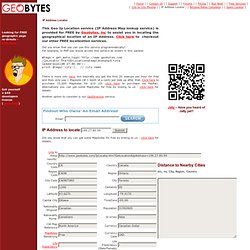 Click here to checkout our other FREE localization services. Did you know that you can use this service programmatically? For example, in PHP you would access this service as shown in this sample: $tags = get_meta_tags(' Computer and Internet Tools and Resources. Random Password Generator. Winmail.dat Anhänge öffnen. Öffnen Einfaches Öffnen von winmail.dat und ATT0001.dat Attachments. 1.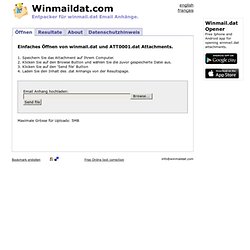 Speichern Sie das Attachment auf Ihrem Computer. 2. Klicken Sie auf den Browse Button und wählen Sie die zuvor gespeicherte Datei aus. 3. Klicken Sie auf den 'Send file' Button 4. Utrace - IP-Adressen und Domainnamen lokalisieren. Free ip to location map « ip2loc » Ruby & Sinatra-powered. Page2RSS - Create an RSS feed for any web page. The Unofficial Web Applications List. 41 FREE and Useful Online Color Tools for Web Designers.
----Tools & Tips for Multimedia Designers--Planet of the Web. New Webmaster Tools » Blog Archive » Welcome to New Webmaster Tools. Free Web Apps & Web Design Tools. These days if you are just starting out as an internet marketer or graphic designer you will notice that some of the professional software programs for web/graphic design tend to be a little pricey.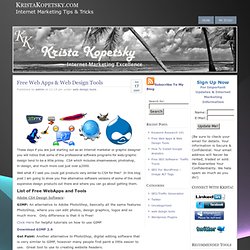 CS4 which includes dreamweaver, photoshop, in-design, and much more cost just over $2000. Well what if I said you could get products very similar to CS4 for free? In this blog post I am going to show you free alternative software versions of some of the most expensive design products out there and where you can go about getting them. List of Free WebApps and Tools Adobe CS4 Design Software:
Demo | CKEditor. Standard editor The following is the standard editor configuration provided with the standard option in the download page.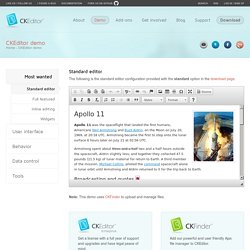 Rich Text Editor, editor1 Note: This demo uses ​​CKFinder to upload and manage files. CKEditor with lots of features enabled. Real-time HTML Editor. Try it free: Online HTML Editor - an Ultra-lightweight online WYSIWYG Editor! Tools And Resources For Designers, Blog Marketing And Money Making Tips - Smashapps.
---