Webcomics
Notre but est de lister un maximum de Webcomics intéressants vous permettant de passer un moment agréable à lire, mais aussi de proposer les vôtres ou de demander des conseils.
DC Universe: The Source. 1] E3 Nightmare Begins. Well, dont be too upset if you find that nothing really works here yet... largo and I havent finished the backbone of the site.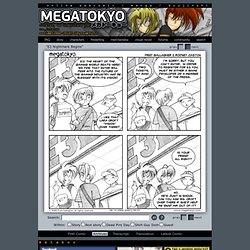 We should be launching the new version of the site, complete with four comics, on monday (barring unforseen disasters - a notably regular occurance in my life). So, in short, we aren't ready for you yet, but you are welcome to look around, where you can. Notice something different? Lackadaisy Blood-money. The Calinda is a dance with roots tracing back to African martial arts.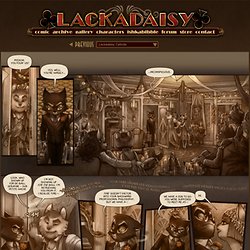 It appears to have made its way to the American South with the slave trade where it intermingled with Creole and Cajun cultures and developed a new reputation as a bawdy, forbidden dance with implications of Voodoo practice. In sidelong reference to the Calinda dance, a girl named Colinda occasionally appears in Louisiana folksongs - the popular Cajun tune "Allons Danser Colinda" among them. Secret Identity. Questionable Content: New comics every Monday through Friday. Romantically Apocalyptic - 45. Comics about JOHN AND JOHN by d!o | hosted by XSnetworks. After almost 10 years of corrupting the minds of innocent comicreaders, I have decided to quit with John & John.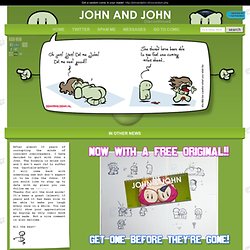 The formula is dried out and I don't want J&J to suffer the 'Garfield-effect'. I will come back with something new but don't expect it to be like the Johns. If you would like to stay up to date with my plans you can follow me on twitter. Thanks for all the kind words! Bear Nuts by Alison Acton » Archive » Page 01. Rore... Tais toi! Le blog de MONSIEUR LE CHIEN.
BD en ligne : annuaire des webcomics, blogs bd et autres bandes dessinées numériques. MALIKI - webcomic gratuit. Le blog de jean paul pognon. Pas-Blogue (V.3) SOMBREBIZARRE[le blog de SLO] Morpheen. Ze Blog BD de Mariko. FFFFFFFUUUUUUUUUUUU-
= BOULETCORP = LE BLOG = Notre groupe sur facebook. Philippe Geluck - Le Chat - Dessin | Strip Du Jour. SUPER EFFECTIVE. Définition sur wikipedia. Un article de Wikipédia, l'encyclopédie libre.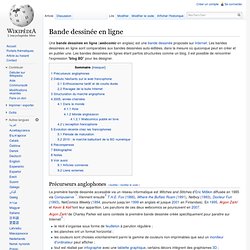 Une bande dessinée en ligne (webcomic en anglais) est une bande dessinée proposée sur Internet. Les bandes dessinées en ligne sont comparables aux bandes dessinées auto-éditées, dans la mesure où quiconque peut en créer et en publier une. Les bandes dessinées en lignes étant parfois structurées comme un blog, il est possible de rencontrer l'expression "blog BD" pour les désigner. Précurseurs anglophones[modifier | modifier le code] 2351. Webcomics.fr - Lieu de publication.
Flock - Dessin crétin. PirateSourcil. Comics, Quizzes, and Stories. Tu mourras moins bête. Geek And Poke. L'actu en patates - Blog LeMonde.fr. AmazingSuperPowers: Webcomic at the Speed of Light. Comics. Often dirty. La Bande Pas Dessin?e ? 374 - L?App?tit.
Xkcd. Webcomic sur Smash bros. Webcomics anglais. Les illustrations. Le SLOuna Blog.
---