Twitter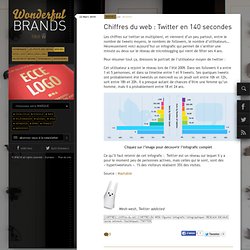 Chiffres du web : Twitter en 140 secondes
Amis de la pub, Amis de la Com! C.R.E.A.M. a le plaisir de vous inviter à célébrer ce début d'année, avec les amis du métier: agences, annonceurs, producteurs... Grandes baronnes et vicomtes de l'advertising, du slogan, de l'accroche qui ricoche, de l'analyse multi factorielle, séquentielle, transactionnelle, de l'argumentaire qui fait mouche, amis du teasing, du hors media-mass media!
Le Monde.fr | • Mis à jour le | Par Samuel Laurent "Jamais vu autant de monde salle Colbert, tout le monde est là." Mardi 23 mars, la réunion des députés UMP, destinée à "crever l'abcès" de la défaite aux régionales, selon les termes de Jean-François Copé, leur chef de file, devait se dérouler à huis clos. C'était sans compter sur les parlementaires eux-mêmes. Lionel Tardy, député de Haute-Savoie plutôt ouvert aux nouvelles technologies, s'est ainsi lancé dans un compte rendu en direct via le service de microblogging Twitter de cette séance de psychothérapie collective.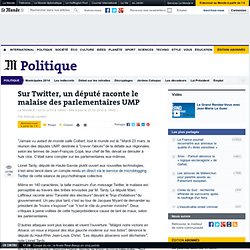 Sur Twitter, un député raconte le malaise des parlementaires UMP
Le réseau social de Mark Zuckerberg met constamment à jour sa plateforme, et pour les utilisateurs, et pour les entreprises. Ainsi, ces dernières bénéficient désormais d'un nouveau système publicitaire pour la promotion de leurs produits et offres, mieux adapté au format de la plateforme de Palo Alto. Orienté "social", ce nouveau format de pub suit une logique de partage entre les utilisateurs : si plusieurs de vos amis "likent" une publicité d'une marque dont vous êtes fan, cette dernière apparaîtra avec le nombre de personnes l'ayant likée. Et ce, avec la possibilité pour les utilisateurs de la commenter.
Les 10 outils indispensables pour son Twitter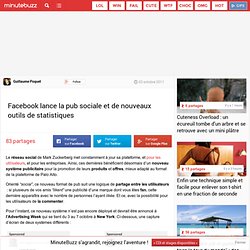 10 outils et stratégies pour faire votre netto
Plus on utilise Twitter et plus le nombre de personnes qu'on suit augmente...on devient vite boulimique jusqu'à rendre indigeste le nombres des personnes qu'on "follow" (qu'on suit...). Souvent on a même tendance à suivre systématiquement tous nos nouveaux followers pour leur rendre la pareille. Mais il faut savoir que certain cherchent à augmenter virtuellement leur nombre de followers en suivant puis "qwittant" (quittant) très vite un grand nombre de comptes Twitters... il faut donc éviter de suivre n'importe qui juste pour lui faire plaisir et bien choisir ses contacts en fonction de ses centres d'intérêt ou des objectifs d'usage de son compte Twitter. Bref, la gestion de followers sur Twitter n'est pas à prendre à la légère… Et puis...comme le printemps est bien souvent l'occasion de faire un grand nettoyage, je me suis dit qu'il serait temps de passer un coup de balai sur Twitter !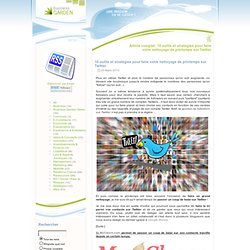 Twitter Gets Its Own URL Shortener To Stop Scams; Good Marketers
Twitter has just announced that to protect people from scams, links in direct messages and sent via email will be shortened using its own URL shortener. It's a welcome move. Still, I was curious about any impacts this might have for good marketers who are not trying to scam people.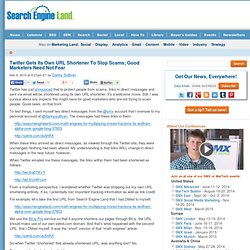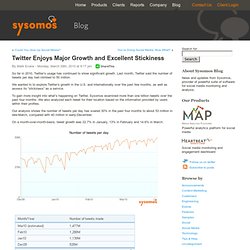 Twitter Enjoys Major Growth and Excellent Stickiness « Sysomos B
By Mark Evans - Monday, March 29th, 2010 at 9:17 pm ShareThis So far in 2010, Twitter's usage has continued to show significant growth. Last month, Twitter said the number of tweets per day had climbed to 50 million. We wanted to to explore Twitter's growth in the U.S. and internationally over the past few months, as well as assess its "stickiness" as a service.
New features Meet the new inbox New customizable tabs put you back in control so that you can see what's new at a glance and decide which emails you want to read and when. More about the new inbox Talk across devices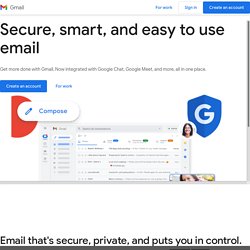 Twitter Trends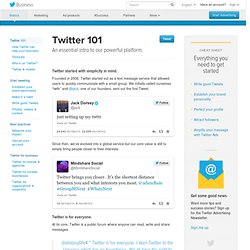 Twitter started with simplicity in mind. Founded in 2006, Twitter started out as a text message service that allowed users to quickly communicate with a small group. We initially called ourselves "twttr" and @jack, one of our founders, sent out the first Tweet. Since then, we've evolved into a global service but our core value is still to simply bring people closer to their interests. Twitter is for everyone.
Top 10 Tips for Getting More Twitter Followers « IndyPosted
So, you've finally joined Twitter. You have a lot to say, but who exactly is going to listen? Your followers will all be eager to see what you have to say, but first you need to get people to follow you. Don't fall for any of those "Get 10,000 followers in 1 day" scams. Those don't work and even if they did, you wouldn't be getting the kind of followers who are actually reading your tweets.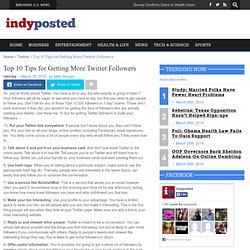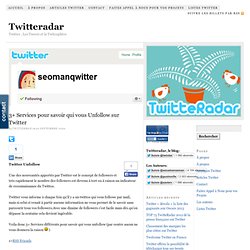 3+ Services pour savoir qui vous Unfollow sur Twitter | TwitteRa
Twitter Unfollow Une des nouveautés apportés par Twitter est le concept de followers et très rapidement le nombre des followers est devenu à tort ou à raison un indicateur de reconnaissance du Twittos. Twitter vous informe à chaque fois qu'il y a un twittos qui vous followe par mail, mais si celui ci venait à partir aucune information ne vous permet de le savoir sans parcourir tous vos followers.Avec une dizaine de followers c'est facile mais dès qu'on dépasse la centaine cela devient ingérable. Voila donc 3+ Services différents pour savoir qui vous unfollow (par contre aucun ne vous donnera la raison
Twitter fait exploser les frontières du Net - INTERNET TWITTER
Samedi 30 janvier 2010 6 30 /01 /Jan /2010 13:21 Après avoir constaté jeudi un afflux d'abonnés à mon compte twitter et après quelques investigations j'ai découvert le billet de Flavien : Liste : les personnes à suivre absolument sur Twitter. Ce billet liste 60 comptes twitter intéressants à suivre par thématique : veille, blogueurs, référencement, emploi et détente.
Twitter : les comptes à suivre pour bien débuter et analyse des
Download Windows VersionDownload Linux VersionDownload Mac Versionpurchase now Find and Engage in Like-Minded Twitter Followers & Schedule Tweets! Uses Oauth and Twitter API! Take advantage of the recent Twitter explosion in popularity, NOW!
Foursquare : concepts et usages - Marketing et Technologies, Blo
This is my first Twitter related article, I am using Twitter a lot lately so it is really unforgivable not even have one article related to Twitter. Now I am starting to correct this mistake and here comes list with 27 Twitter tools, which will help You find more followers, manage them, find who doesn't follow You back, who stops following, statistics and much, much more. As Your first added follower on this list You should follow @1stwebdesigner, if You want design related tweet links. Besides the tools you definitely could use guide how to tweet and build your followers as well, right? Check out our only Twitter tweeting guide 2012 you will need for your success on Twitter!