For:henry.hermans@ou.nl
2010-Horizon-Report-Preview.pdf (application/pdf-object)
Bol.com (affiliate link) is een Sinterklaasactie gestart waarbij de Sony PRS-300 Pocket Edition en de Sony PRS-600 Touch Edition ereaders aangeboden worden met 10 ebook bestsellers. De Sony Pocket Edition is nu te koop voor €239,-. Je bespaart dan €120,-.
Bol.com stunt met Sony ereaders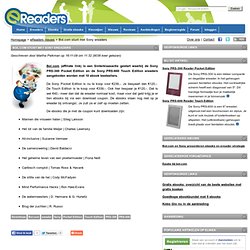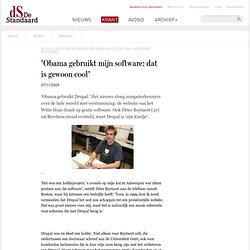 'Obama gebruikt Drupal.' Het nieuws sloeg computerkenners over de hele wereld met verstomming: de website van het Witte Huis draait op gratis software. Ook Dries Buytaert (31) uit Berchem stond versteld, want Drupal is 'zijn kindje'. 'Het was een hobbyproject: 's avonds op mijn kot in Antwerpen wat zitten prutsen aan die software', vertelt Dries Buytaert aan de telefoon vanuit Boston, waar hij intussen een bedrijfje heeft. 'Toen, in 1999, kon ik nooit vermoeden dat Drupal het ooit zou schoppen tot een presidentiële website.
Obama gebruikt Drupal
De Standaard Online - Boek.be lanceert website voor e-boeken en e-readers
Boek.be heeft vandaag een website voor e-boeken en e-readers gelanceerd. Het publiek kan meer dan 3.000 Nederlandstalige e-boeken downloaden via de nieuwe site. Onder meer Pieter Aspe en Hugo Claus zijn digitaal verkrijgbaar via deze website. In de toekomst zal het aantal titels toenemen want Boek.be wil alle uitgevers stimuleren om hun nieuwe - en ook minder nieuwe - boeken in digitale vorm aan de lezer aan te bieden. Boek.be werkt hiervoor samen met ePagine, een bedrijf gespecialiseerd in softwareapplicaties voor de boekhandel.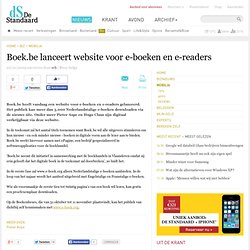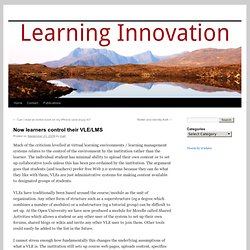 Virtual Learning » Now learners control their VLE/LMS
Much of the criticism levelled at virtual learning environments / learning management systems relates to the control of the environment by the institution rather than the learner. The individual student has minimal ability to upload their own content or to set up collaborative tools unless this has been pre-ordained by the institution. The argument goes that students (and teachers) prefer free Web 2.0 systems because they can do what they like with them; VLEs are just administrative systems for making content available to designated groups of students.