Blog
Blog. Ninos, Automatic Audiovisual Production. The Great Seduction - Andrew Keen. Læringslivet. ZB DIGITAAL: De Library School is begonnen! Vandaag lees ik op de site van de VOB dat de Library School uit de startblokken is gegaan: Op maandag 7 september is de LibrarySchool van start gegaan.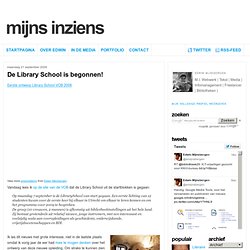 Een eerste lichting van 12 studenten kwam voor de eerste keer bij elkaar in Utrecht om elkaar te leren kennen en om het programma voor 2009 te bespreken. E-flections. BLOGOSPHERE Information professionals guiding you to the best bits of the blogosphere - IWR Blog. In Frankfurt Enterprise 2.0 = Organizational Change & People Challenges. Luis Suarez @elsua 's November 3 Tweet: "One of the things I *really* like(d) from the #e20s is that we still keep making sustained use of the hashtag after the event.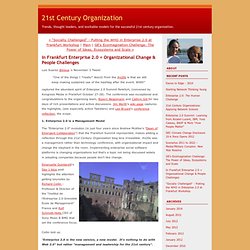 W00t! " captured the abundant spirit of Enterpise 2.0 Summit Fankfurt, (convened by Kongress Media in Frankfurt October 27-28). The conference was exceptional and congratulations to the organizing team, Bjoern Negelmann and Cathrin Gill for two days of rich presentations and active discussions.
---