Blog
blog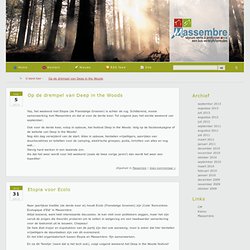 Op de drempel van Deep in the Woods Yep, het weekend met Etopia (de Franstalige Groenen) is achter de rug. Schitterend, mooie samenwerking met Massembre en dat al voor de derde keer. Tot volgend jaar, het eerste weekend van september;
NINOS – programEditor – Video May 13, 2008 Below you'll find a video that explains the main features of the program editor, showing some results obtained with the system. download video Test version of Program Editor
Ninos, Automatic Audiovisual Production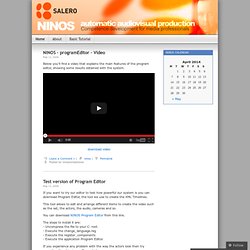 The Great Seduction - Andrew Keen
Læringslivet
Jeg er en ivrig leser av forskjellige blogger som handler om læring. Nylig kom jeg over et innlegg som tok for seg temaet formell og uformell læring. Både kjente bloggere som Donald Clark og Jay Cross kommenterte dette. Bakgrunn for kommentarene var en artikkel som ble publisert allerede for 6 år siden, men er likevel aktuell i dag. Artikkelen tar opp forskjellen mellom formal og informal learning hva gjelder lederutvikling. I denne sammenheng er formal learning den kunnskap man tilegner seg gjennom organisert læring utenfor det formelle utdanningssystemet, som for eksempel arbeidsmarkedskurs, kompetanseutvikling gjennom kurs, eller organisert utdanning i organisasjonslivet.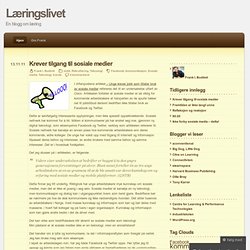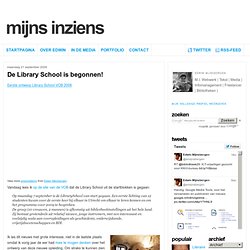 ZB DIGITAAL: De Library School is begonnen!
Vandaag lees ik op de site van de VOB dat de Library School uit de startblokken is gegaan: Op maandag 7 september is de LibrarySchool van start gegaan. Een eerste lichting van 12 studenten kwam voor de eerste keer bij elkaar in Utrecht om elkaar te leren kennen en om het programma voor 2009 te bespreken.
This is a draft of a position paper I'm writing for my university, the University of the Arts London, on digital literacy and PLE's, any thoughts or comments welcome, especially on how useful the 5 'c" idea is as a way to simplify the attributes needed #PLENK2010 Summary A UAL graduate should be digitally mature learner, equipped with the critical faculties to create their own Personal Learning Environment (PLE) that will assist them to take advantage of the affordances of technology in their professional, personal and creative lives after UAL. The best way to develop this is through a culture of collaborative inquiry that explores the potential of digital scholarship through a range of authentic situated learning experiences that are relevant to the individuals' area of practice. They should be able to engage in 5 core competencies of curation, critique, creation, collaboration, and communication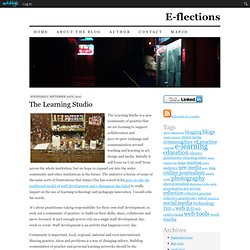 E-flections
BLOGOSPHERE Information professionals guiding you to the best bits of the blogosphere - IWR Blog
Luis Suarez @elsua 's November 3 Tweet: "One of the things I *really* like(d) from the #e20s is that we still keep making sustained use of the hashtag after the event. W00t!" captured the abundant spirit of Enterpise 2.0 Summit Fankfurt, (convened by Kongress Media in Frankfurt October 27-28). The conference was exceptional and congratulations to the organizing team, Bjoern Negelmann and Cathrin Gill for two days of rich presentations and active discussions.
21st Century Organization: In Frankfurt Enterprise 2.0 = Organizational Change & People Challenges