Music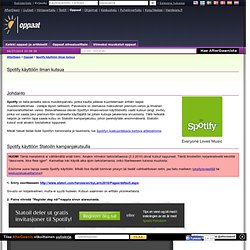 Johdanto Spotify on beta-asteella oleva musiikkipalvelu, jonka kautta pääsee kuuntelemaan erittäin laajaa musiikkivalikoimaa - vieläpä täysin laillisesti. Palvelusta on olemassa maksullinen premium-versio ja ilmainen mainosrahoitteinen versio.
Spotify käyttöön ilman kutsua
Loudcrowd
Bibliotekernes netmusik
Tukholma. Ruotsissa on leimahtanut kiivas väittely siitä, pitäisikö erilaisten tiedostojen lataaminen internetistä olla vapaata vai tulisiko se luokitella rikolliseksi toiminnaksi. Keskusteluun ovat löylyä heittäneet myös Ruotsin akatemia ja tekijänoikeuksiaan vaalivat luovat taiteilijat. Expressen ja Svenska Dagbladet -lehdissä käydyn kiistelyn käynnisti artikkeli, jossa seitsemän kokoomuslaista kansanedustajaa julisti, että tiedostojen kuten musiikin ja elokuvien vapaan lataamisen internetistä pitäisi olla jokamiehen oikeus.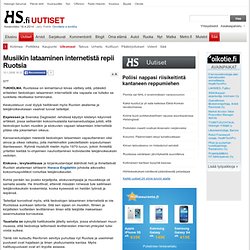 Musiikin lataaminen internetistä repii Ruotsia - HS.fi - Ulkomaat
How Web Media is Usurping Old Media - Music, Video, More - ReadWriteWeb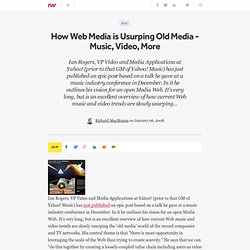 Ian Rogers, VP Video and Media Applications at Yahoo! (prior to that GM of Yahoo! Music) has just published an epic post based on a talk he gave at a music industry conference in December. In it he outlines his vision for an open Media Web. It's very long, but is an excellent overview of how current Web music and video trends are slowly usurping the 'old media' world of the record companies and TV networks.
Magazine - idiomag | your music magazine
Digital music: 2007 year in review
Ditching DRM, new mobile offerings, pay-what-you-want and other alternative business models — one word to sum up activity in the digital music space in 2007: "experimentation". In this post we look back at 2007 through the lens of last100's coverage, highlighting some of the important stories and trends, and how they point to what we might expect for digital music in 2008. Also see: Internet TV: 2007 year in review Ditching DRM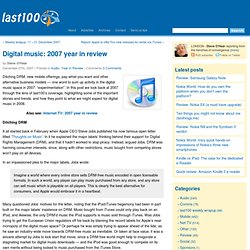 Excuse Me While I Share My Copy of 1984 at franticindustries - web 2.0, social networking, IT technology trends.
One of the world's largest hard disk manufacturers has blocked its customers from sharing online their media files that are stored on networked drives. Western Digital says the decision to block sharing of music and audio files is an anti-piracy effort. The ban operates regardless of whether the files are copy-protected, or a user's own home-produced content. Digital activists say it is the latest step in a so-called war on copyright theft that is damaging consumer rights. The shift to a digital world in which all forms of content, from books, music, and TV programmes to films, can be shared effortlessly around the world between people with an internet connection has produced an unprecedented upheaval in attitudes to media, copyright and consumer rights.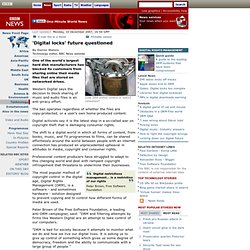 Technology | 'Digital locks' future questioned
BoomShuffle.com
MusicMobs Shuts Down, Founder Joins Last.fm « GigaOM
Hype Machine
Keeping with the theme of Mike's Online Photo Editing Overview, I wanted to cover some of the entrants into social music. Music was probably the first type of rich media to really go "Web 2.0″ and it's become a pretty popular place for startups. As a result, there are some great Rich Internet Applications built around social music. Anyone who makes music a part of their daily lives has no shortage of options when it comes to finding new music and sharing with friends. FineTune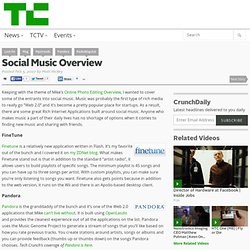 Social Music Overview
ELECTRO ALTERNATIVE INDIE EBM INDUSTRIAL charts
Qnext