Web2.0 2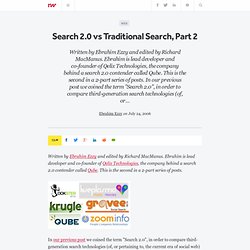 Written by Ebrahim Ezzy and edited by Richard MacManus. Ebrahim is lead developer and co-founder of Qelix Technologies, the company behind a search 2.0 contender called Qube. This is the second in a 2-part series of posts. In our previous post we coined the term "Search 2.0", in order to compare third-generation search technologies (of, or pertaining to, the current era of social web) with traditional search engines - to see where the future of search lies. Even if some of the startups we're profiling in this series may not survive the next Internet bust, the underlying ideas are evolutionary and have proven to be effective so far. We think the ideas showcased by these new social search apps are worth embracing, to ensure the future growth of the search industry.
Search 2.0 vs Traditional Search, Part 2
Google Labs Relaunches With Two New Must-See Projects
Google Labs, the company's experimental playground where users can test out new features, has been quiet lately with the exception of Gmail Labs. This is unusual, especially for a company that prides itself on innovation and its famous 20 percent rule. But it seems that Google's been hard at work behind the scenes. Today, they announced a relaunched Google Labs, moving it to a new domain and rebuilding it on Google App engine.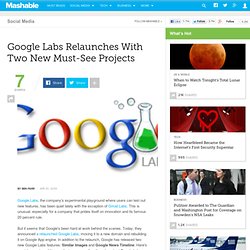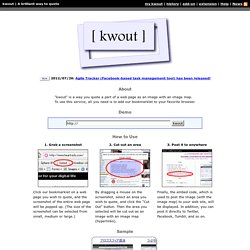 <p id="noscript">kwout uses JavaScript. Please enable JavaScript and try again.</p> About "kwout" is a way you quote a part of a web page as an image with an image map.
There are several semantic sources that can be found in the Web that are either explicit, e.g. Wikipedia, or implicit, e.g. derived from Web usage data. Most of them are related to user generated content (UGC) or what is called today the Web 2.0. In this talk we show several applications of mining the wisdom of crowds behind UGC to improve search. We will show live demos to find relations in the Wikipedia or to improve image search as well as our current research in the topic. Our final goal is to produce a virtuous data feedback circuit to leverage the Web itself.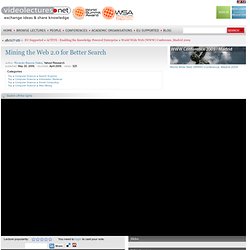 Mining the Web 2.0 for Better Search
checkser.com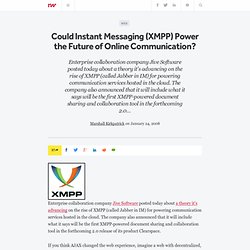 Enterprise collaboration company Jive Software posted today about a theory it's advancing on the rise of XMPP (called Jabber in IM) for powering communication services hosted in the cloud. The company also announced that it will include what it says will be the first XMPP-powered document sharing and collaboration tool in the forthcoming 2.0 release of its product Clearspace. If you think AJAX changed the web experience, imagine a web with decentralized, open standards-based IM at its center. That's an exciting thought. This post introduces the concepts at issue in accessible terms, discusses some of the possible impacts of such a trend on innovation and offers some counter-arguments to Jive's rosy picture of the future. The changes that XMPP could enable for web innovation in general are quite interesting.
Could Instant Messaging (XMPP) Power the Future of Online Communication?
The Quintessential Guide to Job Search 2.0
Quintessential Careers Press: The Quintessential Guide to Job Search 2.0: Advancing Your Career Through Online Social Media The Quintessential Guide to Job Search 2.0: Advancing Your Career Through Online Social Media ISBN-10: 1-934689-08-4 ISBN-13: 978-1-934689-08-0 Through the use of a variety of online tools -- blogs, wikis, social-networking sites, micro-blogging sites, portfolios, podcasts, Youtube videos, and more -- individuals, especially younger people, are socially constructing their identities in ways unimagined a dozen or so years ago.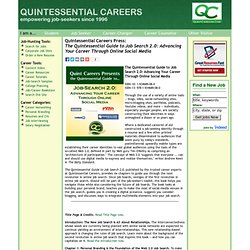 Sosiaalinen media -seminaari. Painopisteinä yhteistyön välineet verkossa. - Miten verkossa olevat työkalut tuovat lisää tehokkuutta ja uusia mahdollisuuksia opetukseen tai muuhun työhön? - Kuinka onnistuu yhdessä kirjoittaminen verkon välityksellä tai vuorovaikutteiset verkkokokoukset?
Web 2.0 ja Jyväskylän yliopisto. "On se vaan ihmeellistä!"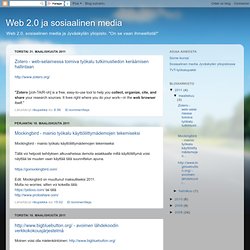 Some Lab: Uusi tutkimusprojekti sosiaalisesta mediasta
ControlC
Conrad Hametner is passionate about globalizing technology and building forward thinking companies to address consumer and community needs. He has been called an "all-around executive athlete," experienced in Marketing, Business Development and Operations. Conrad is also known by many foreign companies as "our man in the US" for his ability to launch technologies into US markets. He honed his business skills while working for technology companies with roots in Asia, Europe and the United States. Conrad led the US effort to build the French-based Qipit service, recognized by Red Herring as a top 100 "Most Promising" European private technology companies to drive the future of technology. As head of Consumer Marketing, Conrad helped launch the Qipit patented technology that turns a camera phone into a mobile copy center enabling users to scan, copy, and fax from anywhere.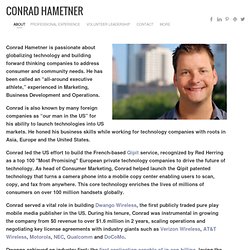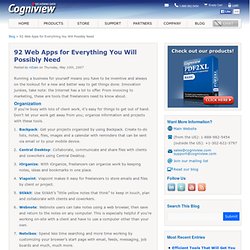 Posted by nitzan on Thursday, May 10th, 2007 Running a business for yourself means you have to be inventive and always on the lookout for a new and better way to get things done. Innovation junkies, take note: the Internet has a lot to offer. From invoicing to marketing, these are tools that freelancers need to know about. Organization If you're busy with lots of client work, it's easy for things to get out of hand.
The Best Places To Learn Web 2.0 Basics — 2007
When it comes to technology, I'm not the sharpest knife in the drawer (not to mention being sort of a Luddite). I need things very, very simple. I thought it would be helpful to a list of the sites that I've found most helpful and accessible in explaining how to use key Web 2.0 tools like blogs, wikis, Flickr, social bookmarking, RSS readers, etc. You can also find links to the sites I list here, and many more, on the Teachers' Page on my website. There are three sites that I think stand above all the others. They all provide very understandable step-by-step explanations for a variety of key tools.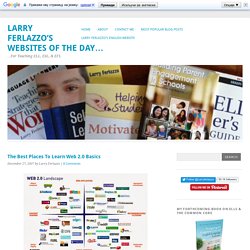 Best Web 2.0 Applications for Elementary School | Langwitches
Thanks to an amazing list of "The Best Web 2.o Application for Education-2007" from Larry Ferlazzo's Website, I decided to create my own list of the applications that have been the most useful or promising in the Elementary School scene. Maybe I even make a meme out of it to encourage other elementary school techies to create their own lists and publish them on their blog. The list does not have to be in any particular order. Great if you write a short sentence about what the tool does. AnimotoCreate your own music video, simply by uploading your own images and selecting music. + Students LOVED seeing themselves on the video. – Limit of 30 secondsSlide.com Create your own slideshow, then embed in your classroom blog.Slideshare Upload your students' or your own powerpoint files in order to embed them on your classroom blogLunapicWeb based image editor.
What Web applications and trends will make it big in 2008? In this post the RWW authors ruminate on the current trends in Web technology and look forward to what 2008 might bring us. Topics include Google, semantic web, online advertising, recommendation systems, Facebook, digg, open standards, Mobile Web, search engines, and much more! So check out our predictions for '08 and please contribute your own in the comments.
2008 Web Predictions - ReadWriteWeb
Libris, Firefox och Skype i samarbete
BeenVerified
Yahoo! Releases Shortcuts Wordpress Plugin
Online Information 2007
AppJet: Instant Web Programming
Phil Bradley's weblog: Top 10 Useful Web Tools
It's our tree
Press
My Online Information Keynote
Roo Reynolds - What's Next? » Blog Archive » Online Information 07 - Day 1
Study: Web Will Slow by 2010
20+ Customer Management Tools
Oikeita totuuksia
80+ File Conversion Services And Tools
30+ Reminder Services
35+ Ways to Find and Plan Events Online
Del.icio.us ohjeet
Jiibe - Does Your Company Jiibe?
DreamFace Interactive