Web2.0 2
Search 2.0 vs Traditional Search, Part 2
Google Labs Relaunches With Two New Must-See Projects
Google Labs, the company's experimental playground where users can test out new features, has been quiet lately with the exception of Gmail Labs.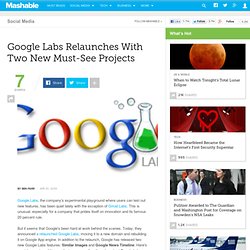 There are several semantic sources that can be found in the Web that are either explicit, e.g. Wikipedia, or implicit, e.g. derived from Web usage data.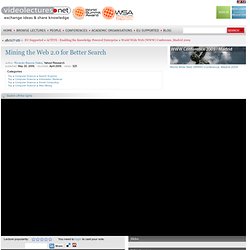 Mining the Web 2.0 for Better Search
checkser.com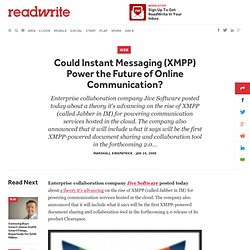 Enterprise collaboration company Jive Software posted today about a theory it's advancing on the rise of XMPP (called Jabber in IM) for powering communication services hosted in the cloud. The company also announced that it will include what it says will be the first XMPP-powered document sharing and collaboration tool in the forthcoming 2.0 release of its product Clearspace. If you think AJAX changed the web experience, imagine a web with decentralized, open standards-based IM at its center. That's an exciting thought.
Could Instant Messaging (XMPP) Power the Future of Online Communication?
The Quintessential Guide to Job Search 2.0
Quintessential Careers Press: The Quintessential Guide to Job Search 2.0: Advancing Your Career Through Online Social Media The Quintessential Guide to Job Search 2.0: Advancing Your Career Through Online Social Media ISBN-10: 1-934689-08-4 ISBN-13: 978-1-934689-08-0 Through the use of a variety of online tools -- blogs, wikis, social-networking sites, micro-blogging sites, portfolios, podcasts, Youtube videos, and more -- individuals, especially younger people, are socially constructing their identities in ways unimagined a dozen or so years ago.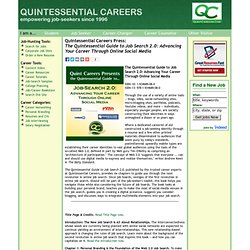 Web 2.0 ja Jyväskylän yliopisto. "On se vaan ihmeellistä!"
Some Lab: Uusi tutkimusprojekti sosiaalisesta mediasta
ControlC
Copy and share documents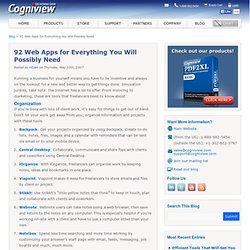 Running a business for yourself means you have to be inventive and always on the lookout for a new and better way to get things done.
The Best Places To Learn Web 2.0 Basics — 2007
When it comes to technology, I'm not the sharpest knife in the drawer (not to mention being sort of a Luddite). I need things very, very simple.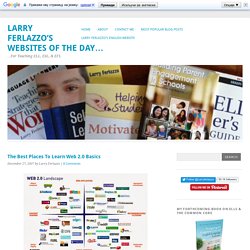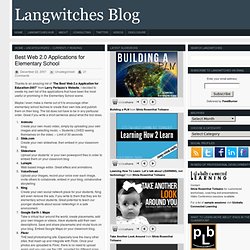 Best Web 2.0 Applications for Elementary School | Langwitches
Thanks to an amazing list of "The Best Web 2.o Application for Education-2007" from Larry Ferlazzo's Website, I decided to create my own list of the applications that have been the most useful or promising in the Elementary School scene.
What Web applications and trends will make it big in 2008? In this post the RWW authors ruminate on the current trends in Web technology and look forward to what 2008 might bring us. Topics include Google, semantic web, online advertising, recommendation systems, Facebook, digg, open standards, Mobile Web, search engines, and much more! So check out our predictions for '08 and please contribute your own in the comments. Also you may want to review our track record for 2007 Web predictions.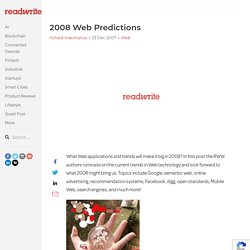 2008 Web Predictions - ReadWriteWeb
Libris, Firefox och Skype i samarbete
BeenVerified
Yahoo! has released a new plugin for Wordpress that adds its "Shortcuts" search popups to blog content. Shortcuts are informational popups that operate similarly to Snap's SnapShots and AdaptiveBlue's SmartLinks. The key difference is that Yahoo!'s implementation is seeded with Yahoo! content.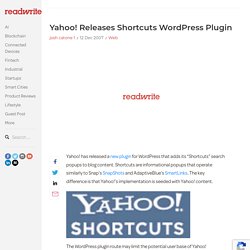 Yahoo! Releases Shortcuts Wordpress Plugin
Online Information 2007
AppJet: Instant Web Programming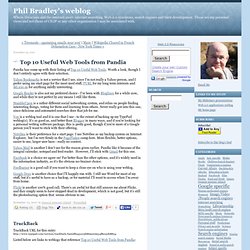 Pandia has come up with their listing of Top 10 Useful Web Tools.
Phil Bradley's weblog: Top 10 Useful Web Tools
It's our tree
Press
Jimmy Wales of Wikipedia was in the big auditorium while I was speaking in a somewhat smaller, but fully packed presentation room. I had 25 minutes to talk about trends in the business information industry, what affects Web 2.0 was having on the industry, and give some predictions for 2008. The PowerPoint slides can be grabbed here Download london_online_2007.ppt .
My Online Information Keynote
Roo Reynolds - What's Next? » Blog Archive » Online Information 07 - Day 1
Study: Web Will Slow by 2010
20+ Customer Management Tools
Oikeita totuuksia
80+ File Conversion Services And Tools
30+ Reminder Services
35+ Ways to Find and Plan Events Online
Del.icio.us ohjeet
Del.icio.us A-to-Z
Jiibe - Does Your Company Jiibe?
DreamFace Interactive