mobile
Get flash to fully experience Pearltrees
Jquery Mobile, coup de boost pour le web mobile ! Avec HTML5, le site mobile peut espérer un futur meilleur.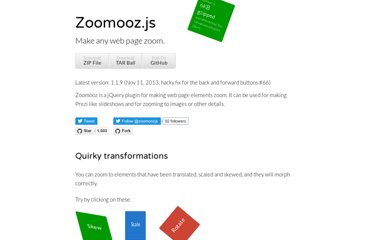 Zoomooz is: 6KB gzipped and 18KB minified.
Recently jQuery Mobile Alpha 2 was released. One major goal of the project is to reach more than the top-tier mobile Web browsers such as those used in Apple's iOS, Google's Android, BlackBerry OS, mobile versions of Window and Hewlett-Packard's Web OS.
L'équipe de jQuery vient d'annoncer un nouveau site entièrement dédié aux interfaces tactiles et mobiles : jQuery Mobile .
C'est parti pour une news écrite à l'arrachée entre deux brochettes chopées au japonais du coin. J'espère que le style écrit-publié à l'arrache me réussira, c'est rarement le cas mais bon, faut prendre des risques dans la vie Le tout bien évidement pourri par une malheureuse tentative de migration vers Feedly en prévision de la fin de Google Reader.
Je regardais depuis quelques temps les solutions pour faciliter le développement d'une version mobile de Cyberbougnat.net .
Dans mon article de lundi , je vous ai promis de revenir un peu plus en détails sur la façon dont est développé jQuery Mobile .
jQuery Mobile est un nouveau framework javascript dédié aux navigateurs web mobiles , créé par jQuery .