Design
This Is Responsive | Tips, Resources and Patterns for Responsive Web Design
1st edition — by Patrick McNeil — Dec. 6, 2007 The Design Principle Well we made it to the final topic for this 6 part series and find ourselves on the principle of flow. Again, this rather obvious principle is an often overlooked or forgotten one.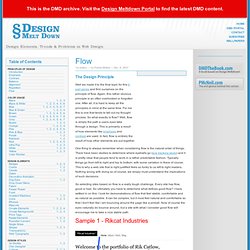 Flow
Web Design References: Flash
Via le blog de nowhereelse vous pourrez tester vos choix typo pour votre webdesign ici. C'est juste que c'est un peu plus rapide que de le faire dans WordPress et d'être obligé de "mettre à jour" pour voir s'afficher vos nouveaux paramètres. Et nous savons tous que dans cette affaire ce qui compte, est la réactivité des programmes pour tester nos "hésitations" le plus rapidement possible. Biographie peter gabor né à Budapest • Études à Paris typo, design, socio et photo. • Graphiste & typographe freelance • Créateur de caractères • Consultant en identité d'entreprise • Conférencier • Enseignant la typo et le graphisme • Directeur d'e-artsup Un signe, une forme, des couleurs, du sens : «le style n'est pas une danse, c'est une démarche» (Jean Cocteau). Le signe et son organisation sont mon métier.
css pour les perfectionnistes des approches typo du web - design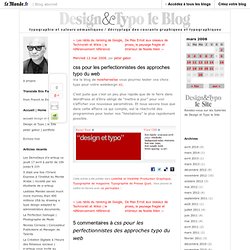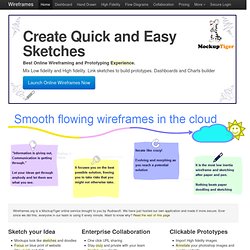 Best Online Wireframing and Prototyping Experience. Mix Low fidelity and High fidelity. Link sketches to build prototypes. Dashboards and Charts builder Launch Online Wireframes Now Wireframes.org is a MockupTiger online service brought to you by Rudrasoft.
Wireframes VS Prototypes