Site functions
Zynga reveals Zynga API for third-party developers. Zynga reveals Zynga API for third-party developers Zynga's chief engineer Kostadis Roussos announced the new Zynga API at today's Zynga Unleashed event available to third party developers.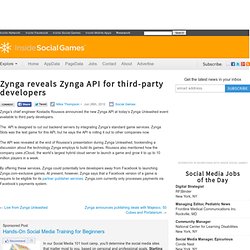 The API is designed to cut out backend servers by integrating Zynga's standard game services. Zynga Slots was the test game for this API, but he says the API is rolling it out to other companies now. Stop the CAPTCHA Madness! | are you a human | the captcha alternative. Foamicate.com. Buildor / Pro. To change your password or screen name, please enter your current password Contact us directly if you need to change your email address or you have forgotten your password ALPHA NOTES: this is early stage code for the BuildorPro Chrome release - please note the following.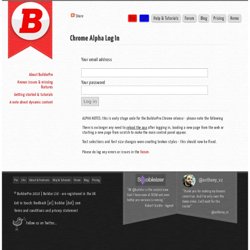 Burnbit - BitTorrent for every file. OAuth. OAuth is an open standard for authorization.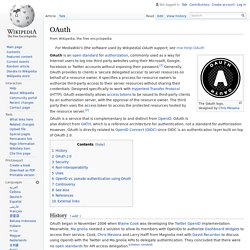 OAuth provides a method for clients to access server resources on behalf of a resource owner such as a different client or an end-user. It also provides a process for end-users to authorize third-party access to their server resources without sharing their credentials, typically a username and password pair, using user-agent redirections. OAuth is a service that is complementary to, and therefore distinct from, OpenID. OAuth is also distinct from OATH, which is a reference architecture for authentication, not a standard.
History[edit] Www.voki.com/create.php. Embedly | Home. Welcome to Survey Monkey! Create a free API Console for your developer portal. By creating and deploying API proxies, you are bringing new APIs into the world.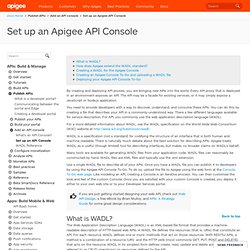 Every API proxy that is deployed in an environment exposes an API. The API may be a facade for existing services, or it may simply expose a JavaScript or Node.js application. You need to provide developers with a way to discover, understand, and consume these APIs. You can do this by creating a file that describes your API in a commonly-understood way.
Real-Time Intelligence Solutions | Presto. Point.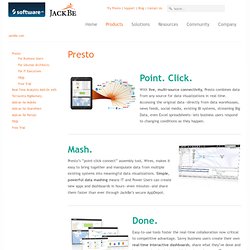 Click. With live, multi-source connectivity, Presto combines data from any source for data visualizations in real time. Accessing the original data—directly from data warehouses, news feeds, social media, existing BI systems, streaming Big Data, even Excel spreadsheets—lets business users respond to changing conditions as they happen. OAuth 2.0 for Google APIs. One of the most exciting things about the architecture of the web is how easily it supports mashups—URLs, IFRAMEs, XHR, and more make it easy to build great new services on top of building blocks from others.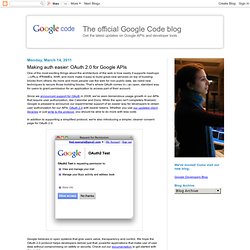 As more and more people use the web for non-public data, we need new techniques to secure those building blocks. That's where OAuth comes in—an open, standard way for users to grant permission for an application to access part of their account. Since we announced support for OAuth in 2008, we've seen tremendous usage growth in our APIs that require user authorization, like Calendar and Docs. While the spec isn't completely finalized, Google is pleased to announce our experimental support of an easier way for developers to obtain user authorization for our APIs: OAuth 2.0 with bearer tokens.
Making auth easier: OAuth 2.0 for Google APIs. Launchpad. SIMILE Widgets. Echo Community Wiki / Echo Packages. Hyperpublic Developer Site | Hyperpublic Developers. Www.voki.com/create.php. Anthologize. API Management, Infrastructure and Strategy - Mashery. Backlink Builder. Developers Overview. SearchMonkey - Site Owner Overview. SearchMonkey is fundamentally about transforming the way search results are displayed.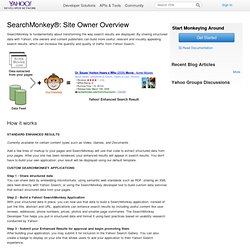 By sharing structured data with Yahoo! , site owners and content publishers can build more useful, relevant and visually appealing search results, which can increase the quantity and quality of traffic from Yahoo! Search. How it works Currently available for certain content types such as Video, Games, and Documents. Dipity - Find, Create, and Embed Interactive Timelines. About the TalkShoe company that creates Community Calls. With TalkShoe, you can better connect with your podcasting and blogging audience.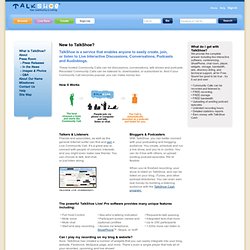 You create, schedule and run a live show, and you're in control. You can do it live with others, or upload existing podcast episodes. We're flexible. When you're finished recording, your show is listed on TalkShoe, and can be listed on your blog, iTunes, and other podcast directories. You can even earn real money by building a listening audience with the TalkShoe Cash program.
Gravatar - Globally Recognized Avatars.
Echo - Build Highly Social Real-time Apps. A fundamental shift in how people consume information and engage with each other on the web is underway.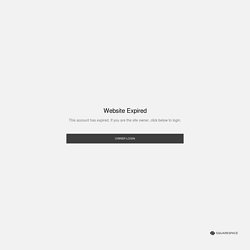 With the increasing popularity of social networks, people now expect to discover new content and talk about their favorite subjects instantly. Echo provides a real-time platform bundled with a suite of applications that enables you to transform your website into a vibrant, real-time social experience.
---