STREAMING TOOLS (if you need to show the world, use it )
Username : tonvoisin / Pwd : tonvoisin. Qik | Record and share video live from your mobile phone. Justin.tv - Wiki - Lifecasting.fr - Broadcast Your Life. Justin.tv a été fondé le 10 octobre 2006 à San Francisco par Justin Kan et Emmett Shear.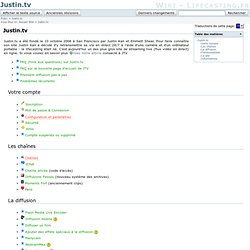 Pour faire connaître son site Justin Kan a décidé d'y retransmettre sa vie en direct 24/7 à l'aide d'une caméra et d'un ordinateur portable : le lifecasting était né. C'est aujourd'hui un des plus gros site de streaming live (flux vidéo en direct) en ligne. Livestream - Be There :: Broadcast LIVE streaming video.
---