Collection
Visual Design Agency
Whiteroom
If you're a designer or photographer who wants to create a website to help you share your work online, then you need to check out these free portfolio website templates! I've found several portfolio website templates in a range of colours and styles, and they're all perfect for showcasing designs or photographs. Portfolio 3 This free portfolio website template features a wooden background, a dark colour scheme, cross-browser compatibility, and more. Portfolio 6 This free portfolio website template includes a blue colour scheme, an ocean inspired illustration, and more.
18 of the Best Free Portfolio Website Templates – UK Web Hosting – Uk Web Design Blog |Evohosting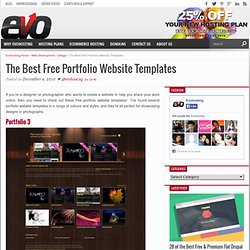 Layout can both be one of the easiest and one of the trickiest facets of web design. Sometimes a designer can bust out an amazing layout in minutes and sometimes that same designer can struggle for the better part of day with the same task. Each project is unique and calls for a unique solution, but I've found it helpful to keep a few rock solid and incredibly versatile alignments in mind that I can bust out when I get stuck. The ten layouts below should be enough to get you through even the worst cases of designer's block when you can't figure out the best way to arrange the content on your page.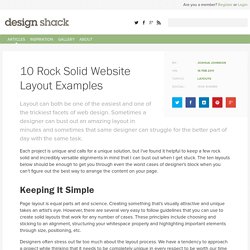 Representing the latest and greatest of what looks good on the web. An ecommerce site for drones that gives Apple-style long form sales and informational pages to key site sections. Thu., Jan 23, 2014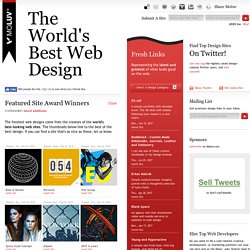 Login Community Create and share your digital world Create a gorgeous free website in minutes, bringing together your social media updates, photos, videos and more into a unified web presence.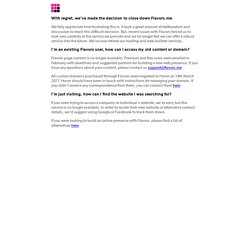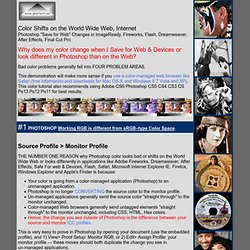 SAVE FOR WEB COLOR SHIFT Photoshop ImageReady Changes on The Internet Bad Color Problems How to Fix
Source Profile > Monitor Profile THE NUMBER ONE REASON why Photoshop color looks bad or shifts on the World Wide Web or looks differently in applications like Adobe Fireworks, Dreamweaver, After Effects, Safe For web & Devices, Flash, Safari, Microsoft Internet Explorer IE, Firefox, Windows Explorer and Apple's Finder is because: Your color is going from a color-managed application (Photoshop) to an unmanaged application. Photoshop is no longer CONVERTING the source color to the monitor profile. Un-managed applications generally send the source color "straight through" to the monitor unchanged.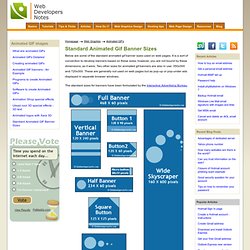 Standard animated gif banner sizes
Below are some of the standard animated gif banner sizes used on web pages. It is a sort of convention to develop banners based on these sizes; however, you are not bound by these dimensions, as it were. Two other sizes for animated gif banners are also in use: 350x300 and 720x300. These are generally not used on web pages but as pop-up or pop-under ads displayed in separate browser windows. The standard sizes for banners have been formulated by the Interactive Advertising Bureau. The other two common banner sizes are:
Looking for HTML 5 sites? Are you getting bored of the usual CSS showcase galleries? Are you looking to the future of HTML and CSS and want some inspiration and tutorials for the next big change on the internet?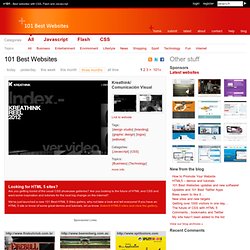 Top 10 websites to find free website templates - by Ojo Oluwakemi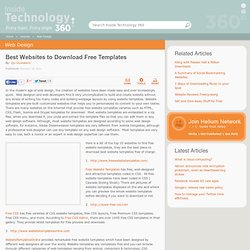 Ojo Oluwakemi's image for: "Best Websites to Download Free Templates" Caption: Location: Image by: In the modern age of web design, the creation of websites have been made easy and ever-increasingly quick.
SofaSurfer - freelance webdesigner portfolio - webdesign, logotype, corporate design
This time around I'm selling a gorgeous HTML template with the Photoshop files for "Sifiso". Sifiso is a one page "portfolio-like" template which you can use for your personal site. It features bold colors, transparent elements as well as hard to miss extra large icons. Sifiso is ideal for web designers, illustrators and photographers; You can use Sifiso as a final product for your own site, or as a good starting point for your clients. Sifiso costs $5 FREE! – for both the PSD files and source code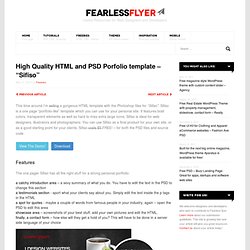 High Quality HTML and PSD Portfolio template - Sifiso | Fearless Flyer Web Design