Scripts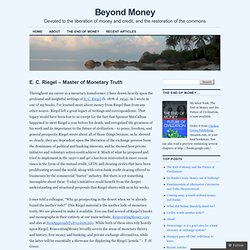 E. C. Riegel – Master of Monetary Truth « Beyond Money
Throughout my career as a monetary transformer, I have drawn heavily upon the profound and insightful writings of E. C. Riegel (b. 1878; d. 1954). As I wrote in one of my books, I've learned more about money from Riegel than from any other source.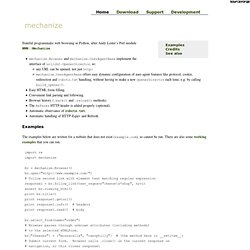 Stateful programmatic web browsing in Python, after Andy Lester's Perl module WWW::Mechanize. The examples below are written for a website that does not exist (example.com), so cannot be run. There are also some working examples that you can run. import reimport mechanize br = mechanize.Browser()br.open("http://www.example.com/")# follow second link with element text matching regular expressionresponse1 = br.follow_link(text_regex=r"cheese\s*shop", nr=1)assert br.viewing_html()print br.title()print response1.geturl()print response1.info() # headersprint response1.read() # body
mechanize
About YOURLS What is YOURLS YOURLS stands for Your Own URL Shortener. It is a small set of PHP scripts that will allow you to run your own URL shortening service (a la TinyURL or bitly). Running your own URL shortener is fun, geeky and useful: you own your data and don't depend on third party services.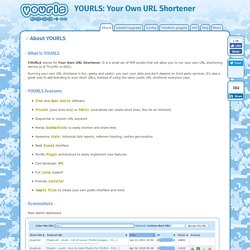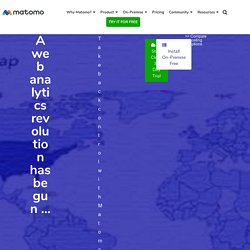 Get to know more about your users and their behaviour on your website – where they came from (referrers), which pages are most popular, how often they visit and which marketing campaigns have been successful. Whether you are an individual blogger, a small business, or a large corporation, Piwik helps you gain valuable insights to help your business or readership grow. Piwik will always respect your and your users privacy, while giving you full control of your data.
Since the popularity of Twitter started to rise and the 140 characters mania began, there has been an outburst of Url shortening services which allow you to sqeeze a long url in the given limited space. There are many url shortening services out there which are both free and easy to use. There is no doubt, that till services like Twitter are there, these url shortening services are no where to go. Moreover, mechanisms like these let us turn ugly long urls into shorter ones which are easy to manage and are rememberable also. On the other hand, there are several scripts available which let you shorten urls when installed on a server that you manage. So you own the service and it can be used for either personal, public or commercial use.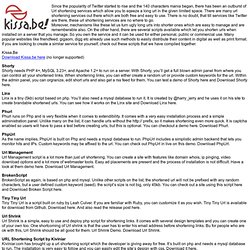 KISSA.BE - URL SHORTENER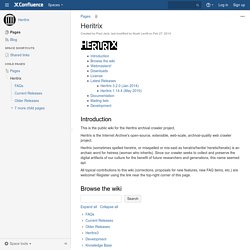 Heritrix - Heritrix - IA Webteam Confluence
This is the public wiki for the Heritrix archival crawler project. Heritrix is the Internet Archive's open-source, extensible, web-scale, archival-quality web crawler project. Heritrix (sometimes spelled heretrix, or misspelled or mis-said as heratrix/heritix/ heretix/heratix) is an archaic word for heiress (woman who inherits).
Sphider is a popular open-source web spider and search engine. It includes an automated crawler, which can follow links found on a site, and an indexer which builds an index of all the search terms found in the pages. It is written in PHP and uses MySQL as its back end database (requires version 4 or above for both).
a php spider and search engine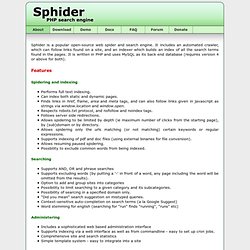 Free PHP URL shortener script that kicks ass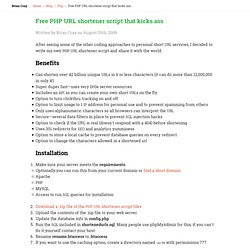 Written by Brian Cray on August 26th, 2009 After seeing some of the other coding approaches to personal short URL services, I decided to write my own PHP URL shortener script and share it with the world. Benefits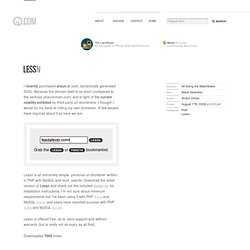 I recently purchased shaun.in (ooh, dynamically generated SVG). Because the domain itself is so short (compared to the verbose shauninman.com) and in light of the current volatility exhibited by third-party url shorteners, I thought I would try my hand at rolling my own shortener. A few people have inquired about it so here we are. Lessn is an extremely simple, personal url shortener written in PHP with MySQL and mod_rewrite.
Lessn // ShaunInman.com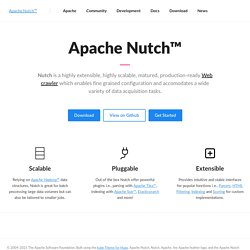 Welcome to Apache Nutch®
17 March 2014 - Apache Nutch v1.8 Released The Apache Nutch PMC are pleased to announce the immediate release of Apache Nutch v1.8, we advise all current users and developers of the 1.X series to upgrade to this release. Alhough this release includes library upgrades to Crawler Commons 0.3 and Apache Tika 1.4, it also provides over 30 bug fixes as well as 18 improvements. Please see the list of changes for a full breakdown, or see the release report. As usual in the 1.X series, this release is made available both as source and binary. Additionally developers can find Maven artifacts within Maven Central.