SPARQL
Le tutoriel SPARQL. L'objectif de ce tutoriel SPARQL est de donner un cours rapide en SPARQL.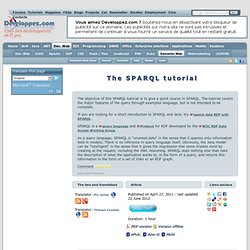 Le tutoriel couvre les fonctionnalités majeures du langage de requête au travers d'exemples, mais ne vise pas à être complet. Si vous cherchez une courte introduction à SPARQL et Jena, essayez Recherche de données RDF avec SPARQL. SPARQL Cheat Sheet. SPARQL 1.1 Status. SPARQL Demo. Ait Chaker » SPARQL: Introduction. SPARQL est l'abréviation de Simple Protocol And Rdf Query Language.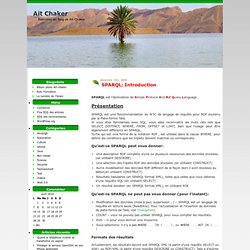 Présentation SPARQL est une Recommandation du W3C de langage de requête pour RDF soutenu par la Plate-forme Talis. Si vous êtes familiarisés avec SQL, vous allez reconnaitre les mots clés tels que SELECT, DISTINCT, WHERE, FROM, OFFSET et LIMIT, bien que l'usage peut être légèrement différents en SPARQL. SPARQL 1.1 Query Language. This section defines the correct behavior for evaluation of graph patterns and solution modifiers, given a query string and an RDF dataset.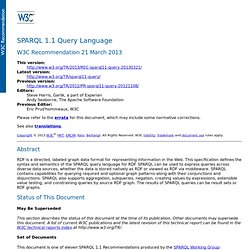 It does not imply a SPARQL implementation must use the process defined here. The outcome of executing a SPARQL query is defined by a series of steps, starting from the SPARQL query as a string, turning that string into an abstract syntax form, then turning the abstract syntax into a SPARQL abstract query comprising operators from the SPARQL algebra.
This abstract query is then evaluated on an RDF dataset. 18.2 Translation to the SPARQL Algebra This section defines the process of converting graph patterns and solution modifiers in a SPARQL query string into a SPARQL algebra expression.
---