Web Resources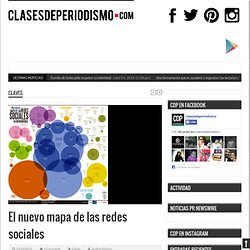 El nuevo mapa de las redes sociales
Facebook reina, Twitter brilla, YouTube sigue creciendo, Google+ alcanza una cifra respetable, Instagram irrumpe y Foursquare no se queda atrás. A continuación compartimos el Mapa de las Redes Sociales difundido por la organización de iRedes, el congreso de redes sociales en Iberoamérica que se celebra en Burgos mañana 22 y el 23 su segunda edición. El mapa destaca las marcas españolas encabezadas por Tuenti(13 millones) y otros espacios sociales como Bitácoras, Menéame y Minube. Esta segunda versión del mapa está elaborada por Chiqui Esteban, director de Nuevas Narrativas de lainformacion.com y creador de This is Visual, con documentación de Miguel Jorge, periodista de Gentedigital.es y autor de iBlog.
18 Helpful Tools for Better Gmail Experience | Aplicaciones y Herramientas . Software de Diseño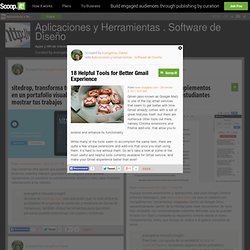 Gmail (also known as Google Mail) is one of the top email services that seem to get better with time. Gmail already comes with a set of great features itself, but there are numerous other tools out there, namely Chrome extensions and Firefox add-ons, that allow you to extend and enhance its functionality. While many of the tools seem to accomplish the same task, there are quite a few unique extensions and add-ons that once you start using them, it's hard to live without them. So let's take a look at some of the most useful and helpful tools currently available for Gmail service, and make your Gmail experience better than ever!
April 11, 2014 By Dr. Richard Boyum Listed below are a series of 16 characteristics of a self-actualizing individual as described by Abraham Maslow.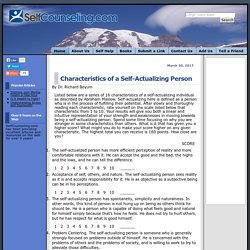 Characteristics of a Self-Actualizing Person
We have corpus-informed dictionaries for English language learners at all levels. They're ideal for anyone preparing for Cambridge English exams and IELTS. New Chinese, Polish and Russian dictionaries It's now easier than ever to find the meaning you want. For speakers of Chinese, Polish and Russian we've added three new bilingual dictionaries to Cambridge Dictionaries Online. These dictionaries offer translations of the word you look up as well as the definitions, example sentences and pronunciation that you expect from Cambridge Dictionaries.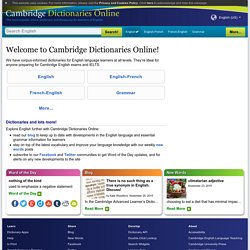 22 Educational Social Media Diagrams
Everyone learns differently. Social media marketing has a lot of moving parts and processes which make it hard to get up to speed. This challenge is only compounded by the ever-changing nature of the market, in which new applications and opportunities arise daily. (Is your business taking advantage of Facebook , Twitter , LinkedIn , and Google+ for marketing purposes?)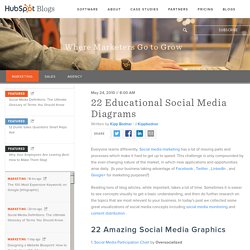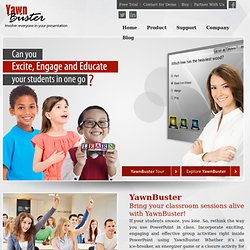 Interactive Group Activities, Group Games, Enhancing Powerpoint Presentations, Instructor-Led Training Software, Enhancing PowerPoint Presentations
Nothing beats the joy of a teacher witnessing the students totally involved in the class. Well, make that an everyday occurrence with YawnBuster's group activities. Embed them in your PowerPoint presentations and celebrate the joy of learning. It is designed in a way that will grab your students' attention and get them participating. Who says learning cannot be FUN?!
Using Google+? Add Mashable to your circles. You'll get the latest about new Google+ features and tips and tricks for using the platform as well as top social media and technology news. Guide updated January 18, 2012 Google+: It's the hot social network on the block.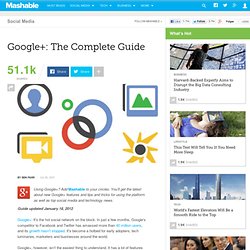 Choose Coupon Type step 1 of 2Online Coupon (for your web shop)step 2 of 2In Store Coupon step 2 of 2 Sign Up & Continue * Please select prefered coupon type ! Create an onlinestore coupon and we'll provide you with a QR Code that links to it