Wordpress
Animated CSS3 Calendar
Adding an advanced calendar to WordPress
As WordPress morphs more and more into a CMS rather that just a blogging platform, there are a lot of instances where you might want to add calendar functionality to your WordPress-powered site, beyond the standard posts calendar widget.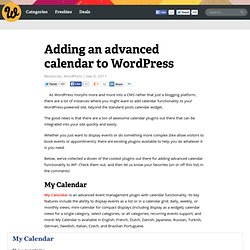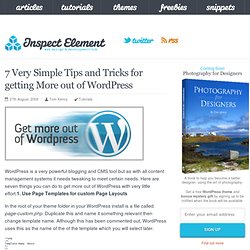 27th August, 2009 Tom Kenny Tutorials WordPress is a very powerful blogging and CMS tool but as with all content management systems it needs tweaking to meet certain needs. Here are seven things you can do to get more out of WordPress with very little effort.1.
7 Very Simple Tips and Tricks for getting More out of WordPress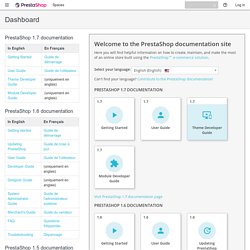 Dashboard - PrestaShop documentation
Dashboard Skip to Recently Updated PrestaShop 1.5 documentation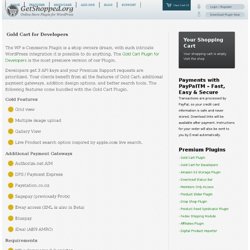 Gold Cart for Developers is our Premier Plugin including 3 API keys that opens up a mixture of new functionality such as: payment gateways, additional design options, and better search tools. Includes 3 support token each may be used for 1 premium support topic (up to 3 total) requesting help setting up your shop.
Gold Cart for Developers
Piggy » Premium WP eCommerce, Shopp and Cart66 Mobile Statistics Plugin for WordPress » BraveNewCode Inc.
Wootique
Argentum
15 Killer Hacks for WordPress that Are Extremely Useful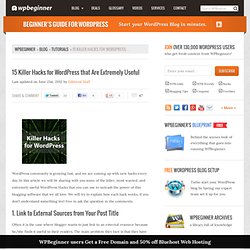 WordPress community is growing fast, and we are coming up with new hacks every day. In this article we will be sharing with you some of the killer, most wanted, and extremely useful WordPress Hacks that you can use to unleash the power of this blogging software that we all love. We will try to explain how each hack works, if you don't understand something feel free to ask the question in the comments.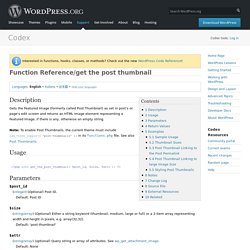 Function Reference/get the post thumbnail Languages: English • Italiano • 日本語 • (Add your language)
Function Reference/get the post thumbnail
Facebook launched a new version of their commenting system in March 2011. The Facebook Comments WordPress Plugin lets you easily integrate Facebook Comment below the content of any post or page within your WordPress site. Installation: Download the plugin direct from the Plugin Page at WordPress.Upload the whole plugin folder to your /wp-content/plugins/ folder.Go to the Plugins page and activate the pluginCheck all the setting in the Facebook Comments Settings areaHit Update Setup:
Facebook Comments WordPress Plugin by Pleer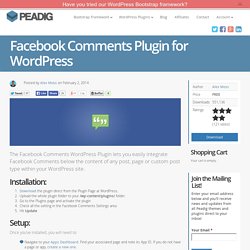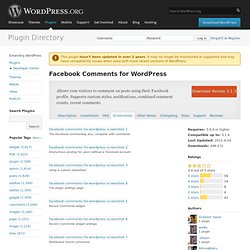 Facebook Comments for WordPress
!This plugin hasn't been updated in over 2 years. It may no longer be maintained or supported and may have compatibility issues when used with more recent versions of WordPress. Allows your visitors to comment on posts using their Facebook profile. Supports custom styles, notifications, combined comment counts, recent comments The Facebook commenting box, complete with comments.
Themes « Mysitemyway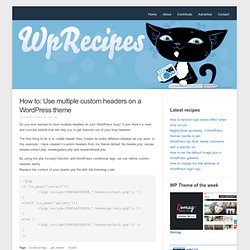 Use multiple custom headers on a WordPress theme
Do you ever wanted to have multiple headers on your WordPress blog?
Inline Google Docs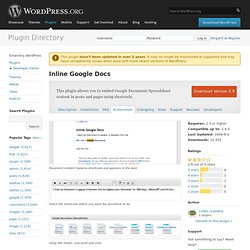 !This plugin hasn't been updated in over 2 years. It may no longer be maintained or supported and may have compatibility issues when used with more recent versions of WordPress. This plugin allows you to embed Google Document/Spreadsheet content in posts and pages using shortcode.
Easy Albums - Buddypress users create and share images, video and audio albums - the easy way.
One professional plugin handles all your multimedia needs Visit Plugin website >> : Your Buddypress users will be able to: * Add Image galleries * Add Slideshows and photo albums * Add Video * Add Music playlists * Add Podcast and mp3 * Customize the privacy of their albums * Share albums to the activity stream
Best Photo Galleries for WordPress - Photo, Video, MP3 and jQuery Gallery for WordPress
We are updated our prices. Now you can get more for lower price!
My Calendar
BuddyPress is an open source social networking software package.
Integrate buddypress theme and wordpress theme | electrofriends.com
The quality and availability of WordPress e-commerce themes makes WordPress a serious choice as an online shop platform. In fact, WordPress has moved rapidly from being mainly a blogging platform and is now one of the top CMS systems for traditional websites. Lately, WordPress has also made a mark in the e-commerce website space and more and more web shops are now powered by WordPress e-commerce themes and plugins. In this article, I have collected most of the really good ecommerce templates for setting up a WordPress shop.
30 Best Wordpress E-Commerce Themes
13 WordPress Plugins For Better Performance
Ajax Event Calendar