Wordpress
Get flash to fully experience Pearltrees
Willkommen auf 60c.eu
Hardcode to make WordPress faster Hardcoding is generally not a good practice, however in the case of an established website, hardcoding your blog url, site url, template path and stylesheet path will make your blog run faster. When a function such as bloginfo('url') is called, WordPress executes a query to your database to get the value, except if the value can be found on your wp-config.php file.
Nik and I have been busy working on our first WordPress theme exclusively for webexpedition18 readers. Grey theme was built to have an elegant, out of the box, design with a strong core layout structure.
If you're confident with your CSS and HTML, it's not hard at all to step up to the challenge of building a custom WordPress theme.
Year 2010 is almost over and we started end-of-the-year-roundup from yesterday. We compiled a massive list of best jquery plugins yesterday and it was greatly appreciated by our readers. Today, it's time to gather some of the best free wordpress themes that stood out from the rest this year.
In Dallas, August 29, 2010, at OpenCamp I presented "Mind Blowing WordPress Plugins ."
Pages Languages : English • Español • Italiano • 日本語 • 한국어 • Slovenčina • ไทย • 中文(简体) • 中文(繁體) • Русский • Português do Brasil • ( Add your language ) In WordPress, you can write either posts or Pages.
The WP e-Commerce Plugin for WordPress is the most popular way to turn your WordPress site into a WordPress Store. Add functionality to your WordPress Store by purchasing WP e-Commerce Add Ons.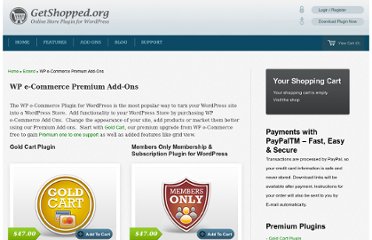 Hi Adam, please can you advise if you were using the Gold Cart in your video presentation?
The page you are looking for might have been removed, had its name changed, or is temporarily unavailable. Please try the following: