Wordpress Themes selection
canvas-for-wordpress - Canvas for Wordpress allows you to rearrange your blog layout via a drag n' drop interface.
Canvas is a GUI drag and drop layout editor for the Wordpress blogging system. It breaks themes into widgets of content for dynamic management of blog presentation. Recent updates have been made to improve Canvas compatibility with WP 2.6. Some blocks that relied on categories need TLC, and there are remaining issues with dragging blocks from the shelf.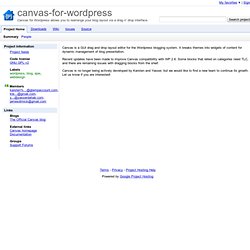 Platform « Free WordPress Themes
OrmanClark's Portfolio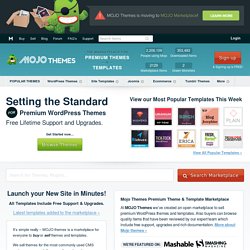 Mojo Themes Premium Theme & Template Marketplace At MOJO Themes we've created an open marketplace to sell premium WordPress themes and templates. Also buyers can browse quality items that have been reviewed by our expert team which include free support, upgrades and rich documentation. More about Mojo themes » We're Featured On: We are pleased to announce WeSmashedIt as this months new featured seller on MOJO-Themes.
Website Layouts
Premium WordPress Themes, Next Generation WP Themes & Templates From FrogsThemes
WooThemes | Premium WordPress Themes