Tools
Massive Compilation of Designer Tools. Web designers have a wealth of tools available to them, for doing everything from organizing their thoughts about a particular design to debugging the final design.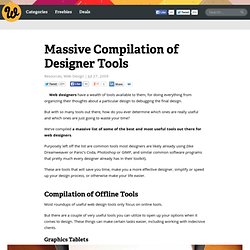 But with so many tools out there, how do you ever determine which ones are really useful and which ones are just going to waste your time? We've compiled a massive list of some of the best and most useful tools out there for web designers. PXtoEM.com: PX to EM conversion made simple. HTML-Ipsum.
Scriptaculous
jQuerry. jQuery. Fonts. Google XML Sitemaps. This plugin will generate a special XML sitemap which will help search engines like Google, Bing, Yahoo and Ask.com to better index your blog.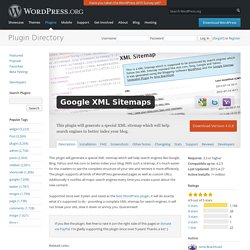 With such a sitemap, it's much easier for the crawlers to see the complete structure of your site and retrieve it more efficiently. The plugin supports all kinds of WordPress generated pages as well as custom URLs. Additionally it notifies all major search engines every time you create a post about the new content. Related Links: WordPress Newsletter Plugin. A full-featured newsletter plugin for WordPress which fulfils all subscribers, emails, marketing and newsletter related needs for both personal and business environments.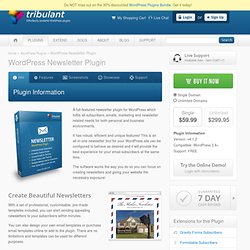 It has robust, efficient and unique features! This is an all-in-one newsletter tool for your WordPress site can be configured to behave as desired and it will provide the best experience for your email subscribers at the same time. The software works the way you do so you can focus on creating newsletters and giving your website the necessary exposure! Zoom. Sécuriser votre blog WordPress avec le plugin WP Security. Malgré le fait que WordPress soit bien sécurisé par défaut, il est toutefois nécessaire d'y apporter quelques modifications pour sécuriser au maximum son administration d'utilisateurs malveillants.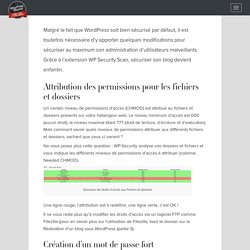 Grâce à l'extension WP Security Scan, sécuriser son blog devient enfantin. Attribution des permissions pour les fichiers et dossiers Un certain niveau de permissions d'accès (CHMOD) est attribué au fichiers et dossiers présents sur votre hébergeur web. Le niveau minimum d'accès est 000 (aucun droit), le niveau maximal étant 777 (droit de lecture, d'écriture et d'exécution). Mais comment savoir quels niveaux de permissions attribuer aux différents fichiers et dossiers, sachant que ceux ci varient ? WordPress › Live Blogging « WordPress Plugins.
UpPrev Previous Post Animated Notification. We've created a WordPress Plugin to emulate the "Next Post" buttons you see once you scroll to the bottom of New York Times web articles.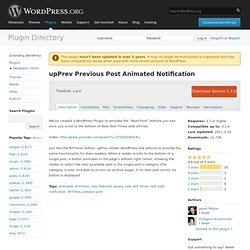 Video: Just like the NYTimes button, upPrev allows WordPress site admins to provide the same functionality for their readers. When a reader scrolls to the bottom of a single post, a button animates in the page's bottom right corner, allowing the reader to select the next available post in the single post's category (the category is also clickable to access an archive page).
If no next post exists, no button is displayed. Shortcodes Ultimate. Shortcodes Ultimate is WordPress plugin that provides mega pack of shortcodes.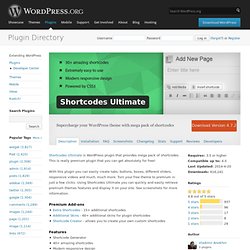 This is really premium plugin that you can get absolutely for free! With this plugin you can easily create tabs, buttons, boxes, different sliders, responsive videos and much, much more. WiziApp, un plugin WordPress pour créer votre application iPhone. Sharing Widget, Sharing Button, Sharing Plugin - ShareThis Privacy Policy. Free Online Surveys, Customer Feedback & Survey Software Tool | KISSinsights.
---