Jquery
Create a Apple OSX style dock with jQuery using the Resize on Approach plugin. Sometimes it's the little things that make the difference in user interfaces.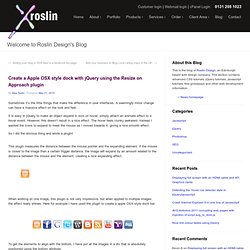 A seemingly minor change can have a massive effect on the look and feel. It is easy in jQuery to make an object expand in size on hover: simply attach an animate effect to a hover event. Joggink/jquerymobiledropdown. 20 Essential jQuery Plugins for Every Developer's Toolkit. In the six years since its January 2006 launch, jQuery has managed to become the most popular JavaScript plugin library in the world, deployed in nearly 56% of the top 10,000 websites in the world.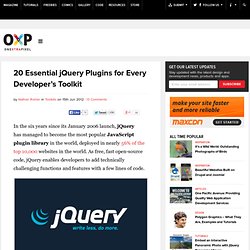 As free, fast open-source code, jQuery enables developers to add technically challenging functions and features with a few lines of code. Much of jQuery's success is owed to its extensive library of plugins. With thousands of plugins in existence, and many more in development, there exists – for all practical purposes – a plugin to satisfy every developer's need. jQuery++ JavaScript Slideshow - HTML Buttons, Change on Hover - Agile Development. 180 Awesome jQuery Slider and Effects Roundup. Slider are very useful and increasingly popular web page elements used for highlighting important content.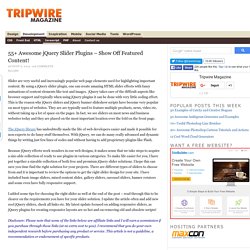 By using a jQuery slider plugin, one can create amazing HTML slider effects with fancy animations of content elements like text and images. jQuery takes care of the difficult aspects like browser support and typically when using jQuery plugins it can be done with very little coding effort. This is the reason why jQuery sliders and jQuery banner slideshow scripts have become very popular on most types of websites.
They are are typically used to feature multiple products, news, video etc. without taking up a lot of space on the pages. In fact, we see sliders on most news and business websites today and they are placed on the most important location over the fold on the front page. JQuery Cycle Plugin - Effects Browser. jQuery Mobile | jQuery Mobile.
---