WordPress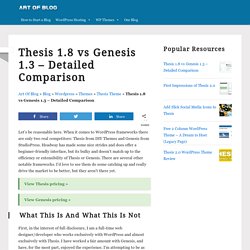 Thesis Theme vs Genesis Theme: A Wordpress Premium Theme Comparison
Let's be reasonable here. When it comes to WordPress frameworks there are only two real competitors: Thesis from DIY Themes and Genesis from StudioPress. Headway has made some nice strides and does offer a beginner-friendly interface, but its bulky and doesn't match up to the efficiency or extensibility of Thesis or Genesis. There are several other notable frameworks.
Using Wordpress to Build Small Websites: Step by Step Tutorial «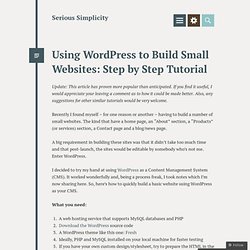 Update: This article has proven more popular than anticipated. If you find it useful, I would appreciate your leaving a comment as to how it could be made better. Also, any suggestions for other similar tutorials would be very welcome. Recently I found myself – for one reason or another – having to build a number of small websites. The kind that have a home page, an "About" section, a "Products" (or services) section, a Contact page and a blog/news page. A big requirement in building these sites was that it didn't take too much time and that post-launch, the sites would be editable by somebody who's not me.
How to use to build a website using WordPress: For normal people
How to Build a Static Website with WordPress as Content Manageme