Images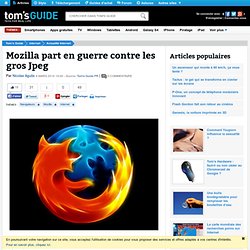 Mozilla part en guerre contre les gros Jpeg
La Fondation Mozilla vient d'annoncer son projet « mozjpeg », qui consiste en un nouvel encodeur pour le format d'image Jpeg, destiné à rendre celles-ci plus légères, et donc plus rapides à charger sur Internet. La multiplication des images sur Internet a eu un effet retors largement constaté ces dernières années : le poids moyen des pages Web s'est considérablement alourdi, ce qui les rend notamment plus longues à charger et plus coûteuses à stocker. Pour Mozilla, il est encore possible de compresser le format d'images Jpeg, très largement utilisé sur Internet, notamment car il fait déjà partie des plus légers, en plus d'être compatible avec une écrasante majorité de logiciels et de navigateurs. Le but du projet « mozjpeg » est donc d'obtenir une réduction théorique de la taille d'un fichier Jpeg de 10 % en moyenne.
WebP
Stripe Generator - ajax diagonal stripes background designer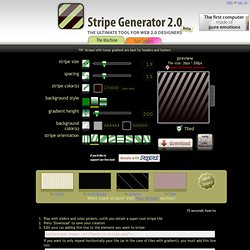 TIP: Need inspiration? View shared stripes in "Your stripes" section. stripe sizespacingstripe color(s)background styleshadowgradient heightbackground color(s)stripe orientation
ImageAlpha - GUI for PNG8+alpha image converters
Once upon a time, there was the mighty GIF image format, the most popular type of image compression for web graphics. Then, it was announced that software programs using GIF would require a license (this was because of the Unisys patent for the LZW compression method used in GIF). This change sped up the development for its successor: the PNG format.
Web Designer's Guide to PNG Image Format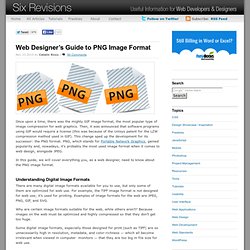 Ishimaru-Design - [GIMP 2.6] Faire un bouton "Web 2.0"