Web Design
A tutorial on how to create a switching login and registration form with HTML5 and CSS3. View demo Download source In this tutorial we are going to create two HTML5 forms that will switch between login and registration using the CSS3 pseudo class :target. We will style it using CSS3 and an icon font. The idea behind this demo is to show the user the login form and provide a link to "switch" to the registration form. Note that this is for demo purpose only, it will only work in browser supporting the :target pseudo class, and you should not use this code on a live website without providing solid fallback.
Login and Registration Form with HTML5 and CSS3
Are you getting started with mobile design? Any designer who's had the opportunity to design for ... Are you getting started with mobile design? Any designer who's had the opportunity to design for mobile devices as well as desktop computers knows that mobile design is a one of a kind discipline. You'll find challenges unique for mobile.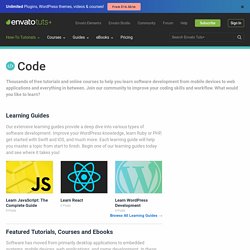 Last updated: 2008/06/03 Return to the main page Introduction Here you can find the list with the standard set of fonts common to all versions of Windows and their Mac substitutes, referred sometimes as "browser safe fonts". This is the reference I use when making web pages and I expect you will find it useful too. If you are new to web design, maybe you are thinking: "Why I have to limit to that small set of fonts?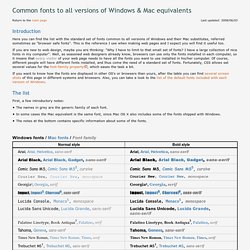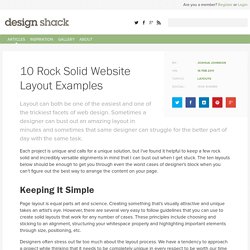 Layout can both be one of the easiest and one of the trickiest facets of web design. Sometimes a designer can bust out an amazing layout in minutes and sometimes that same designer can struggle for the better part of day with the same task. Each project is unique and calls for a unique solution, but I've found it helpful to keep a few rock solid and incredibly versatile alignments in mind that I can bust out when I get stuck. The ten layouts below should be enough to get you through even the worst cases of designer's block when you can't figure out the best way to arrange the content on your page.
Latest Free CSS Templates Below are the 12 newest CSS templates. You can also browse all CSS templates. About FreeCSSTemplates.org First of all, welcome to our site :) Here you'll find a number of free CSS templates we've created, all of which are: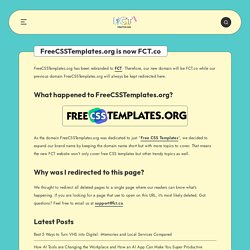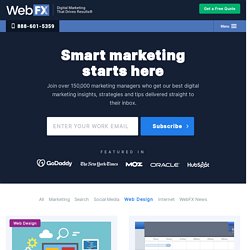 The Future of WordPress Starting with just a simple line of code 11 years ago, WordPress has evolved to become the platform of more than 74 million websites. Even with a vast array of competitors offering similar functionality, WordPress still dominates the CMS market with a 21.9% market share.
Depositphotos Adobe Extension Review Do you want to get your hands on not just few hundreds or thousands but millions and more specifically 20 million fairly priced stock photos at just one platform? Yes, you want. After all, why won't you, as thanks to Depositphotos.com you will enter a fascinating world of original, captivating and awesome images which will… Continue Reading 200 Best Adobe Muse Templates
Webdesign Resources And Tutorials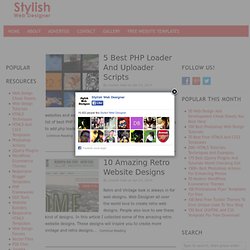 Whether you download and dissect pre-built CSS templates to learn new layout techniques or if you download them to be used as easy-to-edit ready made and standalone web sites, you shouldn't be limited to using one of the many cloned, dated and often dull templates that are freely available. Popular trends and techniques change very quickly within web design and as such your choice of template should reflect that. In this CSS and XHTML template round-up we have selected templates that do meet the latest design trends and do use the latest innovative development techniques.
For our first inspirational list of 2014 we decided to gather examples of white type in web design. I'm always browsing css galleries and other sites to find nice things to show here, and I noticed that a lot of sites use the dark/colorful background white type combo. This is why I decided to dedicate a list to it. Whether you are using a beautiful background image, a texture, or even a big video, overlaying white type can create a very dramatic effect. JavaScript has never been hotter, thanks to projects like Node.js, JQuery and PhoneGap. You can now use JavaScript for scripting in the browser, for creating desktop and mobile applications, and for creating server side web applications. But how do you get started?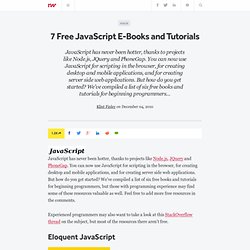 7 Free JavaScript E-Books and Tutorials
You have just stumbled upon a beginner-friendly, comprehensive site that will teach you the basics so you can create your first website. And what's even better is there is no web design or technical experience needed unless you really want to learn the basics of HTML, CSS, PHP etc. Begin here for a quick overview of how to start your site.