Icons
Flag Icons
Peculiar
Endless possibilities are coming with these type of icons. Sizes are not limited to 16² pixels, but they go up to 1024² pixels and from there to ∞. They are semantically coded, each shape can be customized to different color. Web designers can now use these icons to create layouts skipping the Photoshop in the process and web developers can speed up their web applications tremendously. Peculiar is Retina-ready by design, meaning that the same code is used for both regular and Retina displays. If you want to develop web apps for iPhone 4S and iPad 3, this icon set will be your friend.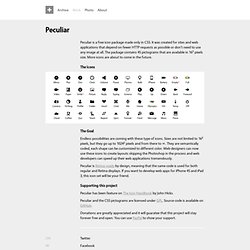 IKOO.TTF
Directory for social icons - 560 icon sets
"Silk" is a smooth, free icon set, containing over 700 16-by-16 pixel icons in strokably-soft PNG format. Containing a large variety of icons, you're sure to find something that tickles your fancy. And all for a low low price of $0.00 . You can't say fairer than that. Current version: 1.3 . View all icons (.png file, 1Mb)
50 useful and free icon packs for your next project By: OSH Editorial In: Icons Resources It has been almost an year ago when i posted the 22 useful free icon packs list. Due the success and the requests for a new list of useful and free icon packs, i've created a new list, this time bigger and better.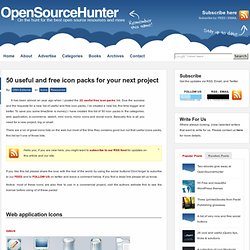 50 useful and free icon packs for your next project | OpenSourceHunter