Design
IndoFolio - The Portfolio of Gopal Raju, designer, blogger and founder of Convax Solutions, India. Webmastering - Webdesign. Février 2014 Introduction au webdesign Le terme « webdesign » désigne la discipline consistant à structurer les éléments graphiques d'un site web afin de traduire, à travers une dimension esthétique, l'identité visuelle de la société ou de l'organisation.
Il s'agit ainsi d'une étape de conception visuelle, par opposition à la conception fonctionnelle (ergonomie, navigation). L'objet du webdesign est de valoriser l'image de l'entreprise ou de l'organisation par le biais d'éléments graphiques afin de renforcer son identité visuelle et de procurer un sentiment de confiance à l'utilisateur. Background Tiles :: Page 6. Web Design Trends in 2011. There is a thin line between design and development, and as we move into a new decade, this line is becoming extremely blurry.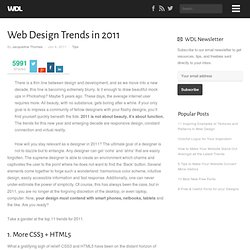 Is it enough to draw beautiful mock ups in Photoshop? Maybe 5 years ago. These days, the average internet user requires more. Best of Design 2010. As 2010 is wrapping up, it is about time do a sum up of the best sites that I've featured on Best Web Gallery.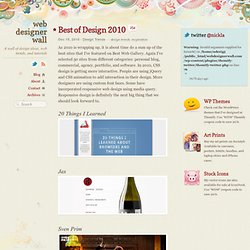 Again I've selected 50 sites from different categories: personal blog, commercial, agency, portfolio, and software. In 2010, CSS design is getting more interactive. People are using jQuery and CSS animation to add interaction in their design. More designers are using custom font faces. Some have incorporated responsive web design using media query.
---