Web design tutorials
Published by Chris Coyier This article has been updated from an older version (originally Sept 24, 2007). I just wanted to expand it and make it more clear. If you read this blog, there is a 99% chance you've had a hair-pulling experience with IE. But if you are worth your salt as a CSS coder, you should be able to deal with it.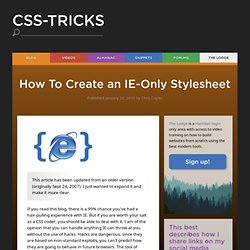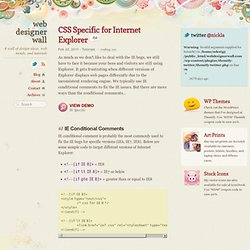 CSS Specific for Internet Explorer
As much as we don't like to deal with the IE bugs, we still have to face it because your boss and visitors are still using Explorer. It gets frustrating when different versions of Explorer displays web pages differently due to the inconsistent rendering engine. We typically use IE conditional comments to fix the IE issues. But there are more ways than the conditional comments...
שיעור 14: תקני אינטרנט ובדיקת תאימות לתקן - HTML.net
בשיעור זה, אתה תרכוש מידע קצת יותר תיאורטי על HTML. מה עוד יש לדעת על HTML? HTML ניתן לקידוד בדרכים שונות ורבות ודפדפנים יכולים לקרא HTML בצורות רבות ככל שיהיו.
מדריך להטמעת פונט רשת - בקופסא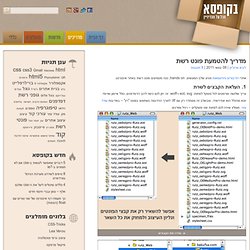 אחרי הדיבורים והדוגמאות מגיע שלב המעשים. hands on, ככה מטמיעים פונט רשת באתר אינטרנט. 1. העלאת הקבצים לשרת צריך שלושה פורמטים לכל משקל לפחות: eot, svg ו-woff. זה יתן לכם כיסוי לרוב הדפדפנים, כולל אייפון ואייפד. יוצא מהכלל הוא אנדרואיד, שבשלב זה מסתדר רק עם ttf.
DPI vs. Pixels: What Do I Use?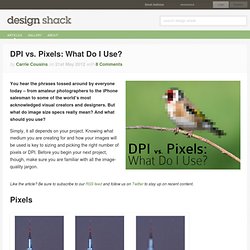 You hear the phrases tossed around by everyone today – from amateur photographers to the iPhone salesman to some of the world's most acknowledged visual creators and designers. But what do image size specs really mean? And what should you use? Simply, it all depends on your project.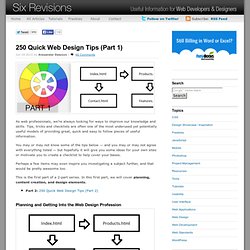 As web professionals, we're always looking for ways to improve our knowledge and skills. Tips, tricks and checklists are often one of the most underused yet potentially useful models of providing great, quick and easy to follow pieces of useful information. You may or may not know some of the tips below — and you may or may not agree with everything listed — but hopefully it will give you some ideas for your own sites or motivate you to create a checklist to help cover your bases. Perhaps a few items may even inspire you investigating a subject further, and that would be pretty awesome too. This is the first part of a 2-part series.
OurTuts.com | The Easy Way to Learn Photoshop
Want to Learn to Program?
8 Best Websites For Quality HTML Coding Examples
Well, a lot has changed since the 90′s, and the advent of dynamic web coding languages like PHP really make HTML old-school. Then again, you have to understand old-school HTML before you can understand the languages that dynamically create the HTML that browsers display. Thankfully, there are now some awesome websites that do offer well-designed and useful HTML coding examples and tutorials.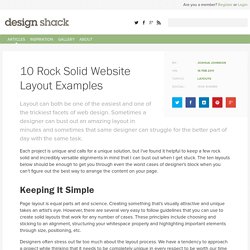 Layout can both be one of the easiest and one of the trickiest facets of web design. Sometimes a designer can bust out an amazing layout in minutes and sometimes that same designer can struggle for the better part of day with the same task. Each project is unique and calls for a unique solution, but I've found it helpful to keep a few rock solid and incredibly versatile alignments in mind that I can bust out when I get stuck. The ten layouts below should be enough to get you through even the worst cases of designer's block when you can't figure out the best way to arrange the content on your page. Keeping It Simple
Web Design in Norwich and Ruby on Rails Web Development in Norwich, Norfolk | PANDR
Build a Sleek Portfolio Site from Scratch
There's nothing like building an entire site to show you a good overview of how a CSS layout should work. Over at PSDTUTS we've got a tutorial where you design up a sleek, high end web design . In this tutorial we're going to take that PSD file and build it with some nice clean HTML and CSS. Demo and Source Code