Web Comics
14 Nights -- A romance webcomic -- Updates Monday and Friday. Monsterkind. 120written by Taylor on April 15th, 2014 6:00PM EST Oh, I guess that's him.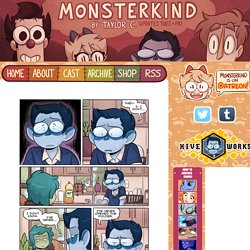 Well, he seems...graceful. Today was a double update, so if you missed page 114, click the previous button! Hey there, guys! Thank you so much for letting me skip Friday to work on these pages more. Fist Pump. Feel Afraid. F*ck Yeah Headlines. Buttersafe. Darths and Droids. Many of you probably know DM of the Rings.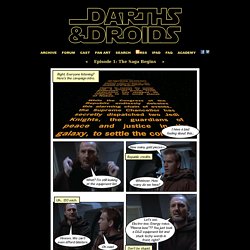 If not, and you are familiar with Lord of the Rings or roleplaying games, you might enjoy it. If you are familiar with both, you will enjoy it. Basically, Shamus Young, the creator, has treated Lord of the Rings as the fantasy campaign of a long-suffering Dungeon Master saddled with all too typical players, and illustrated it in the form of a comic using screencaps from the movies. Mocktopus. Drawing Board. Razzberry. Xkcd. Married To The Sea - 2,000+ comics by Drew & Natalie Dee - Updates daily at midnight.
F Minus. Wondermark. AmazingSuperPowers: Webcomic at the Speed of Light.
Cyanide & Happiness. Atheist Cartoons. Lead Paint Comics - Space Avalanche. Riker and Deanna. The Perry Bible Fellowship. PBF: Baby. PBF: Wishing Well. PBF: Mrs. Hammer. An Online Graphic Novel by Daniel Lieske - Chapter 1 - The Last Day Of School. Garfield Minus Garfield.
---