Video Presentations
Ever wondered how people show you so clearly what is happening on their computer, like in the Photoshop Video Tutorials we shared with you? Thanks to screencasting software, anyone can do it. So what's stopping you now from making your own how-to videos? Try out one of these 12 tools and get to making your first video!
Free Streaming Video Software What is it? CamStudio is able to record all screen and audio activity on your computer and create industry-standard AVI video files and using its built-in SWF Producer can turn those AVIs into lean, mean, bandwidth-friendly Streaming Flash videos (SWFs) Here are just a few ways you can use this software: You can use it to create demonstration videos for any software programOr how about creating a set of videos answering your most frequently asked questions?You can create video tutorials for school or college classYou can use it to record a recurring problem with your computer so you can show technical support peopleYou can use it to create video-based information products you can sellYou can even use it to record new tricks and techniques you discover on your favourite software program, before you forget them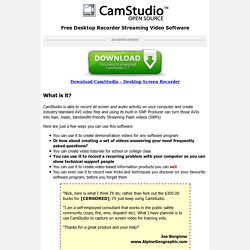 meechannel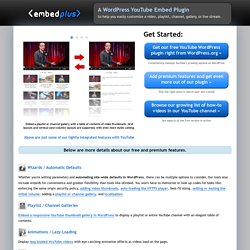 Customized YouTube embeds with the extra row of features require Flash support. For devices that do not currently support Flash (e.g. iPhone/iPad, Android phones without a Flash browser), these customized embeds will gracefully emulate standard YouTube embeds. We do have a cool tool to checkout if you want to embed standard YouTube videos in WordPress. Check out our YouTube-WordPress Plugin » Demo one of our tight integrations with YouTube: A customized YouTube embed - loaded with extra features (click play; then 'React' after watching)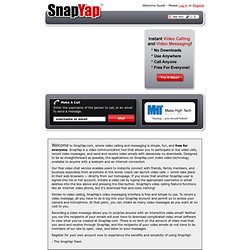 Welcome to SnapYap.com, where video calling and messaging is simple, fun, and free for everyone. SnapYap is a video communication tool that allows you to participate in live video calls, record video messages, and send and receive video emails with absolutely no downloads. Designed to be as straightforward as possible, the applications on SnapYap.com make video technology available to anyone with a webcam and an internet connection. Our free video chat service enables users to instantly connect with friends, family members, and business associates from anywhere in the world.
Knovio is a trademark of KnowledgeVision Systems, Inc. All other trademarks and copyrights are property of their respective owners. Whether for business, education or individual use, Knovio adds your personality and improves the effectiveness of any presentation. Create: bring "flat" PowerPoint® slides to life with your webcam, microphone Edit: make changes, without the need for video editing software or skills