Web 2.0
Embedit.in — Any file, in your website. » 25 Tools – A Toolbox for Learning Professionals 2009 C4LPT. Free Learning Management System Hosting. Photo Editing. Storage.
Personal Learning Networks. A personal learning network is an informal learning network that consists of the people a learner interacts with and derives knowledge from in a personal learning environment.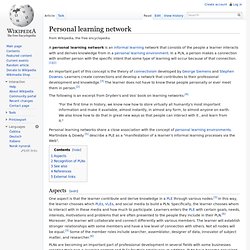 In a PLN, a person makes a connection with another person with the specific intent that some type of learning will occur because of that connection.[1][2] The following is an excerpt from Dryden's and Vos' book on learning networks:[4] "For the first time in history, we know now how to store virtually all humanity's most important information and make it available, almost instantly, in almost any form, to almost anyone on earth. We also know how to do that in great new ways so that people can interact with it , and learn from it. " Personal learning networks share a close association with the concept of personal learning environments.
Mapping. Conference. Wikis. Timelines. Audio. Publishing. Collaborate. Notebooks. Justpaste.it - Share Text & Images the Easy Way. Anotepad.com. Online NotePad. Video Presentations.
Chat. Presentations.
---