Collaborate
Makes it easy to work in groups.
I use it to take notes in meetings. Each meeting I continue the outline. by converge Mar 8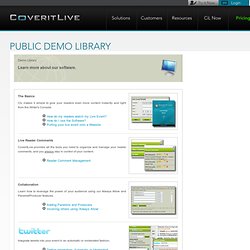 Public Demo Library
CiL Classic 3 Days Remainingtill CiL Classic is no longer available The Classic Console includes CiL's basic functionality, but does NOT include the latest features and enhancements. As of January 14th, 2014 this console will no longer be available. We highly encourage all users to Switch to the new EventStudio.