Chat
Chatzy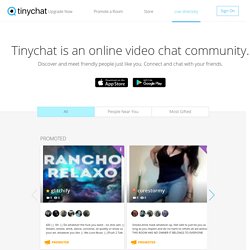 Get The App iPhone or Android? Live Directory Sign In or Sign Up <div class='error' style='padding: 10px;'><div class='title'>Javascript Required</div> It appears as though you do not have <strong>JavaScript</strong> enabled. Tinychat is a javascript-enabled website.
Tinychat
Create your own free chat and invite others to join by sending them a simple link. Your chat is automatically disposed when not in use for some time. Create Chat No Software to Install No hassle with downloading and installing any software.
Stinto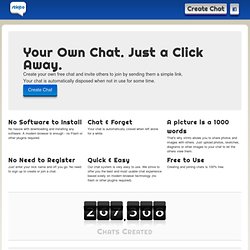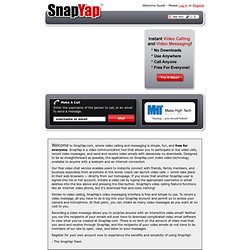 Welcome to SnapYap.com, where video calling and messaging is simple, fun, and free for everyone. SnapYap is a video communication tool that allows you to participate in live video calls, record video messages, and send and receive video emails with absolutely no downloads. Designed to be as straightforward as possible, the applications on SnapYap.com make video technology available to anyone with a webcam and an internet connection. Our free video chat service enables users to instantly connect with friends, family members, and business associates from anywhere in the world.
SnapYap.com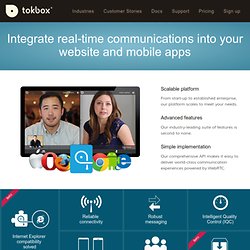 The OpenTok platform delivers all the global infrastructure, scalability, and featuresyou need to add WebRTC to your website or mobile application. Websites and apps come to life when you build on the OpenTok platform. Powerful Go beyond vanilla WebRTC with our industry-leading API. Faster time-to-market We handle the ins and outs of video so you can launch quickly.
OpenTok
Wetoku
BabelWith.Me
backchan.nl
Prof. Lessig, with a projection of the backchan.nl questions behind him. backchan.nl is tool for involving audiences in presentations by letting them suggest questions and vote on each other's questions. backchan.nl is intended for conference or event organizers who want a new way to solicit questions from the audience and make better use of question and answer time.
BackNoise.com
Neat Chat!
BackNoise.com