About
Web 2.0 - What's it all about?
What is Web 2.0?
Explaining Web 2.0
Using Web2.0 Tools in Education
Techno Literacy - from hacking to writing in space by Adam Somla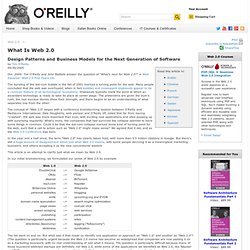 by Tim O'Reilly 09/30/2005 Oct. 2009: Tim O'Reilly and John Battelle answer the question of "What's next for Web 2.0?" in Web Squared: Web 2.0 Five Years On.