Misc.
10 awesome ways to use a USB flash drive. Your trusty USB flash drive is much more versatile than you might realize, packing capabilities that go well beyond storing and transferring files.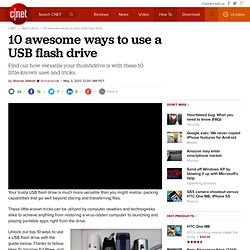 These little-known tricks can be utilized by computer newbies and technogeeks alike to achieve anything from restoring a virus-ridden computer to launching and playing portable apps right from the drive. Unlock our top-10 ways to use a USB flash drive with the guide below. Thanks to fellow How To blogger Ed Rhee, and the team at CNET, you'll be surprised to find that storing files might not be the best use of thumbdrives after all. 1. Web Tools for Teachers by Type. Digital Delights for Learners. Pocket (Formerly Read It Later) Create RSS Feed with Feedity, Make RSS Feed for Website, Generate RSS Feed. أزهار العربية. Pinterest / Home. Use Your Webcam to Teach, Learn and Discuss | Much Enough. Phonedeck. Find new customers with a viral landing page in less than 60 seconds! | KickoffLabs.
Prizes - Solve Problems. Win Contests. Make Money. Twitter Infographics Labs Page. Visual_ly - Create a Live internet Radio Show Free. Sweet Search. Oolone.com visual search engine. Open your eyes to the web. Easily Publish Gorgeous Magazines.
Exploriments. Ardour - the digital audio workstation. PhotoPeach. Text Message (SMS) Polls and Voting, Audience Response System. Slatebox :: Visualize Everything. Organize anything, together.
---