Authoring Tools
HTML5 Document Embedding | Crocodoc. FreshAiR - Augmented Reality Development Platform - Coming Soon. Zeen. Learn to code. Screenbird. How It Works. Netizine. Personal data freedom. OpenSim. Storify · Create social stories. Bookr :: pimpampum. WorksheetWorks.com. Moglue - Create. Play. Share. Habitat - Scalable digital publishing for professionals. Sourcefabric. "I was looking for a way to give our authors a simple, powerful way to edit and create books and Booktype is it!
" Alessandro De Giorgi Youcanprint.it "Booktype is becoming the ideal platform for open publishing. With the booksprint methodology, Booktype enabled us generate the Spending Data Handbook in a few days, while remaining open to feedback and development. " Free Educational Software And Games. Project ROME | Features. Project ROME is an all-in-one content creation and publishing application that lets virtually anyone at work or home inject the power of graphics, photos, text, video, audio and animation into everyday projects.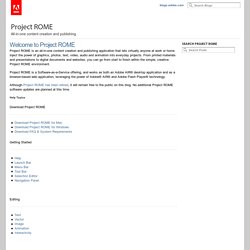 From printed materials and presentations to digital documents and websites, you can go from start to finish within the simple, creative Project ROME environment. Project ROME is a Software-as-a-Service offering, and works as both an Adobe AIR® desktop application and as a browser-based web application, leveraging the power of Adobe® AIR® and Adobe Flash Player® technology. Although Project ROME has been retired, it will remain free to the public on this blog. No additional Project ROME software updates are planned at this time. Simplebooklet. MentorMob - Learn What You Want, Teach What You Love. Projeqt \ how great stories are told.
---